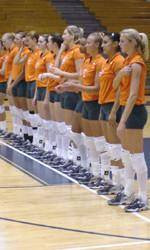 Oct. 10, 2002
CORAL GABLES, Fla. (www.hurricanesports.com) – – The University of Miami volleyball team (15-1 overall, 3-1 in the BIG EAST Conference) will hold its first home conference game Friday at 7 p.m. in the Knight Sports Complex against Rutgers.
The Hurricanes are sixth in the nation in kills per game with an average of 17.05, which also leads the BIG EAST Conference.
Miami is tied with the Atlantic Coast Conference's North Carolina in win-loss percentage with .938, which is sixth best in the country.
UM also leads the BIG EAST Conference in hitting percentage (.281) and assists (15.21).
Rutgers is one of the conference's best defensive teams and enters the match as the top team in terms of opponent hitting percentage (.147).
Despite getting off to a 0-2 start in conference play, the Scarlet Knights are among the preseason favorites to qualify for the BIG EAST Tournament. In a preseason poll, they were favored to place third and at least one voter picked them to finish first in the league. Currently, Rutgers has an 11-6 record overall.
The Scarlet Knights are led by senior setter Pualani Tuyay, who is second in the BIG EAST in assists with 12.03 per game, and junior outside hitter Shayla Bush, who ranks second in the conference in kills per game (4.37). Bush is also second in the conference in digs with 4.28 per game.
Despite entering the season tabbed to finish sixth in the BIG EAST, the Hurricanes leapt to a remarkable start, going 15-0 before finally losing to Georgetown Sunday in Washington, D.C.
For more information on University of Miami athletics log on to its website www.hurricanesports.com, the official site for all Hurricane news, tickets and apparel. For Hurricane ticket information call 1-800-GO CANES.