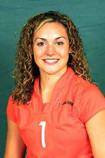 Aug. 16, 2002
Sophomore Mallorey James took a few minutes before practice to talk to hurricanesports.com about her volleyball experiences and hopes for this season. Here's what she had to say:
In one word, how would you describe your first season in Miami's new volleyball team?
Exciting. Being the team's first year, it was very new to all of us. There were some freshmen that had never played collegiate volleyball before, and though we had a few that had played at that level, it was a new experience for everybody. The fact that we did so well being such a young team was really exciting.
What has been your best volleyball experience?
Last year was my best volleyball experience. It's always been a dream of mine to play at this level, and I was happy I was able to start a lot. One of my best memories was the inaugural game.
Why did you choose number one as your number?
I've always had that number. It was my number in high school, and it's one of my favorite numbers.
What has been your most disappointing volleyball experience?
In high school, my team only made it to the quarterfinals. We didn't make it to state, and we really should have. We had a really strong and talented team.
Which team do you most look forward to playing next year?
Notre Dame. They're number one in the BIG EAST. They're the "big dogs". Everybody looks out to beat them. We're really looking forward to it, we're not scared at all, and we want to get out there and try to beat them.
If you could bring one thing from Arizona to Miami, what would it be?
I'd probably bring the weather. It's as hot there as it is here, but it's more dry, so it's not as bad. I'd also bring the mountains.
If you could take any one quality from any player what would it be and who from?
Val Tipiana never ever gets upset. Always has a smile on her face. She's always positive and looks for the best in everything.
How much of your time does volleyball demand?
Volleyball is like a full time job, but it's something I love to do, so I don't consider it a job. It's great to be a student-athlete here. School and volleyball are my life.
What's your favorite Miami hangout?
I like going to the beach with my friends
What's the last good movie you saw?
The last good movie I saw was "Austin Powers 3". I'm a sucker for stupid humor, and I love comedy.
Does the team have any pre-game rituals?
We usually just sit in the locker room, watch TV and listen to music. We have a pre-game mix tape we always listen to.
Are there any particular songs that get you guys fired up to play?
"Paradise City" by Guns and Roses is one of the first songs on the tape.
If you could play any sport other than volleyball, what would it be?
I'd play soccer. I played soccer for seven years when I was younger and I actually quit playing so I could play volleyball.