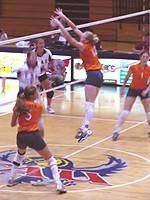 Boca Raton, Fla. – (www.hurricanesports.com) – Florida Atlantic defeatedthe Miami volleyball team 3-0 (30-25, 31-29 & 30-25) on Tuesday evening at FloridaAtlantic Gymnasium in Boca Raton. With the win, the Owls picked up their firstvictory of the season to move to 1-6.
In the first game, FAU scored 11 straight serve points by senior Marja Valkeavourito win 30-25.
Miami (3-4) rallied in the second game. Down 12-1, the Hurricanes went on a 13-1run to take the lead 14-13. Neither team could pull away and the game was tiedat 29-29. The Owls scored the next two points to win 31-29.
Florida Atlantic went on to win 30-25 in the third game to take the match.
FAU's Gracie Heim led all scorers with 20 kills on 37 attempts to post an impressive.432 kill percentage.
For the Hurricanes, freshman SandraTotten (Thermal, CA.) had eight kills and junior Marcella Gamarra (Medellin,Colombia) contributed seven. MalloreyJames (Tucson, AZ.) and JamieGrass (Manhattan Beach, CA) each had eight digs.
Miami returns home for a match against the Jacksonville Dolphins on Friday, September21 at 7 p.m. All Hurricane home matches are played at the Knight Sports Complexon the UM campus.
For ticket information for Hurricanes volleyball home matches, contact the UMTicket Office at 1-800-GO-CANES.