University of Miami Athletics
Michael DeHaven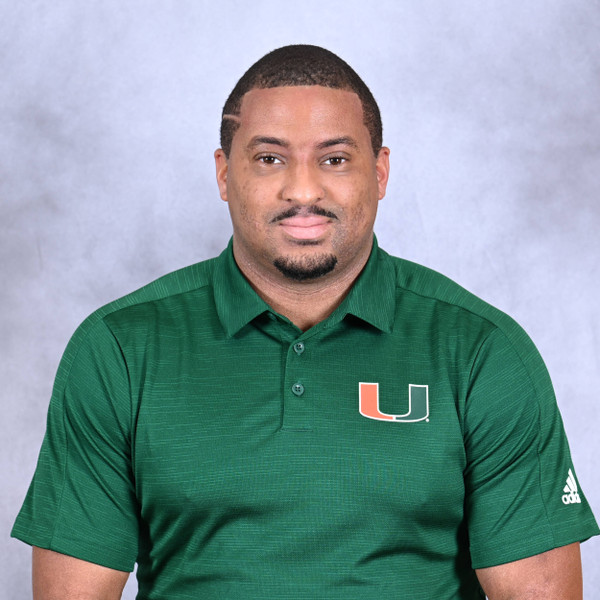 DeHaven joined the Miami track and field staff in 2019 as the Assistant Track and Field Coach.
DeHaven joins the Canes after working with Pure Athletics for the past three years. While working with the track club, DeHaven helped coordinate and develop 18 Olympians from multiple countries, including Bahamian 400m Olympic Champion Shaunae Miller, Diamond League and US 200m Champion Noah Lyles, World and Olympic Champion Torie Bowie, United Kingdom's 400m Champion Matthew Hudson-Smith, Miami great and two-time U.S. 400m Champion Shakima Whimbley and U.S. record holder, Tyson Gay.  In his first season with Pure Athletics, DeHaven oversaw the training and development of Trinidad and Tobago Olympian and 2015 World Championship bronze medalist, Semoy Hackett.
Before making his way to training the pros, DeHaven worked at Butler Community College for one season as an assistant coach. While at BCC, DeHaven implanted competition strategies, coached practice sessions, assisted in recruiting, while also being the prime contact for student services with academics and compliance.
DeHaven got his first start in the track and field world at Auburn University for two seasons in 2012 to 2014. While working with the Tigers, DeHaven assisted associate head coach Henry Rolle with the development of Jamaican Olympian champion Kerron Stewart, Trinidad and Tobago Olympian Marc Burns and junior Bahamian champion Anthonique Strachan. He also planned the sprinter, hurdlers and mid-distance runners practice before getting his intro in international coaching at the 2012 Bahamian National Championships.
As an athlete, DeHaven was a five-time NCAA All-American for Auburn. He earned his first All-American honor in the 2009 NCAA Indoor Championships in the 200m, finishing eighth with his time of 20.95 seconds. He earned his first outdoor honor in 2009 in both the 200m and the 4×100 relay.
DeHaven helped the Tigers earn back-to-back Outdoor All-American honors in the 4×100 in 2010 when the team finished fifth with a time of 40.44 seconds. His final All-American recognition came at the 2012 NCAA Outdoor Championships when the 4×100 finished with the third-best time in program history at 38.69 seconds.
DeHaven earned his Bachelor of Arts in Communications at Auburn, while minoring in Business Administration.