University of Miami Athletics
Greg Villareal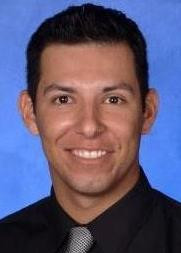 Greg Villareal joined the Hurricanes in August 2014, accepting the position of volunteer assistant coach.
In the summer of 2014, Villareal was the head coach of the Team Florida High Performance Boys' Youth International team; leading his team to a bronze medal over teams from USA Volleyball All-Stars, Puerto Rico, New Zealand, and other USA regions/states.  From 2011-2013, he served as an assistant coach with the program, earning a bronze in 2013 … the first ever medal for a FL boys' program. 
In the spring/summer of 2013, Villareal was an assistant coach for Team Florida Wave men's professional team, which won the Premier Volleyball League's inaugural National Championship in Reno, NV and the USA Volleyball Men's Open National Championship in Louisville, KY.  He has been a part of this coaching staff for that past three seasons.
During the 2012 and 2013 fall seasons, Villareal worked as a volunteer assistant coach with the Barry University women's volleyball team, where he assisted in practice and was in charge of in-game statistics.
From 2011-2015 Villareal led his boys' high school volleyball team to unchartered territory as their varsity head coach.  His 2015 went 24-3, advancing to the state quarterfinals; his 2012 team went 25-5, advancing to the state semifinals; and in 2011 advancing to the state quarterfinals.  His teams have won 3 district championships and 2 Greater Miami Athletic Conference championships.  Players from his program have earned various honors during their playing careers: two All-State selections, 29 All-Dade selections, 13 Senior Dade County All-Stars, 2 Scholar-Athletes of the Year, and 1 Miami Herald Scholar Athlete. Prior to taking over as the varsity coach in 2011, Villareal was the junior varsity coach for two years, with his 2010 team going undefeated at 21-0.  His overall records as a head coach for boys at the high school level are 104-30 (varsity) and 54-4 (JV). Villareal has also coached in the Dade County Senior All-Star match on four separate occasions; three as a head coach (2011, '12, & '15) and once as an assistant (2008).
From 2010-11, he coached a girls' varsity program for two seasons, capturing a district title and district runner-up finish. It was the program's first district title in eight years. His team also advanced to the regional semifinals, the school's best finish in 13 years at the respective time.
During Villareal's undergraduate studies at Barry University in Miami Shores, FL, he was the founder of Barry men's volleyball club, in which he was the president, coach, and player. He was also a student athletic trainer for one of Barry's women's volleyball NCAA National Championship teams.
In 2014 he was awarded the Florida Region of USA Volleyball Ernest Langford Pioneer Award, and in 2010 was named a finalist for the PowerBar Coach of the Year.
He has served as a certified athletic trainer for the University of New Mexico's volleyball and women's soccer teams while pursuing a master's degree. He has also worked in the athletic training field with the NFL's San Diego Chargers, ESPN Summer and Winter X Games, Red Bull Divide and Conquer, CONCACAF Gold Cup soccer events, Albuquerque Asylum and Albuquerque Storm soccer, and Volvo World Yacht regattas.
Villareal was a 5-year varsity letterman while competing in various sports in high school: football, basketball, track, and baseball. In baseball, Villareal was the Santa Fe New Mexican Player of the Year, competed in the NMHSCA North/South All-Star Game, and was an Albuquerque Journal First-Team All-State selection.  He helped to lead his McCurdy Bobcat baseball team to their first-ever district and regional championships, plus took third place in the NMAA State Championships, the school's highest finish in baseball. He also received First Team All-District honors as a wide receiver in football, guard in basketball, and center fielder/pitcher in baseball; all while being the school's Class of 2000 Valedictorian.
He has taught at the high school level for nine years in the subjects of biology, care and prevention of athletic injuries, sport management, and life management.  He has also taught sports administration as a dual enrollment course as an adjunct faculty member for St. Thomas University.
Villareal received his B.S. in Athletic Training from Barry University in 2004 (Summa Cum Laude) and his M.S. in P.E./Sport Administration from the University of New Mexico in 2006.