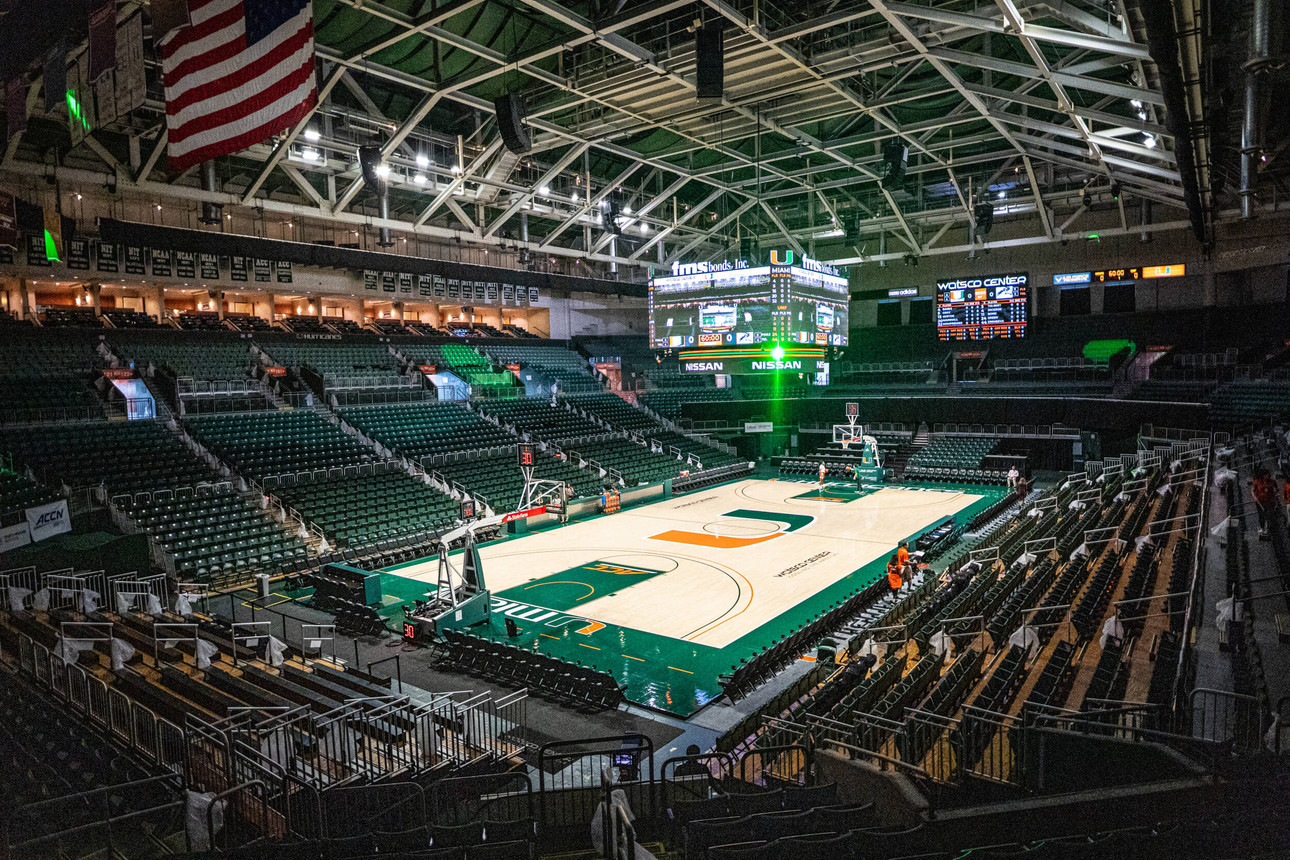 2021-22 Miami Basketball Media Information & Credential Requests
CREDENTIALS
Requests for credentials may be directed via email to Alex Schwartz (alexschwartz@miami.edu) for men's basketball and Megan Barnes (meganbarnes@miami.edu) for women's basketball.  An email will be sent out semi-weekly soliciting credential requests for upcoming games. There are no season credentials for 2021-22; credentials will be distributed on a single-game basis only.
Approved media members and scouts may pick up their single-game credential at the loading dock entrance on the day of the game. The media will call table will open 90 minutes before tip-off.
Media interested in covering the Hurricanes on the road may make credentials request through Miami. Alex Schwartz (alexschwartz@miami.edu, MBB) and Megan Barnes (meganbarnes@miami.edu, WBB) will accept those road credential requests, then work with individuals and the opposing school to determine availability.
COURT AND MEDIA WORK ROOM ACCESS/VACCINATION POLICY
All photographers, videographers, radio/TV personnel and other individuals who require court access must be fully vaccinated. The same policy applies for any print/online media members and scouts who wish to access the media work room for any reason.
All media members and scouts, regardless of job capacity, will be asked to display proof of vaccination—hard and digital copies are both acceptable—when getting their credentials at media will call at the loading dock entrance on gameday.
Unvaccinated individuals will still be granted their pre-approved credentials as long as their jobs do not entail court access. They will not have access to the media work room and will be directed to leave the loading dock area, head to the Watsco Center main entrance and proceed to press row.
HEALTH AND SAFETY PROTOCOLS
A mask must be worn at all times, throughout the arena. Media members and scouts must bring their own mask that fully covers their nose and mouth, plus any other personal protective equipment they wish to use.
Temperature and symptom screenings will take place on-site at media will call inside the loading dock entrance. Individuals must affirm they do not feel ill and have not been in contact with an individual who has the COVID-19 virus, among other items in the short form to be completed.
MEDIA SEATING
Press row seating, located in sections 105-108, will be on first-come, first-served for most games. For games with a larger expected press turnout, a seating chart will be displayed and must be followed by all media members.
To access press row, media members and scouts will be directed to use the loading dock elevator or head in through the main arena entrance.
PARKING
To those media members whose credentials are approved, single-game parking for the serpentine lot (located in front of the Watsco Center) will be distributed in PDF form via email.
PHOTOGRAPHERS
As noted, fully vaccinated photographers will be permitted to shoot courtside this season. They will have access to the media work room to store their equipment.
For men's basketball, a photo seating chart will be displayed at each game and all photographers must shoot from their designated location.
RADIO
As space permits, radio broadcasters will be permitted to broadcast courtside this season. However, in order to do so, the individuals must be masked and fully vaccinated.
TELEVISION
Television broadcasters will be on the suite level in Suite 21 and will not be required to wear a mask. All television personnel in the court area must be fully vaccinated and masked.
SCOUTS
As noted, professional scouts may request credentials and will be permitted to sit in the press row area. Scouts will be required to follow all of the same health and safety protocols as media members.
GAME NOTES AND STATISTICS
All game notes and statistics will be available online; there will be no printed copies provided in the media work room or press row. Live statistics will be available during the event online on MiamiHurricanes.com, the Miami Hurricanes mobile app and miami.statbroadcast.com. A PDF of the final statistics will be posted postgame on MiamiHurricanes.com, as well as distributed via email.
FOOD AND DRINK
For men's basketball games, food and drink will be set up in the media work room. In order to access the area, media members/scouts must be vaccinated.
For women's basketball games, concession stand vouchers will be distributed to those who request them.
POSTGAME INTERVIEWS
All postgame interviews will be conducted through Zoom. Head coaches Jim Larrañaga and Katie Meier, as well as select student-athletes, will be available as soon as possible following home games, while head coaches will also speak following road games. Links for the video conferences will be provided to approved media members who request access from Alex Schwartz (alexschwartz@miami.edu, MBB) and Megan Barnes (meganbarnes@miami.edu, WBB) prior to tipoff.
If Miami's opponent, at home or on the road, conducts a postgame press conference via Zoom, that link will also be distributed accordingly to approved media members who request access.