University of Miami Athletics
Tim Wise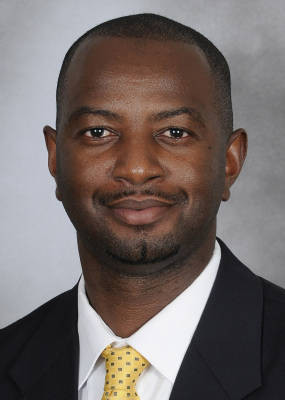 Tim Wise is in his eighth year as the Senior Associate Athletic Director for Facilities and Event Operations at the University of Miami. Wise joined the UM staff in June 2012.
Wise has oversight of numerous areas within the department: facilities and maintenance services, capital projects/construction, facilities master planning, event management and guest services, camps/clinics, risk management and information technology. He is also the liaison to the Watsco Center and Hard Rock Stadium, as well as serves as the sport administrator for Miami's rowing team. He previously oversaw the strength & conditioning, nutrition and women's soccer programs.
Wise, who has more than 24years of experience in college athletics as an event manager, facilities director and administrator, was hired by the University of Wisconsin Athletic Department as assistant athletic director for events and facilities in August, 2008. In January 2012, he was named interim associate athletic director and elevated to the senior management team with additional oversight of the University Ridge Golf Course and $125 million in capital projects.
Wise also had supervisory oversight of the UW Athletics event management, facilities, food and beverage and guest services units and oversaw an annual budget of approximately $15 million. He also served in a lead role in administrative coordination of UW Athletics concerts, summer camps and event parking.
Wise served as the director of facility maintenance at the University of Connecticut from August 2005 to August 2008. He oversaw daily operations of athletic facilities, projects and event operations as the assistant athletics director for facilities and operations at Eastern Michigan University from November 2003 to June 2005.
Wise was hired as the athletics event manager at the University of Denver in August 2000 and promoted to the director of athletics events in August 2001 and served in that role until October 2003. Prior to his time at Denver, Wise was the event services manager at The Ohio State University's Schottenstein Center.
Wise was an event operations manager intern at Michigan State University from August 1998 to May 1999. His first position upon graduation from college was as a conference coordinator at the University of South Carolina from December 1996 to January 1998.
Wise has extensive experience working at NCAA and conference championship events. At Wisconsin, he served on the departments Diversity Integration Group and was the representative to the City of Madison and UW Campus Joint Southeast Campus Area Committee. In the past, he served on Connecticut's Environmental Compliance Team as well as the schools Environmental Policy Advisory Council. He also served on the NCAA Woman of the Year Selection Committee and the NCAA Minority Opportunities and Interests Committee, three years as the Vice Chair. Wise earned the University of Denver Center for Multicultural Excellence Outstanding Staff Award in 2002-03.
Wise is a member of Alpha Phi Alpha, Fraternity, Inc. and served as the President of the local Mu Eta Lambda alumni chapter. He is a member of the Collegiate Event and Facility Management Association and was named to the Board of Directors in September 2011 and the 3rd Vice President in June 2012, 2nd Vice President in June 2013, 1st Vice President in June 2014 and served as The President for 2015-16. Wise also has membership in the Minority Opportunities Athletic Association and the National Association of Collegiate Directors of Athletics.
In February 2017, Wise was named to the MOAA Board of Directors, and in 2019, he was named to the organization's Executive Committee. He has participated in the NCAA Leadership Institute Continuing Education Series, the NCAA Leadership Institute for Ethnic Minority Males, the NACDA Mentoring Institute and NCAA Diversity Education Training. Most recently, Wise completed and graduated from the highly prestigious collegiate athletics executive leadership training program at the Sports Management Institute.
Wise is a 1996 graduate of the University of South Carolina with a bachelor's degree in business administration and earned a masters' degree in human performance and sport studies from the University of Tennessee in 1998.