University of Miami Athletics
Eric Renaghan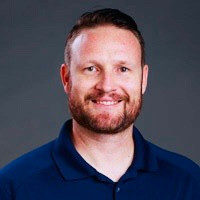 In his 15th year of service, Eric Renaghan is in his first year as Director of Sport Science for Football.  His role uses scientific principles to support the health, safety, and performance of their student-athletes through research, education, and innovation.
Prior to the University of Miami, Renaghan was the Head of Sports Performance for the St. Louis Blues. He also held assistant strength and conditioning positions with the Vancouver Canucks and San Jose Sharks.  Additionally, in 2020-2022, Eric was the High-Performance Advisor to the Italian Ice Hockey Federation.
In 2018, Renaghan received his M.S. in Human Performance from Lindenwood University and his B.S. in Kinesiology (2005) from San Jose State University. He is currently pursuing his PhD in Exercise Physiology. Renaghan is certified in strength and conditioning (CSCS)(RSCC*) by the National Strength and Conditioning Association (NSCA).  Additionally, he has presented at numerous national and international conferences on various topics in sport.
  Renaghan is married to Katie, and they have two children: Jack and Bryndy.