University of Miami Athletics
Camron Ghorbi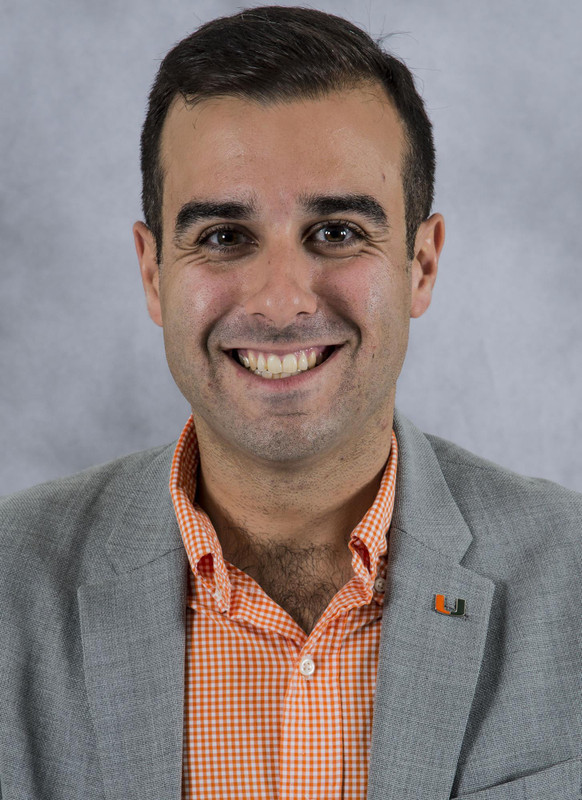 Camron Ghorbi is in his 12th year with the Miami Hurricanes athletics communications office and first as Associate AD / Athletics Communications.
Ghorbi, who joined the staff in October 2011, serves as the primary communications contact for the Miami Hurricanes football program, University of Miami head football coach Mario Cristobal and the Miami Hurricanes swimming & diving team. He also oversees the department's full-time communications staff.
Ghorbi, who was hired as assistant director of communications at Miami, was elevated to Associate AD / Communications in June 2022. He previously served as assistant director of communications (October 2011 – June 2017), associate director of communications (July 2017 – March 2018), director of communications (April 2018 – May 2019) and Assistant AD / Communications (June 2019 – May 2022) for the department.
The Boston native, who spearheads the department's football communications efforts, helped Miami earn its first-ever "Super 11" distinction, designed to identify and reward the sports information departments and programs that exemplify excellent media relations, from the Football Writers Association of America (FWAA) in 2018. The organization won its second "Super 11" distinction in 2021.
He previously served as the primary contact for the Hurricanes baseball program, beginning in 2012 and serving in that role through the 2018 season. During his time as baseball contact, Ghorbi made two trips (2015, 2016) with the Hurricanes to the College World Series in Omaha, Nebraska.
Prior to joining the Miami athletics communications office full-time, Ghorbi served as a student intern in the unit and was largely responsible behind the creative efforts for Behind the Facemask, an online feature series focusing on members of the football team. In 2010, he was an intern for Dime Magazine, a basketball lifestyle publication based out of New York City, where he contributed to the magazine's online blog and monthly print offerings. He also contributed to Inside Lacrosse Magazine and served as a senior staff writer for multiple student publications during his undergraduate career.
A 2011 graduate of Miami, he holds a bachelor's degree in print journalism and sports administration. He earned a master's degree in public relations from Miami in December 2018.