University of Miami Athletics
Blake James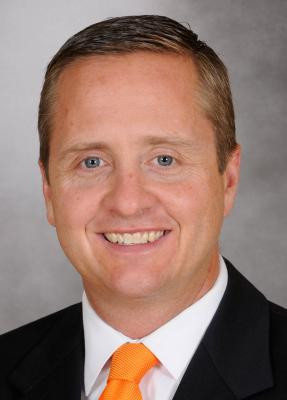 Blake James
Director of Athletics
Since 2013, when he began his tenure as the Director of Athletics at the University of Miami, Blake James has transformed The U, spearheading significant enhancements in all aspects of the department, including student-athlete support, academic achievement, community outreach, facility upgrades, fundraising, ticket sales, broadcast capabilities and content creation. In addition, many of Miami's sports programs have excelled on the fields, courts and courses of competition, earning NCAA and ACC titles and appearing in multiple postseasons.
Miami has captured five NCAA individual championships, six ACC team titles and 71 individual ACC titles during James' tenure. Miami's success continues to garner both James and UM national recognition. From 2017-19, James served a two-year term as Chair of the NCAA Division I Council, the group responsible for the day-to-day decision-making for all of Division I Athletics. In 2019, he was one of five nominees for the 2019 SportsBusiness Journal Athletic Director of the Yearaward. In 2017, James was selected as one of four Division I recipients of the 2016-17 Under Armour Athletic Director of the Year award from the National Association of Collegiate Directors of Athletics (NACDA). This past year, he served as the ACC's Chair of the Athletic Directors.
James has always placed a strong emphasis on academics and community outreach during his eight-plus years as Miami's Director of Athletics. Spring 2021 marked the 15th consecutive semester in which UM student-athletes averaged a 3.0 or higher cumulative GPA with 11 programs exceeding the 3.0 mark. Miami also placed 213 student-athletes on the ACC Honor Roll. UM's most recent NCAA Graduation Success Rate was 94 percent and Miami posted a 990 in the latest NCAA Academic Progress Report, both scores higher than the NCAA academic unit requirement. Eleven programs achieved perfect APR scores of 1,000 – men's basketball, women's basketball, women's cross country, men's diving, golf, rowing, soccer, women's swimming and diving, men's tennis, women's track and field and volleyball.
Despite the challenges presented by the COVID-19 pandemic, UM student-athletes amassed 3,420 community service hours this past school year and 10 programs ranked in the Top 10 of Division I schools in community service hours. UM student-athletes continue to make a significant impact on the social justice front with the help of the numerous leadership and civic engagement opportunities offered by the student-athlete development office.
Although the pandemic limited the amount of in-person events, Miami Athletics raised close to $9 million in 2020-2021, including more than $4 million raised in support of the Student-Impact annual fund, $2.5 million in commitments to support endowed scholarships, and almost $400,000 in direct support to women's athletics, attributable in large part to the annual Celebration of Women's Athletics event presented by adidas. In addition, UM established the Canes United Covid Relief Fund that saw many in the U Family rally around student-athletes to provide much needed financial support to ensure student-athletes had the best possible experience through the pandemic. UM continues to introduce numerous funding opportunities and ways to get involved at all levels of giving, including the new Athletic Director's Society, which will enhance the pool of resources to build state-of-the-art facilities, attract and retain the nation's best student-athletes and coaches, and provide those who wear the "U" an unparalleled collegiate experience.
UM has completed numerous facility projects during James' tenure, most recently the Jimmy and Kim Klotz Baseball Player Development Center. In 2018, the $40 million Carol Soffer Indoor Practice Facility opened, encompassing not just indoor practice fields for football, but also new football coaches offices, new football reception and recruiting areas, weight room renovations and new coaches' offices for golf, rowing, soccer and volleyball. Other recent facility enhancements include the opening of the Schwartz Center for Athletic Excellence; a new nutrition center; new artificial and natural playing surfaces and lights on the Greentree Practice Fields; a center-hung scoreboard inside the Watsco Center; renovations to the men's and women's basketball offices at Watsco Center; renovations to the Hecht Athletic Center; and a new videoboard for the Neil Schiff Tennis Center.
In 2018, UM set a record for football season tickets at Hard Rock Stadium (46,738) and also posted the school's highest average attendance at Hard Rock Stadium (61,469). From 2015-18, men's basketball tickets sold out for three consecutive seasons for the first time in school history.
Miami has built its broadcast, communications and marketing departments into some of the nation's leading digital media and video production units. Miami has continually ranked at the top of the conference in the number of live ACC Network Extra broadcasts each year and produced numerous ACC Network linear telecasts during the network's first two years. James was also instrumental in helping Miami strike one of the largest apparel deals in the country with adidas.
Prior to being named AD, James served as Interim Athletics Director and Senior Associate AD for Development and Ticket Operations at UM, where he oversaw the day-to-day operations of development, ticket sales and ticket operations. He also was a member of the Hurricanes' senior staff and provided sport supervision.
James returned to UM after spending seven years at the University of Maine, where he began as Senior Associate Athletic Director before being elevated to Director of Athletics, serving from 2005 to 2010. During his tenure, Maine Athletics experienced tremendous success, including three trips to the Frozen Four for the men's ice hockey program and NCAA playoff berths for football, baseball (two), women's basketball and softball. James implemented a comprehensive $17 million facility improvement plan at Maine, which included an indoor practice facility and numerous other facility upgrades and renovations. Academically, the program flourished, earning the conference academic cup twice and student-athletes maintaining a 3.0 GPA or above.
Prior to his stint at Maine, James worked in athletic development at Providence College, where he established the "Friars Forever" campaign and the Friar Athletic Fund.
James began his athletic career at UM, working in ticket sales, corporate sales and athletic development. In 1995, he was hired as Miami's Director of Ticket Sales, serving in that capacity until 1997, when he was named an athletic development officer at the University of Nebraska. He returned to Miami in 1998 as the Director of Major Gifts and Corporate Sales and was promoted to the Director of Athletic Development at Miami in 2000 before moving on to Providence in 2002.
James graduated from Minnesota State University – Mankato with a Bachelor's Degree in Marketing in 1992, and later received his Master's degree in Sports Administration from St. Thomas University in 1994. He and his wife, Kelly, have two children — daughter, Haley, and son, Ryan.