University of Miami Athletics
Jillian Hadder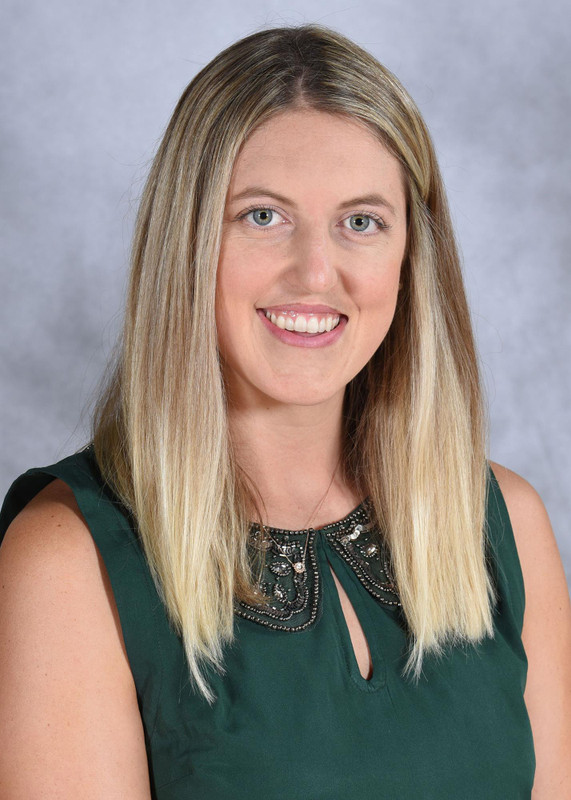 Jillian Hadder accepted the position of assistant coach on the Miami volleyball coaching staff in May 2016.
The Hurricanes returned the NCAA Championship in 2017 for the ninth time in program history. Miami won its first postseason match since 2014, defeating the College of Charleston in the opening round of the tournament in a Gainesville, Fla. The Canes fell to No. 2 Florida in four sets in an exciting second round matchup to close the season 22-6 and finish with their best winning percentage since 2012.
Senior outside hitter Olga Strantzali was named ACC Player of the Year and AVCA East Coast Region Player of the Year. Strantzali was joined by redshirt junior setter Haley Templeton on the All-ACC First Team and AVCA All-East Coast Region team. Strantzali and Templeton topped off a memorable season with AVCA All-America Honorable Mention recognition. The Canes both started and finished the campaign strong, winning the first nine matches and the seven contests prior to falling to second-seeded Florida. Miami topped the ACC in service aces with 1.71 per set and finished the season in the top three of two additional categories – hitting percentage (second with .246) and kills (tied for third with 13.64 per set).
In 2016, the Hurricanes won 11 matches away from Coral Gables, picking up big road wins at Notre Dame and Louisville. Junior outside hitter Olga Strantzali developed into one of the best players in the country, receiving AVCA All-America honorable mention and earned AVCA All-East Coast Region and First Team All-ACC honors. Strantzali and freshman setter Hannah Sorensen were named to the All-ACC Academic Team in recognition of their success on the court and in the classroom.
Hadder came to Miami after coaching indoor and beach volleyball at Mercer University, where she helped in recruiting, player management, practice coordination and in-match strategy while also assisting in day-to-day operation of the program.
"There is an undeniable momentum and energy built within the University of Miami's athletic department and I'm ecstatic to be a part of it," Hadder said.
In 2015, Hadder helped the Bears become one of the top serving teams in the NCAA. Mercer ranked 12th in the country, averaging 2.7 aces-per-set, and was 19th in the NCAA with 188 service aces as a team. She also helped freshman Paige Alsten earn All-SoCon Freshman Team honors after breaking the school record for total blocks in a season.
Mercer's progress as a program began shortly after Hadder arrived, as the Bears improved from a 1-27 record in 2013 to an 11-20 record in 2014. Hadder, who was responsible for coaching and developing Mercer's outside hitters, helped Molly Locke earn So-Con All-Conference second team honors following the 2014 season.
Hadder also made an impact on the Mercer beach volleyball program, helping the Bears reach the Atlantic Sun Conference final for the first time in school history. Emily Brett and Emily Krogman earned first team all-conference honors, with Krogman being named freshman of the year. Sophie Peel also earned all-freshman team honors while working under Hadder.
Prior to arriving at Mercer, Hadder spent the 2013 season as an assistant coach for her alma mater, UMass Lowell. Hadder, who graduated from UMass Lowell in 2011 with a degree in psychology, is one of the most prolific River Hawks in program history.
She tallied over 1,000 kills and 1,000 digs over four seasons at UMass Lowell, qualifying her as one of just five players in program history to reach both of those benchmarks. Hadder's teams enjoyed considerable success, racking up a 37-22 record in her final two seasons, including the Northeast-10 Conference Championship in 2009.
As a senior in 2010, Hadder was named to the NE-10 All-Conference second team as she was among conference leaders with 2.79 kills-per-set and 2.07 digs-per-set. She also earned a handful of academic honors, including a spot on the ESPN District 1 All-Academic third team and five appearances on the NE-10 Commissioner's Honor Roll.
Following her collegiate career, Hadder spent two years as a professional player/coach in Denmark with Lyngby Volleyball Club in 2011-12 and Fortuna Odense in 2012-13. She also gained coaching experience working with Stanford University's summer volleyball camps from 2012-14.