University of Miami Athletics
Renate Grimstad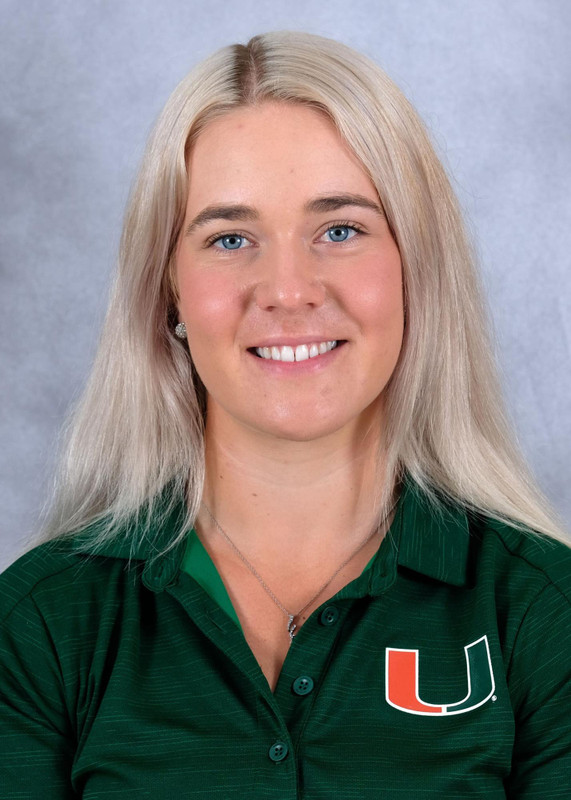 2017-18 (Sophomore)
Opened fall season tied for 63rd in the Schooner Fall Classic with a three-round total of 226… Competed in the ANNIKA Intercollegiate tying for 14th with a score of 216 in her fourth career top-15 finish… Began the 2018 season by finishing fourth in the Florida Challenge with a score of 143… Took runner-up honors with a score of 215.
2016-17 (Freshman): Began the fall season competing in the Mary Fossum Invitational where she finished 20th, posting a three-round score of 229…Posted her best three-round score of the fall season at the Jim West Challenge as she carded a score of 219…Closed out the fall season at the Betsy Rawls Invitational (10/17-18) where she finished 25th and logged a three-round score or 225…Finished the Florida Challenge (1/30) tied for sixth and tallied a two-round score of 148… Tied for 74th at the Allstate Sugar Bowl Intercollegiate Championship… Shot a second-round 71 in the Hurricane Invitational tying for 42nd…Tied for 21st with a three-round total of 220 at the ACC Championship…Helped guide the Hurricanes to the national tournament for the second straight year, as she tied for eighth at the NCAA Regional Championship in Albuquerque, N.M…Closed out the season by tying for 32nd at the NCAA Championship.
Prior to Miami: Won the National Junior Championship in Norway, posting rounds of 70, 69 and 77…Placed second at the National Women's Championship in Norway.
GRIMSTAD'S CAREER STATISTICS
SEASON
EVENTS
RDS
STROKES
AVG
LOW
TOP 10
2016-17
12
35
2,613
74.66
66
3
2017-18
10
29
2,125
73.28
68
3
CAREER
22
64
4,738
74.03
66
6
GRIMSTAD TOURNAMENT RESULTS
2016-17 TOURNAMENTS
SCORE
FINISH
Mary Fossum Invitational
73-71-85=229
20th
Jim West Challenge
74-76-69=219
t30th
Betsy Rawls Invitational
75-74-76=225
t25th
Florida Challenge
73-75=148
t6th
UCF Challenge
75-67-76=208
t3rd
Allstate Sugar Bowl Intercollegiate
83-78-74=235
t74th
Hurricane Invitational
77-71-77=225
t42nd
Briar's Creek Invitational
71-78-75=224
t49th
Bryan National Collegiate
76-75-81=232
t59th
ACC Championship
69-78-73=220
t21st
NCAA Regional
73-72-73=218
t8th
NCAA Championship
77-76-77=230
t32nd
2017-18 TOURNAMENTS
SCORE
FINISH
Schooner Fall Classic
75-77-74=226
t63rd
Annika Intercollegiate
70-72-74=216
t14th
Betsy Rawls Invitational
74-69-81=224
t28th
Florida Challenge
72-71=143
4th
UCF Challenge
70-72-73=215
2nd
Allstate Sugar Bowl Intercollegiate
73-73-76=222
t11th
Hurricane Invitational
68-71-72=211
t2nd
Bryan National Collegiate
76-78-74=228
t32nd
ACC Championship
75-75-71=221
t18th
NCAA Regional
72-74-73=219
t24th