University of Miami Athletics
Laura Hendee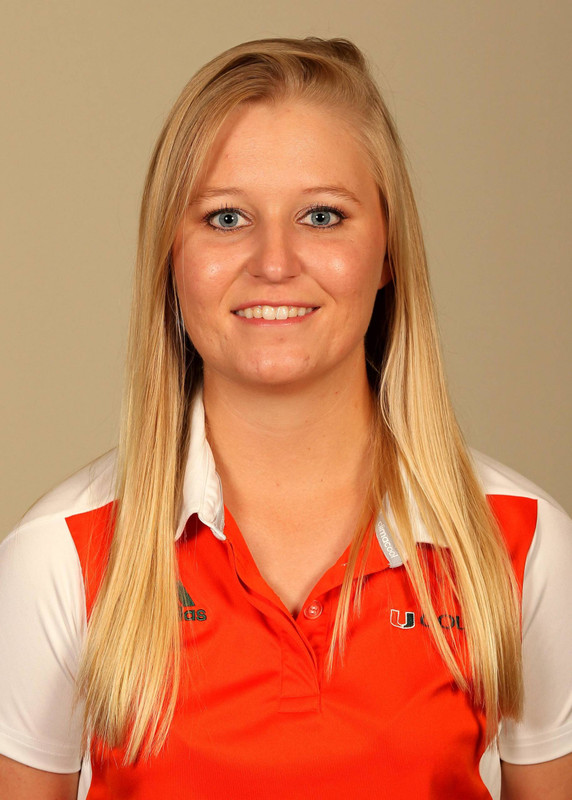 2015-2016 (Senior): Started 2015-2016 campaign at the Dick McGuire Invitational…Tied for 85th with a final round score of 240… Finished the Jim West Challenge tied for 64th… Final round score of 235 .. Opened the spring season at UCF Challenge with a three-round total of 234 (T-66) … Finished the Hurricane Invitational with a three-round total of 233 (T83). 
2014-15 (Junior): Competed as single player at East & West Match Play Challenge … Tied for 44th.
2013-14 (Sophomore): Made season debut at Hurricane Invitational as part of Miami's second team … Tied for 55th at 16-over 229.
2012-13 (Freshman): One of three golfers to start at least 11 tournaments … Posted 79.63 stroke average through 32 rounds … Made collegiate debut at season-opening Cougar Classic … Tied for 31st at Mary Fossum Invitational … Opened spring season with 12th-place finish at Florida Challenge … Career-first top-10 finish came at Sir Pizza Terrapin Challenge, tying for eighth at 7-over 223.
High School: Attended Plant High School in Tampa, Fla., and coached by Vernon Korhn … Named Team MVP and was selected first-team All-County in 2009, 2010 and 2011 … Named to All-Conference team three years, and finished second in state championship … 2011 District medalist and regional medalist in 2010 and 2011 … Team captain … Recipient of the Marion Miley Award.
Personal: Originally from Tampa, Fla… Daughter of Brett and Rhonda Hendee… Youngest of three, two older siblings are Michael and Lisa.
HENDEE CAREER STATISTICS
SEASON
EVENTS
RDS
STROKES
AVG
LOW
TOP 10
2012-13
11
32
2,548
79.63
71
1
2013-14
1
3
229
76.33
74
0
2014-15
1
2
160
80.00
79
0
2015-16
4
12
942
78.5
77
2
CAREER
16
49
3,879
79.16
71
3
HENDEE TOURNAMENT RESULTS

2012-13 TOURNAMENTS
SCORE
FINISH
Cougar Classic
78-79-80=237
t113th
Mary Fossum Invitational
74-74-83=231
t31st
UNCG Starmount Forest Invitational
76-81-78=235
t59th
Mercedes-Benz Women's Collegiate
79-76-79=234
t62nd
Florida Challenge
72-78=150
t12th
Hurricane Invitational
80-78=83=241
t59th
UCF Challenge
74-79-72=225
t46th
Sir Pizza Terrapin Challenge
71-78-74=223
t8th
SunTrust Gator Invitational
87-80-82=249
77th
The SDSU Farms Invitational
88-83-87=258
76th
ACC Championship
83-91-91=265
45th
2013-14 TOURNAMENTS
SCORE
 FINISH
Hurricane Invitational
80-74-75=229
t55th
2014-15 TOURNAMENTS
SCORE
 FINISH
East & West Match Play Challenge
81-79=160
t44th
2015-16 TOURNAMENTS
SCORE
 FINISH
Branch Law FIrm/Dick McGuire Invitational
80-82-78=240
t85th
Jim West Challenge
79-79-77=235
t64th
UCF Challenge
78-76-80=234
t66th
Hurricane Invitational
76-80-77=233
t83rd