University of Miami Athletics
Jeremy Wilk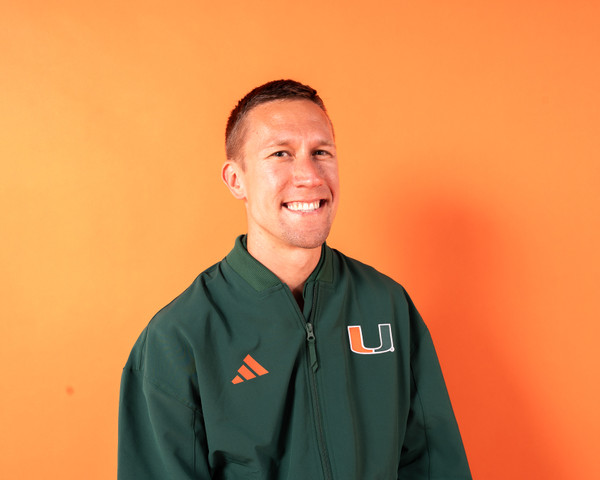 Coach Wilk is starting his first season with the Hurricanes as the distance and cross-country coach. Coach Wilk is coming from Northwood University located in Midland, Michigan.
Bio provided by Northwood University Athletics:
Wilk joined the Northwood coaching staff in September 2016. He was named the Head Cross Country/Track and field Coach in August of 2021 after five years as an assistant coach. His cross-country teams, distance, and middle-distance student-athletes have broken school records thirty-three times during his tenure at NU.
In his first year, both track & field programs achieved their highest Indoor Great Lakes Intercollegiate Athletic Conference (GLIAC) finishes since 2006. The men's program finished runner-up behind eventual NCAA-Champion Grand Valley State, while the women took seventh. NU's coaching staff earned GLIAC Men's Coaching Staff of the Year. He was also named Northwood University Coach of the Year in 2022.
In cross country, his men's team has gone from 27th in the Midwest region in year one to 25th in the country following the 2022 season. The 2022 squad was the first team to qualify for the NCAA DII Cross Country Championships. In addition to the team's first-ever team qualification, the men added the third and fourth individual NCAA qualifiers via Brian Patrick (2018) and Zane Aldrich (2021). Patrick eventually earned the first XC All-American in school history (male or female). Aldric later broke the school record with his third-place NCAA regional finish in 30:09, which would have broken the previous course record at frequent Midwest Regional host, Angel Mounds State Park. Zane was named a finalist for Midwest Region Men's Athlete of the Year for his efforts and earned the GLIAC Commissioner's Award (2021-22) for his efforts on the grass and in the classroom. The men and women have earned All-Academic team honors every season he has been at the helm, highlighted by men's cross country No. 8 team GPA in NCAA Division II in 2021. There have been 12 United States Track & Field Cross Country Coaches Association (USTFCCCA) All-Academic individuals during his time here and 27 new members of Northwood's top-25 list in cross country between the two teams. 
In track & field, his distance/middle-distance crews have broken school records 30 times. These include over 43 spots on the NCAA descending order list and three All-Americans; including Stephen Barker (2022) and Josiah Morse (2020) in the indoor 800m and Dillan Haviland (2023) in the indoor mile. 
Other track & field records under Wilk include the men's DMR set by Tristan Mancillas-Finnerty, Josh Jones, Stephen Barker, and Dillan Haviland in 2022. The record was 28th-best in DII history. All four men were local recruits, going to high school within about a 90-minute radius of Northwood. The men's middle-distance crew has consistently been in the upper echelon of D2, earning top 5-10 event squad rankings in the 800m and 1500m in 2023. The men's track & field team has produced a balanced effort across different areas, as the men's shot put, weight throw, and hammer throw crews are also typically ranked top-15 in each respective event. This balanced effort earned the men a 33rd place finish at the NCAA Division II Indoor Championships in 2022.
In 2017, his group only had five returners, but has now been built up closer to 30 student-athletes. During that time, the group has combined to currently have between four and ten of the program's top-ten spots in every distance/middle-distance event contested in indoor and outdoor track and field. In his first year as head of the track and field program as well, the teams brought in 31 new student-athletes.
In addition to coaching Northwood student-athletes to personal bests and school records, he also helped Jordan Chester to an Olympic Trials qualifying time in the marathon. She placed 30th overall at the 2018 Chicago Marathon with a time of 2:44:16 (6:16 mile pace and over a six-minute personal best), punching her ticket to the Olympic Trials in Atlanta in February 2020.
Prior to Northwood, Wilk served as the Assistant Cross Country/Track & Field coach and the Director of Operations for Ashland University. There, along with Head Cross Country coach Tom Scott, Jeremy mentored and coached the distance and middle distance runners too much success. In 2015, both the Men's and Women's Cross Country Teams ranked in the top 25 for NCAA Division II. The women placed fifth at the GLIAC Championships, their highest placement since 2011. At the 2015 NCAA Midwest Regional meet the men's team just missed qualifying for the NCAA championships by 16 points. That year, Steven Kapes and Emily Schumaker were named Division II All-Ohio Men's and Women's Freshman of the Year, respectively.
The distance and middle-distance runners continued to see success both athletically and academically. Both Men's and Women's cross country teams earned USTFCCCA All-Academic honors, with six earning Academic All-American honors for Cross Country, and two individuals earned USTFCCCA Academic All-America honors.
The strong season continued with the indoor and outdoor track seasons. Indoors, redshirt Nick Hall ran 4:05.10 (mile) and 8:17.98 (3k) which would have been a school record if he had been in uniform. Freshman, Tyler Sievert was the GLIAC runner-up in the indoor men's 800m with a track converted time of 1:53.57. Outdoors, Kylee Bernthisel broke the school record in the women's 3k steeplechase by 10 seconds, running 10:55.74. David Knack qualified for the NCAA Division II Outdoor Track and Field Championships with times of 14:06.56 (5k) and 29:41.74 (10k), good for #2 in school history for both events. Knack was the #2 5k collegiate 5k runner in the state of Ohio regardless of NCAA division. Indoors, the men placed 10th, and outdoors the men placed ninth at the NCAA Division II Championships.
Wilk is a graduate of Grand Valley State University where he earned his B.B.A. in Finance and Marketing. No stranger to success, he competed for the nationally acclaimed GVSU cross country and track and field teams. He began his career as a walk-on and ended it as the school record holder in the outdoor 800m with a time of 1:49.40. At GVSU, he was a two-time first-team All-American and three-time Academic All-American. After graduation, he continued to train in his first year at Ashland, running a new personal best of 1:49.36 (800) and 4:10.43 (mile) indoors and qualifying for the 2015 USATF Indoor Championships in Boston. There he placed 12th in the 1,000m run.