University of Miami Athletics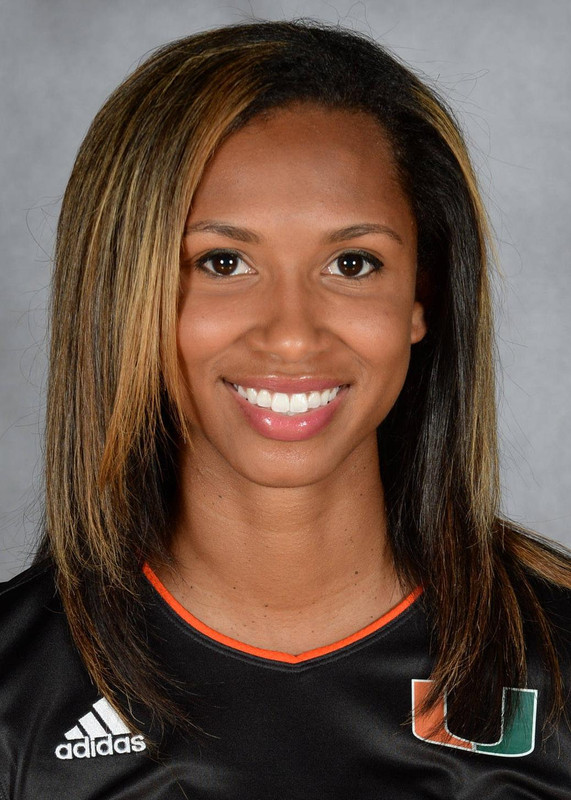 2015 All-ACC Second Team
2015 All-ACC Academic
ACC Player of the Week – Sept. 14, 2015
2015 LSU Tournament MVP
2015 LSU Tournament All-Tournament Team
2015 (Senior): Had 10 kills, seven digs and hit .360 in three-set victory over Illinois State (Aug. 28) … Recorded eight kills, seven digs, three blocks and three aces in three-set win over Florida A&M (Aug. 29) … Had four kills and four digs in five-set win over Kansas State (Aug. 29) … Had 11 kills, a team-high three service aces and two solo blocks against Missouri State (Sept. 4) … Recorded 14 kills and a career-high 22 digs adding four blocks and a service ace in win over No. 20 Purdue (Sept. 12) … Had 14 kills and 13 digs in win over LSU (Sept. 13) … Named Tournament MVP and All-Tournament at the LSU Tournament … Tallied a team-high 10 digs, seven digs and an ace in win over Seattle U (Sept. 17) … Recorded fourth double-double of the year when she finished with 13 kills, 11 digs, three blocks, two assists and an ace in win over UCF (Sept. 18) … Recorded a double-double with 20 kills, 10 digs, a block and two aces while hitting .300 at Florida State (Sept. 23) … Had seven kills, six digs and an ace at Louisville (Sept. 27) …  Tallied 14 kills, adding nine digs and two blocks in win over Georgia Tech (Oct. 2) … Hit .393 with a team-high 14 kills, adding eight digs in win over Clemson (Oct. 4) … Finished with 15 kills, adding four digs and a block in win at Wake Forest (Oct. 9) … Recorded 15 kills to go with her nine digs, four blocks and a team-high two service aces in victory at Duke (Oct. 11) … Added six kills and two digs in win at NC State (Oct. 16) … Had six kills, four digs and an ace at North Carolina (Oct. 18) … Led all Hurricanes with 13 kills while hitting .290 and a block, three digs and a service ace in win over Boston College (Oct. 23) … Finished with a team-high 19 kills and a team-best .600 hitting percentage, adding two digs and an ace in win over Syracuse (Oct. 25) … Led all Canes with 18 kills, adding four digs, a block and an ace in win at Virginia Tech (Oct. 30) … Had three kills, a block and an ace at Pitt (Nov. 1) … Led the Hurricanes with 20 kills on a strong .349 attack percentage, added 10 digs, three assists and two blocks to record her sixth double-double of the season in victory over No. 17 Florida State (Nov. 4) … Tied for team lead with 11 kills, adding five digs, two blocks and an assist in three-set sweep of Virginia (Nov. 6) … Finished with double-digit kills for Miami, tallying 12 against No. 22 Louisville, while adding 11 digs and three blocks to record her seventh double-double of the year (Nov. 13) … Added nine kills, nine digs and an ace in win over Notre Dame (Nov. 15) … Finished with six kills, four digs and an ace against Duke (Nov. 20) … Led Miami with 12 kills in her final home match as a Cane, adding three digs and a block  in win over Wake Forest (Nov. 22) … Had two digs in win at Clemson (Nov. 25) … Recorded two digs in win at Georgia Tech (Nov. 27) … Had a dig and a block against Iowa State in the NCAA Tournament (Dec. 3)
2014 (Junior): Appeared in 103 sets over 31 matches, making 29 starts … Finished season ranked second on the team wil 258 kills … Her 12 service aces ranked fourth on the Canes, while her 263 digs were third-best on the team …Had four double-doubles … Recorded season-high 18 kills, 15 digs, and season-best four blocks (one solo) vs Missouri … Tallied 10 digs, seven kills, four blocks, season-best two service aces and one assist in the victory against Boston College … Recorded a double-double in NCAA Tournament win over UCF, finishing with 14 kills and a season-high 18 digs … Had 12 kills and six digs against No. 8 Florida in the second round of the NCAA Tournament
2013 (Sophomore) (Miss. St.): Started all 32 matches, collecting 3.03 kills/set … Her 339 kills and 347 digs both ranked second on the team … Scott was the only underclassmen in the SEC to rank in the top 20 in kills per set (3.03) and digs per set (3.10) the last two seasons … Notched a career-high 24 kills on Nov. 30, 2013 at Tennessee, earning SEC Offensive Player of the Week honors for her big performance against the Volunteers … With 10 digs in the match against the Vols, she turned in her 12th double-double of the season and 19th of her career.
2012 (Freshman) (Miss. St.): Started 27 of her 28 matches played, only missing a start at Ole Miss on September 21 and did not play at LSU on October 28 … Paced the Bulldogs with 283 kills (2.95 k/s) and ranked second with 274 digs (2.85 d/s) … Averaged 10.1 kills and 9.8 digs per match … Notched a career-high 21 kills & 23 digs vs. Kennesaw State on August 25 … Recorded double digits in kills 16 times and double-digit digs 10 times … Posted her team-best 7th double-double (15K/17D) vs. Alabama on November 4 … Was the lone SEC rookie ranked in the top 20 in average kills (19th) and average digs (19th)
High School: Played volleyball for four seasons at Claremont High School … Coached by Chris McDermott … Earned first-team All-Sierra League and Sierra League MVP honors in helping guide the Wolfpack to a 21-9 mark and a runner-up league finish and the quarterfinals of the California Interscholastic Federation playoffs … Paced CHS with 276 kills as a senior and capped her final prep season with 185 digs, 25 aces and 53 blocks … Registered a team-best 236 kills with 64 digs, 10 aces and 18 blocks en route to second-team All-Sierra League and team MVP honors … Tallied 110 kills and 32 blocks as a sophomore … Earned second-team Baseline League distinction and honored as CHS's most improved player in 2009 … Two-time academic all-league performer … Five-year club volleyball veteran competing with Club West Volleyball Club, coached by Kurt Vlasich and Aaron Flores.
Personal: Full name is Taylor Lee Marlene Scott … Daughter of Brandy and Oscar Scott … has two brothers, Jordan and Payton … Intends to major in public relations … Hobbies include reading, watching movies and going to Disneyland