University of Miami Athletics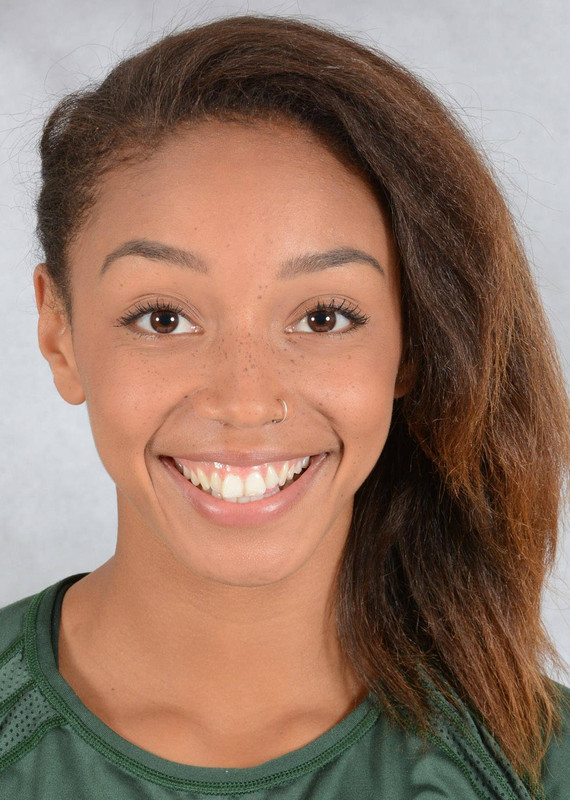 2014 AVCA All-America – Second Team
2014 ACC Player of the Year
2014 All-ACC First Team
2014 AVCA East Coast All-Region
2014 ACC Player of the Week – Oct. 14
2014 ACC Player of the Week – Oct. 20
2014 ACC Player of the Week – Nov. 10, 2014
2014 Capitol One Academic All-America – Second Team
2014 Capitol One Academic All-District – First Team (District 4)
2014 Senior CLASS Award Finalist
2014 Senior CLASS All-America – Second Team
2014 Preseason All-ACC
2013 All-ACC First Team
2013 All-ACC Academic
2013 USF Invitational All-Tournament
2011 COBRA Magazine All-West Region Team
2011 All-National Honorable Mention for COBRA 
2014 (Senior): Started all 31 matches … Led Canes with 502 kills, third-best single season tally in program history … Finished season as the ACC leader in kills/set (4.65), second-best in program history … Her 575.5 points in 2014 rank second in UM history, while her 5.33 points/set are third-best in a single season … Tied for second on the team with 27 service aces …. Ranked third in total blocks (83) and second in digs (266) … Had team-high 13 double-doubles … Finished career ranking fifth in program history with 1,194 kills … Ranks ninth in program history with 87 service aces … Led Canes with 30 kills,13 digs and an ace against FSU, setting a Miami record for kills in an ACC match, most kills by a Hurricane at the Knight Sports Complex and tied Karla Johnson for most kills by a Cane in a single match (9/3/05 at Houston) … Tallied career-best 31 kills, while hitting .464, and added six digs, three blocks and three assists in win over UCF in first round of the NCAA Tournament … 31 kills set a new UM record for kills in a match and set a Miami record for kills in a NCAA Tournament match, surpassing Lane Carico's 21 kills against FIU in 2009 …  Closed out her Hurricane career with her 13th double-double of the season, posting 20 kills and 10 digs, adding three blocks and two service aces while hitting .381 against No. 8 Florida in the second round of the NCAA Tournament.
2013 (Junior): Started all 31 matches this season … Led Canes with 442 kills, seventh-most in a single season in UM history … Led Miami with 38 service aces, ninth-most in a single season in school history, including career-best four against Florida State (Nov. 13) … Led Hurricanes with 524.0 points, seventh-best in program history … Her 4.52 points/set rank ninth in school history … Ranks 13th on Miami's career kills list with 692 … Her 3.26 kills/set rank sixth in program history … Ranks 12th on UM's career service aces list with 60 and seventh with 0.28 aces/set … Ranks sixth on Miami's all-time points/set list with 3.90 … Finished season ranked third in the ACC and 59th nationally with 3.81 kills/set … Ranked second in ACC and 41st nationally with 4.52 points/set … Ranked seventh in the ACC with 0.33 service aces/set … Led Canes with 14 double-doubles … Finished one block shy of a triple double in win over Boston College, recording 17 kills, 12 digs and a career-best nine blocks … Tallied double-digit kills in 24 matches, including a career-high 25 in win over No. 12 North Carolina (Nov. 3) … Had 10 or more digs in 14 matches, including a season-high 21 at Notre Dame (Oct. 18) … Named to 2013 USF Invitational All-Tournament Team after combining for 33 kills, 28 digs and eight blocks over two matches (Aug. 30)
2012 (Sophomore): Double-digit kills in 10 matches … tied for second on team with 22 service aces (0.23/set) … 17 kills against Samford (Aug 25)… recorded 13 kills against Maryland (Oct 12), Virginia Tech (Oct. 26), Virginia (Oct. 28), and Duke (Nov. 10)… registered 16 kills against Boston College (Oct. 14) … recorded a double-double at Clemson with 11 kills and 12 digs (Oct. 19) … set a season-high 18 kills ans 11 digs at Florida State (Nov. 23) … recorded 13 kills and 18 digs against College of Charleston in the NCAA Tournament (Nov. 30).
2011 (Freshman) (San Jose State): Led the 2011 season with 257 kills and 293.5 points, and finished second with 230 digs … Recorded her first and second collegiate double-doubles in a win over Arizona State (21 kills and 14 digs ) and she led the team in their home 2011/12 debut … named WAC player of the week, averaging 3.56 kills, 3.44 digs, 0.44 blocks and 4.06 points per set as the Spartans went 2-0 on the week with wins over Utah State and Idaho (Oct. 24) … against Utah State, Leaf posted her fifth double-double of the season with 13 kills and 14 digs to go along with four blocks and three assists … against Idaho, she had a match-high 19 kills and 17 digs for her sixth double-double of the year … it was the first time the Spartans have won two WAC home matches in the same week since the 2007 season … named to the COBRA Magazine All-West Region Team … received All-National Honorable Mention for COBRA.
High School: Two-time MaxPreps California Division V First Team All-State selection at Marin Academy for head coach Craig Wong …two-time Most Valuable Player of the Bay Counties League West … three-time all-league 1st team selection … one of 381 players named to the 2010 AVCA Under Armour Girls' High School All-America Volleyball Watch List … her senior year, team won the BCL West title and finished league play undefeated …2010 Marin Independent Journal Co-Player of the Year … played club this summer for Golden Bear and head coach Emerson Solanga … PrepVolleyball – Senior Aces for 2011 …  named to the 17 National All-Tournament Team at the 2010 Junior National Championships … PrepVolleyballs 2008 'Best High School Sophomores in the Country' … also played basketball for two years and was a first-team all-league selection.
Personal: Full name is Savanah Grace Leaf … Daughter of Alison Leaf … Has one sister, Corinna … Mother, Alison is a technical director at Pixar … Was born in London, England, and moved to Marin County when she was seven … Majoring in psychology and human development … In 2012, Savanah was selected and started for the Great British National Team in the 2012 Olympics … won first place for California's 6th Congressional District in the 2011 Congressional Arts Competition, a nationwide high school arts competition sponsored by the U.S. House of Representatives.