University of Miami Athletics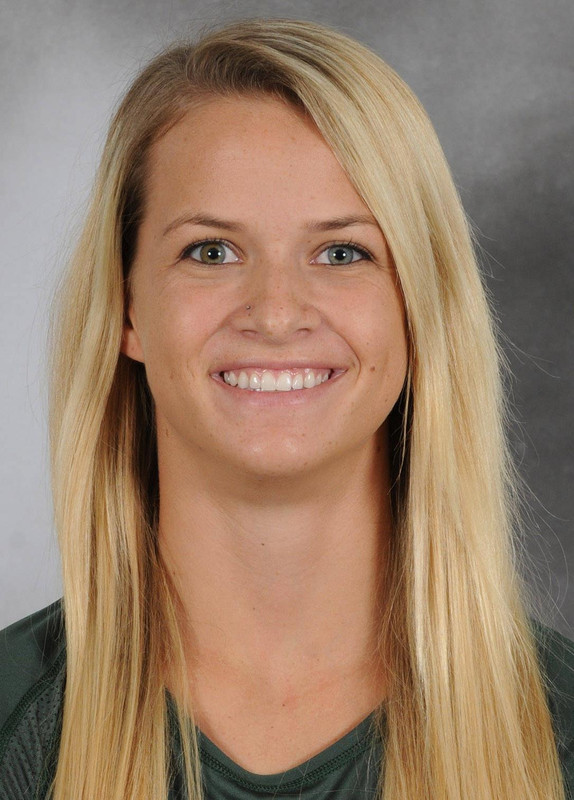 Miami's All-Time Digs Leader
2013 All-ACC Third Team
2013 Preseason All-ACC
2012 Honorable Mention AVCA All- Region (East)
2012 All-ACC Selection
2012 Redbird Classic All-Tournament
2010 ACC Freshman of the Week (Nov. 22)
2010 ACC Freshman of the Week (Nov. 29)
2013 (Senior): Played in all 31 matches as Miami's libero … Finished career fourth in UM history in sets played (461) and matches played (124) … Finished season as Miami's all-time digs leader with 2,120 digs … Moved into the top spot on school's career digs list with a 17-dig performance in win over Notre Dame on Nov. 15, passing previous leader Cassie Loessberg's 2,008 digs …Led Canes with career-high 558 digs … Finished season with career-high 4.81 digs/set, ranking second in the ACC and 53rd in the country … Set a career-high with 36 digs in win over LSU (Sept. 14) … Tallied double-digit digs in 28 of Miami's 31 matches, registering at least 15 digs in 23 matches … Recorded career-high six assists three times … Had season-high three service aces in back-to-back matches, helping Canes beat Georgia Tech (Nov. 27) and Clemson (Nov. 29) … Tallied 40 digs at USF Invitational, 15 against Austin Peay and 25 against USF (Aug. 30).
2012 (Junior): Finished the season with the fourth-most digs in program history (1,562) … led team with 539 digs (4.69/set), second in ACC … fourth-most digs in a single season … tied for second on team with 22 service aces (0.19/set) … started all 31 matches at libero … recorded 26 digs against Ole Miss (Aug. 24) … recorded 28 digs against Oregon St. (Aug. 31) … registered 65 digs in three matches at Redbird Classic (Aug. 31-Sept. 1) … recorded season-high 30 digs against NC State (Oct. 5) … registered 26 digs against Duke (Nov. 10) … registered 21 digs against College of Charleston in the NCAA tournament (Nov. 30).
2011 (Sophomore): Appeared in all 31 matches for the Hurricanes … finished the season first digs with 484 (4.36/set) and service receptions with 808 … third on the team in service aces with 23 (0.21 per set) … picked up 10 or more digs on 26 occasions … recorded 20 or more digs in seven matches … perfect 1.000 receiving percentage on 14 occasions … received 45 serves or more in four matches … picked up a season-high 32 digs in tough loss to North Carolina (Oct. 9) … registered 30 digs against UC Santa Barbara at the Pepperdine Asics Classic (Sept. 2) … season-high 53 service receptions (1.000) and 11 digs in five-match win at Georgia Tech (Nov. 18) … tallied 26 digs against Pepperdine in the same tournament (Sept. 3) … registered 19 digs in victories over Auburn at the Hurricane Invitational (Sept. 9), Virginia (Oct.28) and Florida State (Nov. 26) … had 20 digs at Boston College (Oct. 21) … tallied 18 digs against Oklahoma (Sept.10), North Carolina (Nov.4), and Wake Forest (Nov.12) … amassed 24 digs in tough loss at Clemson (Nov. 19) … performed strong in the postseason picking up 22 digs against Northern Illinois in the first round of the NCAA tournament (Dec. 2).
2010 (Freshman): Fourth all-time at UMiami for digs in a single-season, picking up 539 during her rookie campaign … staked herself atop the UM record books for digs by a freshman, surpassing UM all-time leader Cassie Loessberg… Set a new freshman record for digs per set (4.53) … appeared in 31 matches for the Hurricanes as a freshman … named Atlantic Coast Conference (ACC) Rookie of the Week twice (Nov. 22, Nov. 29) … led team and finished fourth in the ACC with 539 digs (4.53 per set) … double-digit digs in 28 matches … recorded 20 or more digs 11 times … made collegiate debut picking up 23 digs while successfully receiving all 45 serves as libero in win over UT-Arlington (Aug. 27) in the Sooner Legends/Nike Invitational Tournament hosted by the University of Oklahoma … registered 19 digs against Southern Miss (Sept. 4) … tallied 20 digs in home match against Clemson (Oct. 10) …picked up 26 digs in win at Maryland (Oct. 15) … season-high tying three service aces against Virginia (Sept. 26), Duke (Oct. 22) and Maryland (Nov. 21) … season-high 32 digs in five-set win over Duke (Oct. 22) … claimed three kills on the year – Georgia Tech (Oct. 8), Duke (Oct. 22) and Wake Forest (Oct. 24) … recorded 22 digs at Clemson (Nov. 5) … finished the season strong with at least 20 digs in the last five regular season matches, including 26 against North Carolina (Nov. 14) and 30 in the big win at Florida State (Nov. 26) … tallied 19 digs in the NCAA Tournament match at Indiana (Dec. 3) … her 19 postseason digs allowed her to match Jamie Grass and Maria Andersson for the second-most digs for UM in a postseason match.
High School: Played high school volleyball for Archbishop Mitty in San Jose, Calif. … played club for Team Vision … a defensive specialist tabbed an honorable mention selection for the Under Armour All-America Team … helped lead the Lions to consecutive Division II State titles in 2008 and '09 … team won the WCAL, CCS and Nor-Cal Championship during the 2008-09 season … selected as a member of the Prep Volleyball Senior Aces "The 150" … WCAL Second Team All-League performer … part of the high school team named No. 1 in the nation during 2008-09 by ESPN Rise.
Personal: Daughter of Ellen and Rick Shaffer … major is sports administration … has three siblings – Will, John and Mary.