University of Miami Athletics
Rebecca Lacy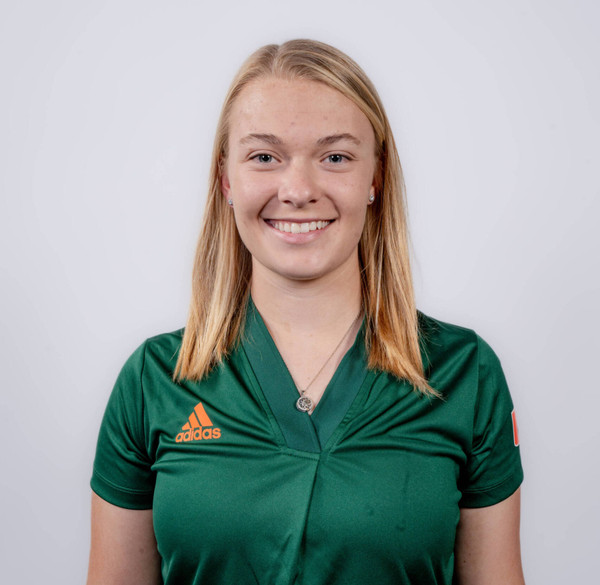 2022-23: Joined the program as a novice ahead of the spring season…Rowed in the 3v8 the entire season…Participated in Miami's scrimmage against Rochester as a member of the Novice 8…Helped the 3v8 to a first-place showing in a quad-race with Jacksonville, UCF and UConn, finishing in a time of 8:48.00…Crossed the finish line second in a time of 7:46.00 with the 3v8 in the first heat of the Michigan State Invite…Rowed the 3v8 to its fastest time of the day in second heat of the first round at the Lake Wheeler Invite, posting a time of 7:26.775 for a sixth-place showing…Placed third in the ACC Championship 3v8 Petite Final with a time of 7:38.117.
High School: Graduated from Langley High School…Rowed for Langly Crew in the First Varsity 8 in the stroke seat position and served as team captain…Won a state championship, Stotesbury, and Nationals…Received numerous accolades including a coaches award, captains award, Hillary J. Fein Spirit award, academic excellence award, Board of Education Scholastic Excellence award, excellence in Psychology/Sociology, Excellence in Civics Education, and Virginia Board of Education Biliteracy Seal…Member of National Honor Society, National Japanese Honor Society, Science Honor Society, and History Honor Society.
Personal: Daughter of Dana and Michael Lacy…Has one brother, Patrick…Aunt, Amy Kalfus, played field hockey at Appalachian State…Cousin, Lauren Sarno, played field hockey at Wofford College…Majoring in Marine Biology and Ecology with the goal of becoming a marine biologist to conduct research on coral bleaching and work on reef conservation…Chose Miami for the marine biology program…Enjoys reading, writing, sewing, cooking, biking, snorkeling, and going to the beach.