University of Miami Athletics
Leticia Ras-Anderica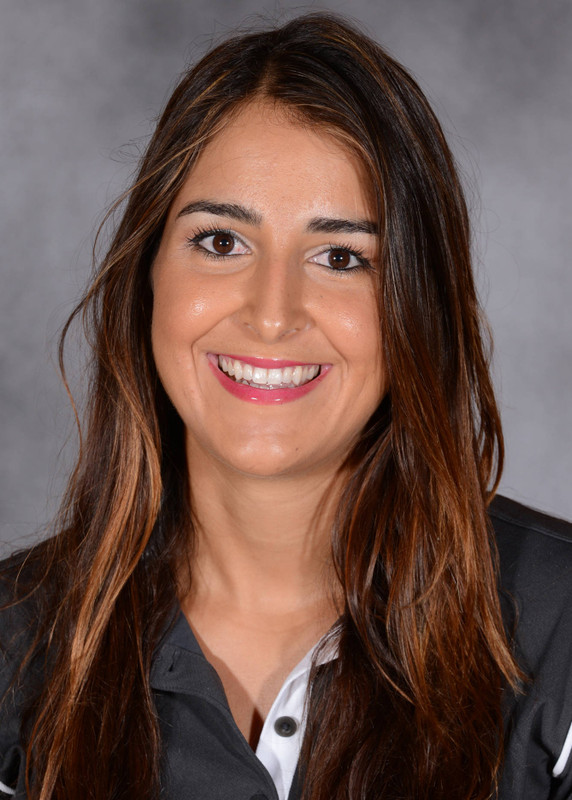 2014 ALL-ACC ACADEMIC

2014-15 (Senior): One of two seniors on the team … Came in third on the team in stroke average with 74.61 … Tied Daniela Darquea for most top-10 tournament finishes on the team with four … Participated in all 11 tournaments … Tied for fifth at the Florida Challenge, shooting four-over-par (148) … Tied for fourth at the Briar's Creek Invitational, shooting one-under-par (215) … Tied for fifth at the Web.com Intercollegiate tournament, posting a three-under par (69) first round … Scored three-under-par (213) for the tournament … Tied for seventh at the SMU Invitational posting a six-over-par (222) … Scored the Canes second best result of the NCAA Regional Championship, tying for 46th.
2013-14 (Junior): Tabbed to All-ACC Academic Team … Ranked second on team with 73.91 scoring average, which ranks as fourth-lowest in program history … Started each of Miami's first eight tournaments, missing final two due to injury … Tied for 17th at Mary Fossum Invitational, shooting 12-over (74-72-82=228)  … Followed with fifth-place finish at Challenge at Onion Creek … Carded final-round 69 to finish five-over (73-73-69=215) … Tied for 39th at Betsy Rawls Longhorn Invitational, shooting six-over 222 … Tied for seventh at Florida Challenge with 3-over 147 … Set career-low 54-hole score with 2-under 214, finishing seventh at UCF Challenge … Tied for 51st with 15-over 228 at Hurricane Invitational … Tied for 21st at Gator Invitational, shooting 11-over 221 … Shot nine-over 225 to tie for 29th overall at SDSU Farms Invitational … Late scratch to Miami's ACC Women's Golf Championship lineup (ill).
2012-13 (Sophomore): Miami's first All-ACC selection since 2011 … One of two golfers to start all 12 tournaments … Led team with 74.46 scoring average in 35 rounds, while tying for team lead with three top-10 finishes … First top-10 finish came in spring opener at Florida Challenge … Shot three-over 147 to tie for fifth overall … Tied for fourth overall at Hurricane Invitational in February, carding second-round 68 to tie for fourth overall at three-over 216 … Followed with 12th-place showing at UCF Challenge … Concluded regular season with three top-20 finishes over final four tournaments … Tied for third at ACC Championship, shooting eight-over 221 … Competed in NCAA Regional for second consecutive season … Tied for 65th at NCAA West Regional, shooting 14-over 227.
2011-12 (Freshman): Started in 11 events … Earned selection into 2012 NCAA Central Regional as individual, tying for 37th after carding 80-73-77=230 … Notched four Top 10 finishes including third place at Bettie Lou Evans Invitational carding 76-78-74=228, sixth-place showing at Mary Fossum Invitational after firing 75-73-77=225, seventh-place at UCF Challenge where she recorded career-best 217 and seventh-place finish at Hurricane Invitational going 77-75-77=229 … Led team with low-average of 75.88 strokes per round.
Personal: Parents are John and Carmen… Majoring in fine arts … Goal is to become professional golfer … Likes to draw in her free time.
RAS-ANDERICA CAREER STATISTICS
SEASON
EVENTS
RDS
STROKES
AVG
LOW
TOP 10
2011-12
11
32
2,429
75.91
69
4
2012-13
12
35
2,606
74.46
68
3
2013-14
8
23
1,700
73.91
69
3
2014-15
11
31
2,313
74.61
69
 4
CAREER
42
121
9,048
74.72
69
14
RAS-ANDERICA TOURNAMENT RESULTS

2011-12 TOURNAMENTS
SCORE
FINISH
Cougar Classic
76-75-74=225
t58th
Mary Fossum Invitational
76-73-73=222
3rd
Bettie Lou Evans Fall Invitational
77-77-80=234
t10th
Las Vegas Collegiate Showdown
76-69-83=228
t43rd
UCF Challenge
75-72-78=225
t43rd
Sir Pizza Cards Challenge
76-74-76=226
t19th
Hurricane Invitational
75-72-83=230
t10th
Battle at Rancho Bernardo
71-77=148
t12th
Ole Miss Rebel Intercollegiate
76-72-74=222
t8th
ACC Championships
78-79-71=228
t19th
NCAA Central Regional
79-80-82=241
t93rd
2012-13 TOURNAMENTS

SCORE
FINISH
Cougar Classic
76-73-71=220
t36th
Mary Fossum Invitational
75-79-71=225
t18th
UNCG Starmount Forest Invitational
73-75-77=225
t21st
Mercedes-Benz Women's Collegiate
76-75-81=232
t56th
Florida Challenge
72-75=147
t5th
Hurricane Invitational
75-68-73=216
t4th
UCF Challenge
69-72-77=218
t12th
Sir Pizza Terrapin Challenge
78-74-76=228
t23rd
SunTrust Gator Invitational
77-70-72=219
t16th
The SDSU Farms Invitational
76-77-75=228
t19th
ACC Championship
74-72-75=221
t3rd
NCAA West Regional
75-77-75=227
t65th
2013-14 TOURNAMENTS
SCORE
FINISH
Mary Fossum Invitational
74-72-82=228
t17th
Challenge at Onion Creek
73-73-69=215
5th
Betsy Rawls Longhorn Invitational
75-74-73=222
t39th
Florida Challenge
73-74=147
t7th
UCF Challenge
70-70-74=214
t7th
Hurricane Invitational
76-76-76=228
t51st
SunTrust Gator Women's Invitational
72-73-76=221
t21st
SDSU Farms Invitational
77-73-75=225
t29th
2014-15 TOURNAMENTS
SCORE
FINISH
East & West Match Play Challenge
77-74=151
t16th
Windy City Collegiate Classic
77-80-75=232
t54th
Betsy Rawls Longhorn Invitational
79-77-74=230
t27th
Florida Challenge
73-75=148
t5th
UCF Invitational
72-74-73=219
t19th
Hurricane Invitational
75-71-75=221
t27th
Briar's Creek Invitational
74-71-70=215
t4th
Web.com Intercollegiate
69-73-71=213
t5th
SMU Invitational
78-72-72=222
t7th
ACC Championship
73-76-83=232
t47th
NCAA Championship
79-76-75=230
t46th