University of Miami Athletics
Kristyna Frydlova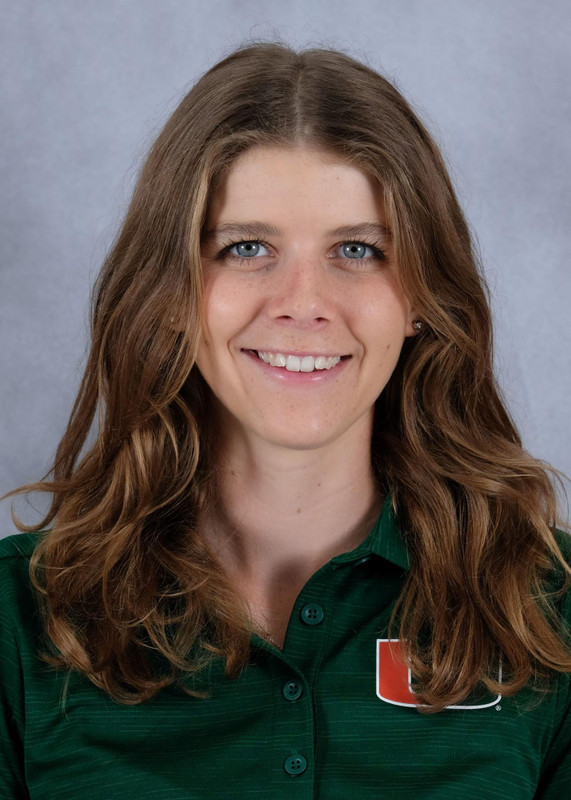 2019-20 (Junior): Opened her junior year at the Minnesota Invitational, leading the Canes with a two-round total of 145 (+1) for a T12 finish… Carded seven birdies to finish T20 at the Schooner Fall Classic with a 54-hole total of 212 (+2)… Aided Miami to a 4th place team finish at the Betsy Rawls Longhorn Invitational, posing a three-round total of 216 (E), to tie for 11th individually.
2017 All-ACC Academic Team
2017-18 (Freshman)
Opened her collegiate career at the Schooner Fall Classic where she finished tied for 26th and posted a three-day total of 214…  Competed in the ANNIKA Intercollegiate finishing 48th with a score of 233… Began the spring season tied for 37th at the Florida Challenge with a score of 155… Tied for 12th place with a score of 219 at the UCF Challenge… Tied for 22nd at the Allstate Sugar Bowl Intercollegiate Championships with a three-round score of 225… Assisting in a first-place team finish at the Hurricane Invitational, tied for 19th with a score of 224… Tied for 55th at the Bryant National Collegiate with a total score of 240… Fired an even-par 72 in the final round of the ACC Championship and concluded the tournament with a 4-over 220, tying for 16th place.
Prior to Miami: Arrives in Miami with an extensive amount of international experience…Captured the 2013 and 205 Czech International Under 18 Championship…Placed third at the 2015 Czech International Ladies Championship…Followed up that performance by taking runner-up honors at the 2016 Czech International Ladies Championship…Placed in the Top 30 at the 2015 European Ladies Championship.
FRYDLOVA'S CAREER STATISTICS
SEASON
EVENTS
RDS
STROKES
AVG
LOW
TOP 10
2017-18
10
27
2,023
74.93
68
0
CAREER
10
27
2,023
74.93
68
0
AGUILERA TOURNAMENT RESULTS
2017-18 TOURNAMENTS
SCORE
FINISH
Allstate Sugar Bowl Intercoll.
73-80-72=225
t22nd
UCF Challenge
76-73-70=219
t12th
Florida Challenge
75-80=155
37th
Betsy Rawls Longhorn Invite
74-76-75=225
t31st
ANNIKA Intercollegiate
80-72-81=223
48th
Schooner Fall Classic
68-77-69=214
t26th
Hurricane Invitational
75-71-78=224
t19th
Bryan National Collegiate
80-76-78=234
t55th
ACC Championship
73-75-72=220
t19th
NCAA Regional
74-W-W
94th