University of Miami Athletics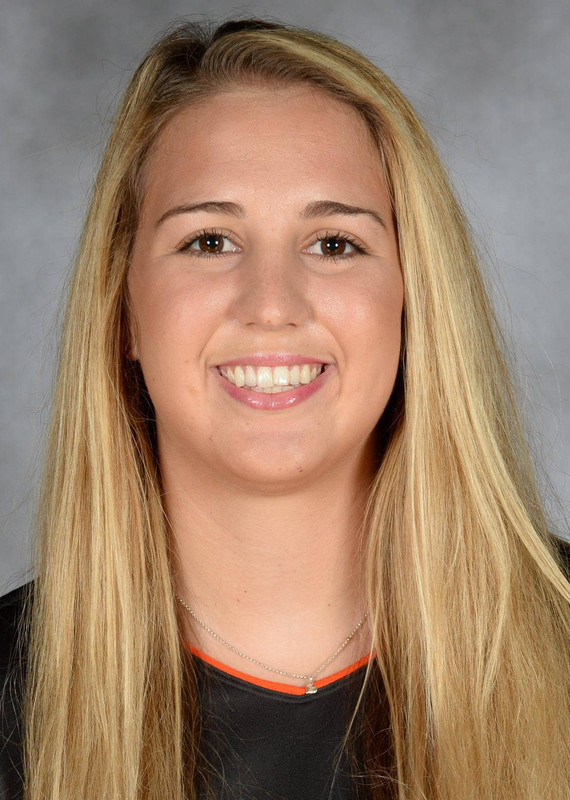 2015 (Redshirt Junior): Had five kills and six digs in three-set win over Illinois State (Aug. 28) … Hit .429 in three-set victory over Florida A&M (Aug. 29) … Recorded a double-double with a career-high 19 kills and 12 digs, while hitting .357 in five-set win over Kansas Sate (Aug.29) … Added 12 kills and three block assists in match against Missouri State (Sept. 4) … Tallied 12 kills and six total blocks against Marquette (Sept. 5) … Racked up 12 kills and 10 digs to go along with two blocks and an ace against Oral Roberts (Sept. 5) … Picked up 13 kills and 18 digs in victory over No. 20 Purdue (Sept 12) … Added 10 kills, 15 digs and two services aces in win over LSU (Sept. 13) … Had 10 kills, five digs and three blocks in victory over Seattle U (Sept. 17) … Finished with 10 kills while hitting .308, eight digs and two blocks in win over UCF (Sept. 18) … Tallied 13 kills, seven digs and a team-high five blocks at Florida State (Sept 23) … Led Canes with 13 kills, five digs, three blocks and three assists at Louisville (Sept. 27) … Finished with 12 kills, 12 digs, two blocks and an ace, recording her fifth double-double while helping the Canes beat Georgia Tech (Oct. 2) … Finished one dig shy of a double-double, hitting .370 with nine digs, a block and a service ace in a victory over Clemson (Oct. 4) … Had eight kills, seven digs and two blocks in win at Duke (Oct. 11) … Led Miami with a career-high 21 kills while hitting an impressive .340 and adding 10 digs, five blocks and two service aces against NC State to pick up her sixth double-double of the season (Oct. 16) … Had five digs at North Carolina (Oct. 18) … Recorded five kills, a block and 15 digs in win over Boston College (Oct. 23) … Had two kills and five digs in win over Syracuse (Oct. 25) … Tallied 13 kills and 15 digs to record her seventh double-double of the season, adding a team-high .414 attack percentage and three blocks in win at Virginia Tech (Oct. 30) … Led the Canes with seven kills, adding five digs and two blocks at Pitt (Nov. 1) … Had 15 kills and 10 digs to earn her eighth double-double of the season in win over No. 17 Florida State (Nov. 4) … Had seven kills and hit a stellar .438 with nine digs and a service ace in win over Virginia (Nov. 6) … Earned her ninth double-double of the season by posting a team-high 18 kills to go with an outstanding .368 hitting percentage and adding a team-best 14 digs and three blocks against No. 22 Louisville (Nov. 13) … Recorded 14 kills, four digs and an assist to go with her .387 hitting percentage in win over Notre Dame (Nov. 15) … Added nine kills, 10 digs, three blocks and an ace against Duke (Nov. 20) … Had six kills, three blocks and a team-high 10 digs in win over Wake Forest (Nov. 22) … Finished with a team-high 12 kills and hit .385 for the match, adding nine digs, a block and an assist in the victory at Clemson (Nov. 25) … Registered a team-best 18 kills to go with a .387 hitting percentage, adding 12 digs, and ace and a block to round out her team-best 10th double-double of the year in a win at Georgia Tech (Nov. 27) … Finished with 10 kills while hitting a team-best .320 and a team-high 12 digs and two blocks to record her team-best 11th double-double of the season in NCAA Tournamnet match against Iowa State (Dec. 3)
2014 (Redshirt Sophmore): Appeared in 106 sets over 31 matches, making 30 starts … Led the Canes with 280 digs … Tied for second on the team with 27 service aces … Ranked third on the team with 247 kills … Finished fourth on the team with 69 total blocks … Had five double-doubles … Added 13 kills, two blocks and an ace in victory over UCF in first round of the NCAA Tournament … Tallied 11 kills while posting a team-best .381 attack percentage and leading the team with 17 digs to record her fifth double-double of the year in second round match vs. No. 8 Florida.
2013 (Sophomore): Granted a redshirt for the 2013 season.
2012 (Freshman): Had six starts … Made first career start against No. 6 Florida State (Sept. 7) … collected 29 kills in three matches at the Louisville Tournament (Sept. 14, Sept. 15) … Recorded nine kills and 13 digs against Middle Tennessee (Sept. 15) … Registered first career double-double (15 kills and 13 digs) and career-high in attempts (36) against No. 12 Louisville (Sept. 15) … Recorded two blocks against North Carolina (Oct. 7).
High School: Lettered all four years while attending Northwood High School … Served as the team captain in her senior year … Voted the team's Most Valuable Player in sophomore, junior and senior years … Three-time Orange County Register All-County selection, in addition to Irvine World News All-City, All-Sea View League and All-Pacific Coast League honoree as a sophomore, junior and senior … Named to the Orange County "Dream Team" her senior season … Garnered Irving News All-City MVP honors in 2010 … Finished her prep career as a 2012 Prep Volleyball Senior Ace player.
Personal: Full name is Kelsie Victoria Groot … Daughter of Joycelyn and Scott Groot … Has one sister, Megan … Major is physical therapy.