University of Miami Athletics
Kelly Williamson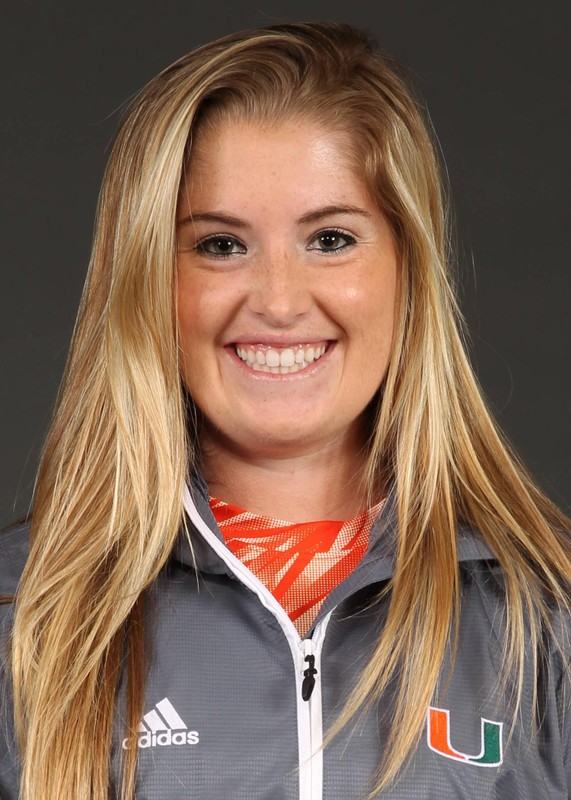 2015 Cross Country: Opened season at 2015 FAU Invitational … Competed for the Canes at the Mountain Dew Invitational … Represented Miami at the FSU Invitational … Represented the Hurricanes at the USF Invitational … Competed for the Canes at the ACC Cross Country Championships
2014 Cross Country: Opened seaon competing in 5000m (24:20.6) at FAU Invitational … Completed the USF Invitational with a time of 22:24.55 … Posted a time of 21:38.78 at the Mountain Dew Invitational 5K … Completed The Paul Short 6K Run with time of 27:50 … Ran a time of 24:08.06 at the Westminster Academy Invitational. Ran in the ACC Championships and posted a time of 27:17.2

2013 Cross Country: Competed in five races for the Hurricanes, including the ACC Championships … Opened season with a 15:32.01 at the WA Collegiate Invitational (8/31) …  Posted a time of 26:38.27 at the UF Mountain Dew Invitational 6K (9/14) … Recorded a time of  21:26.52 at the Disney Cross Country Classic 6K (10/12) … Ran a time of 26:41.00 at the UCF Black & Gold Invitational 6K (10/18) … One of six women to represent Miami at ACC Championships (11/1).
2013 Outdoor: Competed in three different track events, including 4×4 relay, 400m dash and 800m run… Ran personal-best 1:01.01 in women's 400m dash at Miami Hurricane Alumni Invitational… Ran personal-best 2:24.53 in women's 800m run at Miami Hurricane Invitational.
2013 Indoor: Competed in women's 800m run at Doc Hale Virginia Tech Meet and posted a time 2:52.12.
2012 Cross Country: Competed in a total of three races… Ran her first race at the Mountain Dew Invitational with a time of 23:09.42… Finished the Paul Short Run 6k in 25:40…Finished the regular season at the UCF Black and Gold Invitational with a time of 25:40
Prior to Miami: Competed in the 400m and 800m. Finished with a personal best of 59.7 in the 400m and 2:23 in the 800m. Nominated to the FHSAA Academic All-State team, as well as a Al Oerter Trophy nominee. Holds the 4×8 and 800m school records
Personal: Majoring in Biochemistry… Daughter of Ellen and Paul Williamson… Has two siblings, Matthew and Ryan