University of Miami Athletics
Kailey Walsh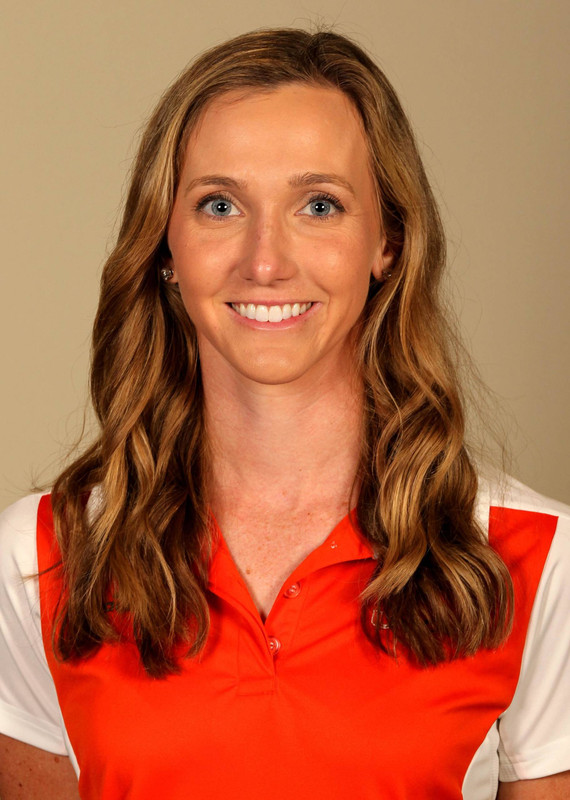 2014 ALL-ACC ACADEMIC
2015-2016 (Senior): Finished the 2014-15 slate with a scoring average of 75.82…Made her season debut at the Jim West Challenge…Tied for 61st posting the lowest second round total on the team with a one-under-par 71… Finished the Betsy Rawls Invitational tied for 44th with a final round score of 228 … Opened spring season at UCF Challenge with a three-round total of 231 (T-53). Finished 58th at 2016 Allstate Intercollegiate with a three-round total of 228 … Completed the Hurricane Invitational with a three-round total of 219 (T-32) … Finished the Wildcat Invitational with a three-round total of 233 (T-66) … Tied for 30th with a three-round total of 229 at the Bryan National Collegiate … Finished the ACC Championship with a three-round total of 232 (T-45) … Placed 75th (240) at the NCAA Regional in Bryan, Texas … Fired a one-under- par 71 in the final round of her career to finish tied for 76th at the NCAA Championship in Eugene, Ore. 
2014-15 (Junior): Participated in all 11 Events … Earned her first top-10 finish of the season at the Betsy Rawls Longhorn Invitational, finishing sixth with a score of five-over-par (221) … Had Miami's best result at the Hurricane Invitational, shooting two-under-par (214) to tie for second … Scored best round of season at Hurricane Invitational with a three-under-par (69) third round.
2013-14 (Sophomore, Miami): One of four Hurricanes named to 2014 All-ACC Academic Team … Participated in all 10 Miami events … Made Miami debut in season opener at Mary Fossum Invitational, tying for 34th at 16-over 232 … Finished 13th at Challenge at Onion Creek, shooting 10-over 220 … Carded career-low even-par 216 at Betsy Rawls Longhorn Invitational, including first-round 69 (second-lowest round of career) … Tied for 16th at Betsy Rawls … One of three Canes to tied for 27th at Florida Challenge … Shot five-over 221 to tie for 46th at UCF Challenge … Tied for 19th at Hurricane Invitational, shooting six-over 219 … Finished 54th at SunTrust Gator Women's Invitational, shooting 20-over 230 … Finished 24th at SDSU Farms Invitational, shooting seven-over 223 … Was Miami's second-highest finisher at ACC Championship, finishing 18th at 13-over 226.
2012-13 (True Freshman, Georgia): Participated in 10 tournaments, including competing as individual at LSU Golf Classic … Named to SEC All-Freshman Golf Team … Consistent performer from fall to spring, sporting 76.10 average in 2012 calendar portion of Georgia's slate followed by 76.11 in spring … Recorded season-best three-under 69 in final round of season-opening Cougar Classic en route to best 54-hole score of season (four-over 220) … Was Bulldogs' top individual performer in consecutive events at Darius Rucker Intercollegiate (t22nd) and LSU Golf Classic (t5th) … Tabbed SEC Freshman of the Week following performance at LSU.
High School: Entered college ranked No. 12 in the Golfweek/amateurgolf.com women's rankings … Ranked No. 22 and No. 23 nationally in Class of 2012 by Polo and Golfweek, respectively … Named to American Junior Golf Association (AJGA) HP Scholastic All-America Honor Roll … Competed in 2011 U.S. Women's Amatuer and 2010 U.S. Girls' Junior Championship … Fired 69 to finish second in qualifying at 2012 Jones/Doherty Women's Amateur and reached quarterfinals of match-play bracket … Posted consecutive seventh-place showings at Dixie Amateur in 2011 and 2012 … At 110th North & South Amateur, carded 215 to finish fourth among 112 competitors in stroke-play qualifying … Advanced to quarterfinal round of match play … Recorded six top-7 finishes in two seasons competing in AJGA events, culminating with third-place showings at 2011 Cleveland HealthCare Foundation Junior and 2011 AJGA Florida Junior … Completed junior and senior years of high school at Laurel Springs College Prep in Ojai, Calif., after attending Saint Andrews School in Boca Raton as freshman and sophomore … Played six years of high school varsity golf from sixth through 11th grades before not competing as senior … Earned All-County recognition for all six years of high school competition and advanced to state championships as freshman, sophomore and junior … Led Saint Andrews to runner-up and fifth-place team finishes in Florida State High School Championships for Class A as freshman and sophomore, respectively.
Personal:  Born April 12, 1993 … Daughter of Karen and Joe Walsh … Younger sister of two former college athletes … Brother, Ryan, played soccer at Harvard from 2005-09 … Brother, Blair, was Georgia's placekicker from 2008-12 … Blair currently plays for the Minnesota Vikings.
WALSH CAREER STATISTICS
SEASON
EVENTS
RDS
STROKES
AVG
LOW
TOP 10
2012-13
10
30
2,284
75.90
67
1
2013-14
10
29
2,182
75.24
69
0
2014-15
11
28
2,123
75.82
69
2
2015-16
10
30
2,290
76.33
71
0
CAREER
41
117
8,879
75.89
67
3
WALSH TOURNAMENT RESULTS

2012-13 TOURNAMENTS
SCORE
FINISH
Cougar Classic
76-75-69=220
 t36th
Mason Rudolph Championship
77-78-82=237
59th
Liz Murphey Fall Preview
78-82-75=235
t77th
Stanford Intercollegiate
76-74-72=222
t36th
FSU Match-Up Tournament
80-74-71=225
t18th
Darius Rucker Intercollegiate
76-73-75=224
t22nd
LSU Golf Classic*
78-67-78=223
5th
Bryan National Collegiate
83-75-74=232
t62nd
SEC Championships
77-82-76=235
t37th
NCAA West Regional
77-79-75=231
t81st
2013-14 TOURNAMENTS
SCORE
FINISH
Mary Fossum Invitational
78-77-77=232
t34th
Challenge at Onion Creek
74-76-70=220
13th
Betsy Rawls Longhorn Invitational
69-73-74=216
t16th
Florida Challenge
73-80=153
t27th
UCF Challenge
70-73-78=221
t46th
Hurricane Invitational
72-71-76=219
t19th
SunTrust Gator Women's Invitational
76-80-74=230
t54th
SDSU Farms Invitational
68-80-75=223
t24th
ACC Women's Golf Championship
75-73-78=226
18th
NCAA Central Regional
84-78-80=242
t100th
2014-15 TOURNAMENTS
SCORE
FINISH
East & West Match Play Challenge
75-76=151
t16th
Windy City Collegiate Challenge
74-78-75=227
t32nd
Betsy Rawls Longhorn Invitational
74-74-73=221
t6th
Florida Challenge
72-79=151
t13th
UCF Challenge
77-74-72=223
t50th
Hurricane Invitational
71-74-69=214
t2nd
Briar's Creek Invitational
77-82-72-231
t58th
Web.com Intercollegiate
77-73-73=223
t35th
SMU Invitational
0-0-0=0
DNF
ACC Championship
74-79-83=236
t52nd
NCAA Regional Championship
87-81-78=246
t88th
2015-16 TOURNAMENTS
SCORE
FINISH
Jim West Challenge
81-71-81=233
t61st
Betsy Rawls Invitational
71-77-80=228
t44th
UCF Challenge
77-76-78=231
t53rd
2016 Allstate Intercollegiate
72-75-81=228
t58th
Hurricane Invitational 
73-73-73=219
t32nd
Wildcat Invitational 
78-80-75=233
t66th
Bryan National Collegiate
76-76-77=229
t30th
ACC Championship
79-77-76=232
t45th
NCAA Regional
81-74-79=234
75th
NCAA Championship
76-76-71=223
t76th