University of Miami Athletics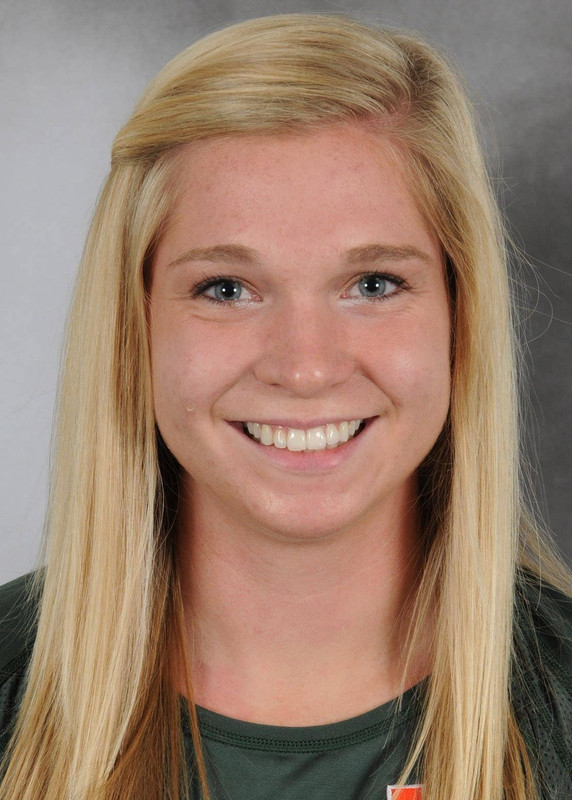 2013 (Redshirt Sophomore): Played in 14 sets over 10 matches … Had a service attempt in NCAA first round match vs. Oregon (Dec. 6) … Had a dig in victory over Clemson (Nov. 29) … Recorded a service ace and an assist in match vs. No. 13 Duke (Nov. 24) … Made season debut vs. Maryland, recording one dig (Oct. 13)
2012 (Redshirt Freshman): Made collegiate debut with serve versus Virginia at home (Oct. 28) … saw action against Maryland, picking up a dig (Nov. 18).
2011 (Freshman): Missed the season with an injury.
High School: Played high school volleyball at Gainesville High School under head coach Cindy Boulware … Lettered four years at Gainesville High … Played club ball for both Gainesville Juniors and Ocala Power 18 Rox … Selected as a team captain for Gainesville HS in 2009 and 2010, while receiving the Scholar-Athlete Award from 2008-10 … Tabbed Most Valuable Offensive Player as a senior … Earned the Coach's Award … Two-time Gainesville Sun Athlete of the Week … Jeffrey Meldon Scholar-Athlete of the Week … First Team All-Area … Gainesville Sun Player of the Year runner-up … Helped her team to the regional quarterfinals and a district runner-up title … Team finished the year 23-6 overall and 8-1 in conference play … Named Girls' Varsity Rookie of the Year in 2007 … Selected as the Girls' Varsity Most Improved Player; later receiving the Gainesville High School Leader All-Offensive Categories Award in 2009 … First Team All-Area honors in 2009 and 2010 … Named to the Gatortown Classic and Bolles Invitational All-Tournament Team in 2010 … Gainesville Juniors 12s-17s finished second at Indianapolis Tournament … Ocala Power 18 Rox advanced to quarterfinal 17s and the Junior Olympics.
Personal: Daughter of Rick and Colleen Croft … Has a brother, Kyle (20) … Spent last summer in Vietnam teaching English and volleyball … Planning on majoring in exercise physiology, pre-medicine.