University of Miami Athletics
Duffy House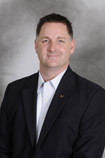 Robert "Duffy" House recently was promoted to general manager for the University of Miami's Hurricane Sports Properties (HSP) team after beginning in March 2011 as associate general manager. HSP is the exclusive multimedia rights-holder for University of Miami Athletics and operates as a joint venture of Learfield Sports and IMG College.
House has been associated with the South Florida sports industry for nearly 15 years, having previously served as executive director, corporate marketing for Sunrise Sports & Entertainment. He also is the former executive director for the LPGA's ADT Championship (2007-09) and director of corporate partnerships for the Orange Bowl Committee (2003-07).
Additionally, he was with Executive Sports International serving as manager/director, sales and marketing for the Royal Caribbean Classic (1998-2003).
He is a 1998 graduate of St. Thomas University, where he was a member of the golf team.