University of Miami Athletics
Courtney Keller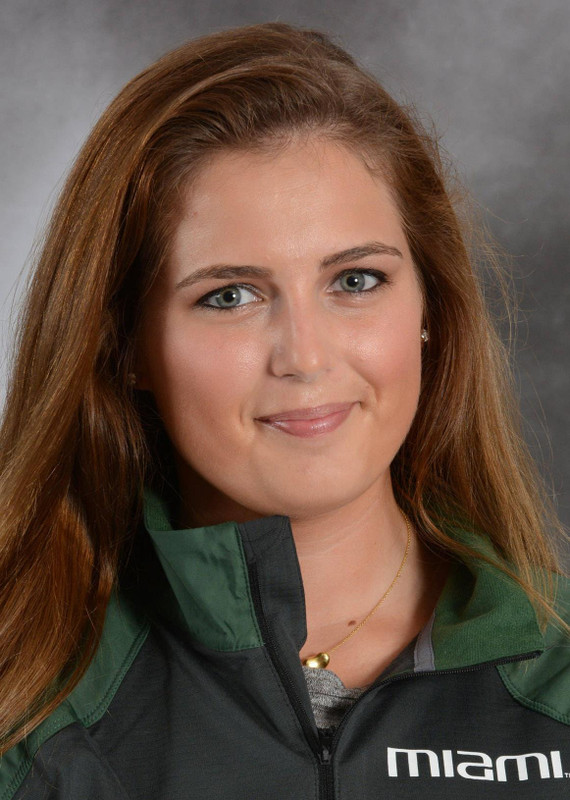 2013-14: Helped Miami place first with a time of 15:25.7 in the Women's Open 8+ race at the 2013 Head of the Hooch … Member of the 2V8+ that was victorious over UConn with a time of 6:45.4 … Member of the 2V8+ in San Diego … Member of the 1V8+ at the 2014 Clemson Invitational … Member of the 2V8+ that finished fifth in the Grand Final at the ACC Championship with a time of 7:01.6.
2012-13: Rowed with the 2V8+ that placed third in their race at the 2013 ACC Championships … Helped Miami finished fourth overall in the 2013 ACC Championships team competition … Part of crew that beat Old Dominion, UCF and SMU at the 2013 Miami Invitational … Placed third in the third final for the Jackie Ann Stitt Hungnees Trophy at the 2013 San Diego Crew Classic … Helped beat UConn in head-to-head racing by nearly 15 seconds … Finished second to Buffalo at the Cardinal Invitational … Finished first in race against West Virginia and Dayton at the Cardinal Invitational … Placed third behind Notre Dame and Louisville at the Cardinal Invitational … Placed third at Head of the Hooch
2011-12: Was 2-seat in the Varsity 8+ at the Head of the Hooch and in the Open 8+ that came fifth … Was 2-seat of the Varsity 8+ in Spring racing season which won the C-final of Sea World Cal Cup at San Diego Crew Classic and came in a tight second place finish in the petite final at Knecht Cup … The V8+ came fourth at ACC championships and wrapped up the year with a strong fifth finish at the Dad Vail Aberdeen Regatta
2010-11: Helped lead the Varsity 8+ to a fourth-place finish at ACC Championship … Came fourth in the Varsity Women's 8+ in the petite final of the Oak Ridge Invitational Regatta. 
High School: Team captain and MVP of the rowing team … Medaled at New England's … Coached by Grier Torrance
Personal: Daughter of Doris and Chuck Keller … Her adopted brother, Uwe Blab, played basketball at Indiana … Brother, Chuckie, played basketball for Duke and Illinois … Sister, Chelsea, rowed at Louisville.