University of Miami Athletics
Carina Cuculiza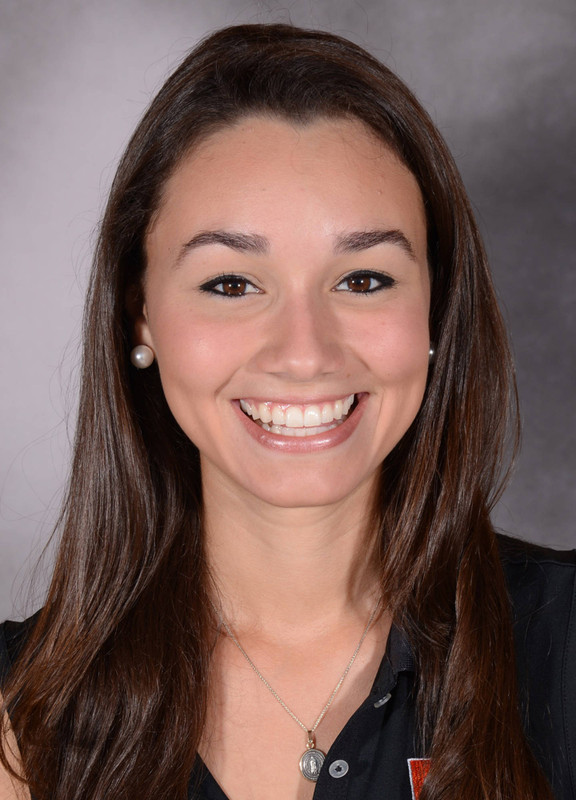 2013-14 (Senior): Inducted into Iron Arrow Honor Society in December 2013 … Made season debut at Florida Challenge in spring opener … Competed as individual … One of three Canes to tie for 27th at 9-over 153 … Competed as part of Miami's second team at Hurricane Invitational … Tied for 77th at 22-over 235.
2012-13 (Junior): Appeared in 10 tournaments, making eight starts in lineup … Posted 77.49 stroke average over 29 rounds … Did not compete in season's first two tournaments … Made season debut at UNCG Starmount Forest Invitational as individual … First start came at Mercedes-Benz Women's Collegiate … Opened spring season with three top-30 finishes in first four events … Tied for 23rd at Florida Challenge and tied for 29th at Hurricane Invitational … Tied for 23rd at Sir Pizza Terrapin Challenge … Finished 39th at ACC Championship … Made NCAA postseason debut at NCAA West Regional, tying for 96th at 21-over 234.
2011-12 (Sophomore): Played in eight consecutive tournaments for Miami … Registered 79.74 stroke average in 23 rounds of play… Fired season-best 72 in second round of Hurricane Invitational … Finished in top 20 on two occasions, including Sir Pizza CARDS CHALLENGE and Hurricane Invitational.
2010-11 (Freshman): Competed in all 10 events for Hurricanes, notching 78.27 stroke average … 10th-best stroke average among ACC freshmen … Recorded two top-10 finishes … Made collegiate debut at Cougar Classic, shooting 74 in final round… Placed in tie for eighth at Palmetto Intercollegiate with season-best score (219), including career-low round of 69 to start… Opened spring with ninth-place finish at JU Classic.
High School: Completed second-place finish at Junior Central American Tournament from 2005-2008 … Broke through and won Junior Central American Tournament in 2009 … Finished first at Central American Amateur Tournament in 2009 and 2010.
Personal: Daughter of Rolando Cuculiza and Teresa Reyes … From Managua, Nicaragua … Valedictorian of graduating 2010 class … Favorite sports team is Los Angeles Lakers.
CUCULIZA CAREER STATISTICS
SEASON
EVENTS
RDS
STROKES
AVG
LOW
TOP 10
2010-11
10
26
2,035
78.27
69
2
2011-12
8
23
1,834
79.74
72
1
2012-13
10
29
2,246
77.45
70
0
2013-14
2
5
388
77.60
73
0
CAREER
30
83
6,503
78.35
69
3
CUCULIZA TOURNAMENT RESULTS

2010-11 TOURNAMENTS

SCORE
FINISH
Cougar Classic
78-77-74=229
t63rd
Starmount Forest Fall Classic
77-80=157
t41th
Waterlefe Invitational
80-83-80=243
t63rd
JU Classic
77-79=156
9th
Edwin Watts/Palmetto Intercollegiate
69-75-75=219
8th
Edwin Watts/Kiawah Classic
79-73-78=230
39th
Sir Pizza Cards Challenge
79-77-83=239
48th
Eagle Landing Invitational
81-76-80=237
t69th
John Kirk Panther Intercollegiate
80
WD
ACC Championships
85-82-78=245
t38th
2011-12 TOURNAMENTS
SCORE
FINISH
Bettie Lou Evans Fall Invitational
83-85-82=250
t67th
Las Vegas Collegiate Showdown
83-77-80=240
78th
UCF Challenge
81-75-80=236
84th
Sir Pizza Cards Challenge
73-77-76=226
t19th
Hurricane Invitational
77-72-81=230
t10th
Battle at Rancho Bernardo
82-86=168
t85th
Ole Miss Rebel Intercollegiate
84-79-74=237
t84th
ACC Championships
84-84-79=247
43rd
2012-13 TOURNAMENTS
SCORE
FINISH
UNCG Starmount Forest Invitational
80-77-77=234
t56th
Mercedes-Benz Women's Collegiate
83-78-75=236
t66th
Florida Challenge
78-78=156
t23rd
Hurricane Invitational
83-72-76=231
t29th
UCF Challenge
79-75-70=224
t36th
Sir Pizza Terrapin Challenge
76-73-79=228
t23rd
SunTrust Gator Invitational
70-80-76=226
t38th
The SDSU Farms Invitational
80-72-85=237
t46th
ACC Championship
83-82-79=244
39th
NCAA West Regional
78-79-77=234
t96th
2013-14 TOURNAMENTS
SCORE
FINISH
Florida Challenge*
75-78=153
t27th
Hurricane Invitational
80-73-82=235
t77th