University of Miami Athletics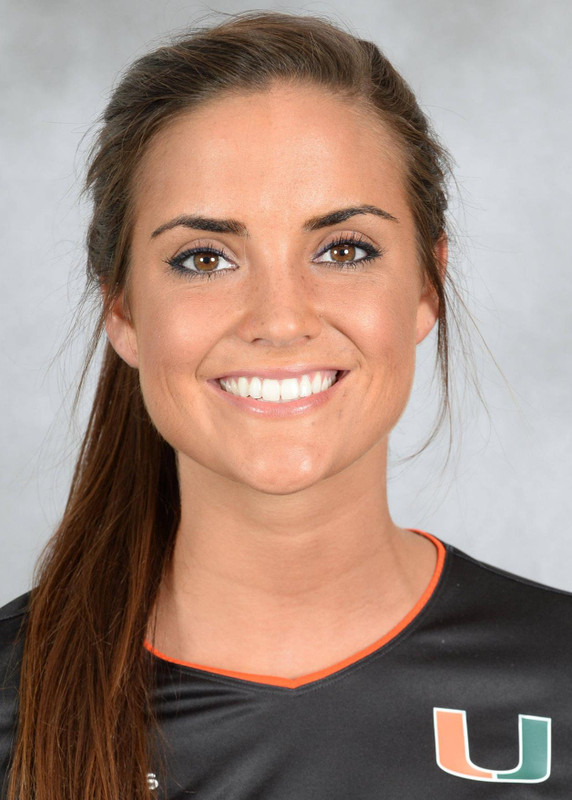 2015 (Senior): Led Canes with 13 assists and recorded an ace in three-set win over Florida A&M (Aug. 29) … Had two assists in win over Clemson (Oct. 4) … Appeared in two sets in victory at Duke (Oct. 11) … Saw action in one set of Miami's victory at Virginia Tech (Oct. 30) … Played in one set at Pitt (Nov. 1) … Had two digs in win over Notre Dame (Nov. 15) … Recorded two digs off the bench against Duke (Nov. 20) … Had two aces and three digs in win over Wake Forest (Nov. 22) … Had one dig in win at Clemson (Nov. 25) … Recorded three digs in win at Georgia Tech (Nov. 27) … Had two digs against Iowa State in the NCAA Tournament (Dec. 3)
2014 (Junior): Saw action in 20 sets over 13 matches, making one start … Had 16 assists and a service ace in win over Florida Gulf Coast … Distrubted 24 assists against TCU … Distributed five assists in victory over Ball State … Tallied 6 assists, two digs and a kill in  victory over Notre Dame … Tallied eight assists and a dig against Duke … Distributed five assists, two digs, and one service ace in the victory against Syracuse
2013 (Sophomore): Saw action in 37 sets over 12 matches, making nine starts … Distributed 402 assists, ranking second on the team … Led Miami with 10.86 assists/set … Registered three double-doubles … Had a career-high 64 assists in win over Long Beach State (Sept. 7), second-most in a single match in school history
2012 (Freshman): Third on team with 64 assists (3.76/set) … saw action in two matches at the Redbird Classic (Aug. 31-Sept. 1) … recorded six kills on seven attempts, 27 assists and 2 blocks in first start at Virginia (Sept. 21) … registered 19 assists against Virginia Tech (Sept. 23).
High School: Led her Cardinal Gibbons High team to a 25-2 record in 2011, a year in which they spent most of the season ranked nationally in the Top 25 by ESPN … helped her team advance to the Class 4-A semifinals … four-year letter winner.
Personal: Full name is Caitilin Anne Donahoe … Daughter of Mardi and Thomas Donahoe … Granddaughter of Miami Dolphins legendary quarterback Earl Morrall … graduated high school with a 4.7 GPA.