University of Miami Athletics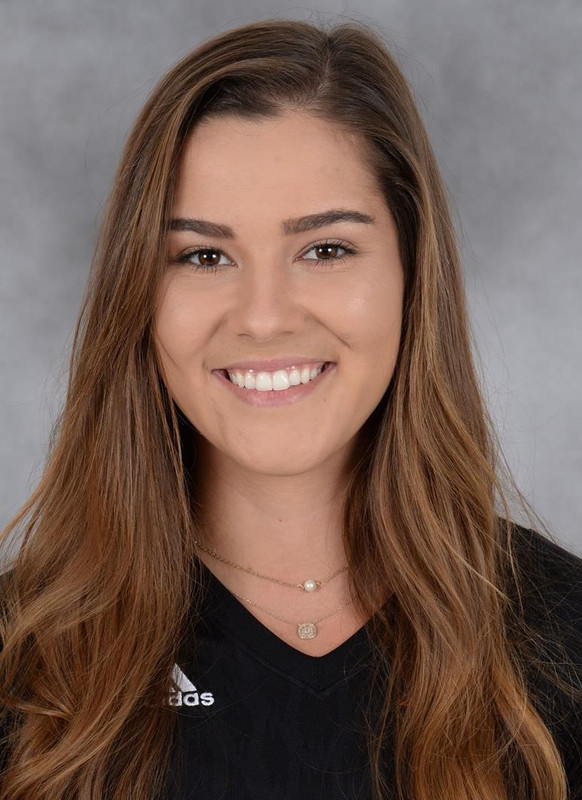 2017 (Senior): Recorded a kill, five digs and two blocks in four combined sets played versus Little Rock and Nicholls State at the Southern Miss Invitational (Aug. 25-26) … Saw action off the bench in the Hurricanes' five-set triumph over FAU (Sept. 1) … Recorded season-high performances in kills (5), digs (3) and blocks (2) and a career-high of three aces in ACC victories against Virginia Tech (Sept. 22) and VIrginia (Sept. 24) … hit a season-best .500 for the five kills against the Cavaliers and produced an assist in each match … Recorded five kills, six digs and career-high five blocks in ACC action at Notre Dame (Sept. 29) … Took her less than two sets to set a career-high of 10 kills at Louisville (Oct.1), contributing a dig and an ace in the memorable performance … Played in every set at Florida State (Oct. 4) and against Pittsburgh (Oct. 8), combining for nine kills, an ace and five digs … Doubled her best previous achievement for a new career-high of 20 kills at Duke (Oct. 13), which she complemented with five digs and block … reached new heights two days later for career-best nine digs at Wake Forest (Oct. 15), which came along with four kills and four blocks … Tied her career-high of three aces in the win over Louisville (Oct. 20) to go with two kills and three digs … contributed eight kills, two digs and two blocks against Notre Dame two days later … Recorded a career high of seven blocks in a weekend that included a combined six kills, nine digs, two service aces and an assist in wins against North Carolina State (Oct. 27) and North Carolina (Oct. 29) … Contributed a dig in two sets played at Pittsburgh (Nov. 3) … Combined for three digs, a service ace and a block in wins against Boston College (Nov. 9) and Syracuse (Nov. 12) … Saw action in a victory over Clemson (Nov. 24).
2016 (Junior):  Tallied three kills and two digs off the bench in win over Duquesne (Sept.17) … Recorded one of Miami's three service aces in match against Missouri (Sept.17) … Finished with two kills and a dig in match against Delaware (Sept. 16) … Had four kills, four blocks, eight digs and a team-best two services aces, while hitting .400 percentage, in win against Florida A&M (Aug. 26) … Tied a career-high with six kills, adding two digs and a block in win against FIU (Aug. 27) … Added a pair of kills, two digs and a block in match against Coastal Carolina (Aug. 27) … Contributed in the teams five-set victory against UTSA (Sept. 2) … Saw action against Lipscomb (Sept. 2) … Recorded a kill against Texas (Sept. 3) … Added a block and a dig in the victory against Loyola Chicago (Sept. 9) … Saw action off the bench against Kansas State (Sept. 9) … Saw action in reserve against Mississippi State (Sept. 10) .
2015 (Sophomore): Made season debut at Louisville, recording four digs (Sept. 27) … Recorded one dig in win at NC State (Oct. 16) … Played in one set at Pitt (Nov. 1)
2014 (Freshman): Appeared in 55 sets over 27 matches, making one start … Made her Hurricane debut against Seton Hall … Registered season-high six kills, seven digs and two blocks, as well as an ace in victory over Ball State … Recorded season-best two aces vs. Florida State … Notched four kills and four digs in victory over Georgia Tech … Recorded a service ace in victory over North Carolina State … Notched four digs in victory over Florida A&M … Recorded two kills and two digs against Wisconsin … Collected two digs vs Missouri … Totaled two digs against Duke … Had two digs in win at Wake Forest
High School: Named the Class 8A-6A Player of the Year for girls' volleyball after a season in which she tallied 366 kills, 45 aces and 30 blocks while helping TERRA Environmental Research Institute reach the Class 6A Regional Final … Team captain all four years of high school and earned her second consecutive first team All-Dade honor following the 2013 season …. Led TERRA to a district championship in 2013 and earned the distinction of Scholar-Athlete of the Month in Sept. 2013 … In 2011, McDermott was selected third team All-Dade for her play at TERRA … Beyond her stellar play on the volleyball court, McDermott is also a star in badminton, earning first team All-Dade honors in 2012 and helping TERRA win the GMAC Championship in 2013.
Personal: Full name is Brooke Ashley McDermott … Daughter of Charlie and Anivet McDermott … Has one brother, Dillon … Intends to major in Sport Administration … Hobbies include spending time with family and friends … In high school, earned Superior Honor Roll.