University of Miami Athletics
Bobby Revilla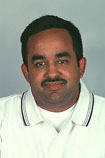 Bobby Revilla serves as the Head Equipment Manager for the University of Miami's athletic department. He oversees all of the equipment needs and maintenance, while supervising a staff of two full-time assistants, plus several student assistants.He has been a full-time staffer with the Hurricanes since 1986, when he was named an assistant equipment manager under then-head coach Jimmy Johnson.
Former UM head coach Butch Davis named Revilla the head football equipment manager for the Hurricanes prior to the 1998 season. The 2012 season will mark his 15th in that role.His association with Miami football dates back more than two decades, making him one fo the mainstays in the department.
He has been with the equipment staff for 26 years as a full-time employee, but has worked with Miami football since 1982 when he joined the staff as a student manager while attending UM.
Over his career, Revilla has been a part of all five of Miami's football national championships — working as a student manager under then-head coach Howard Schnellenberger, and then continuously through the tenures of Johnson, Dennis Erickson, Davis, Larry Coker, Randy Shannon and now with head coach Al Golden. He has made 25 bowl trips with the Hurricanes over his 30 years with the program.Revilla and his wife, Janet, have two sons: Steven and Zachary.