University of Miami Athletics
Bianca Banato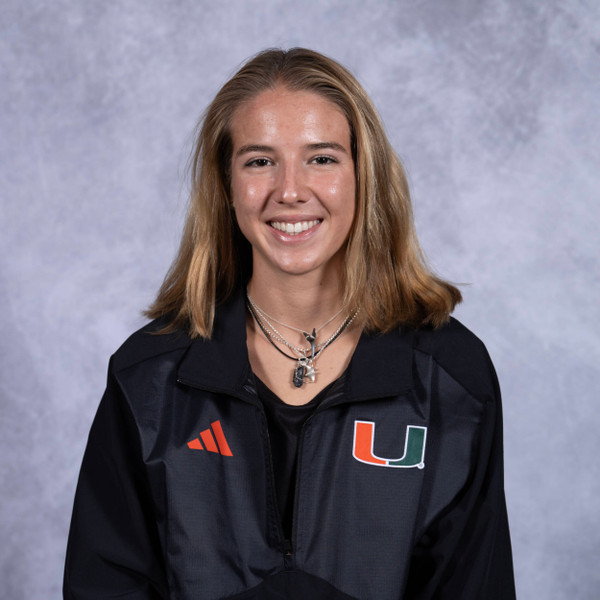 NIL Opportunities
Powered By

Engage with Bianca today!
2023 Cross Country: Started her senior year in the orange in green at the FAU Invitational (9/1), placing 48th in the 5K with 20:15.3
2022 Cross Country: Earned a new personal best in the women's 5K at the FSU Invitational (10/7) with 17:50.7, good for 12th…set a personal best of 21:27.5 in the women's 6K at the ACC Cross Country Championships (10/28)
2022 Outdoor: Placed sixth at the Hurricane Collegiate Invitational (3/6) in the women's 1500m with 4:46.38…set a personal best at the Florida Relays (4/1) in the 3000S with 10:50.23…finished first in the 3000S at the Hurricane Alumni Invitational (4/9)…placed 17th at the ACC Outdoor Track and Field Championships in the 3000S with 11:48.84…
2021 Cross Country: Completed the FAU Invitational 5K in 19:28.40… finished in a time of 23:49.4 at the FSU XC Open 6K… ran in the 6K at the Paul Short Run in a time of 22:12.1… paced to a finish of 18:52.2 in the 5K at the XC23 Invitational… clocked a 6K time of 22:47.2 at the ACC Championships… capped the year with a 6K time of 22:33.97 at the NCAA South Regional Championships.
High School: Qualified for State and Regionals as a senior for FHSAA 4A Region 4… advanced to the FHSAA Cross Country State Finals her senior year… tabbed a Miami Herald Honorable Mention for cross country as a senior… competed in the FACA Senior All-Star Classic… named a team captain as a senior… qualified for FHSAA 4A Region 4 and FHSAA Cross Country State Finals as a junior… recorded a time of 20:01.50 at State Finals, also a season-best during her senior year… competed in the 1600m, 800m and 3200m as a freshman… recorded a personal best 19:54.70 as a sophomore in cross country at FHSAA 4A District 16… earned honor roll every semester.
Personal: Daughter of Karina Ciarlante and Hernan Banato… has one younger sibling, Tiago… enjoys scuba diving, painting, photography, rock climbing, and beach clean-ups…currently pursuing a bachelor's degree in geological sciences.