University of Miami Athletics
Andrew Lanzziano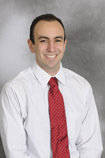 Andrew Lanzziano enters his second year serving as the Senior Accountant for the University of Miami's Athletics Department. Among his many duties, he performs various audits, reconciles bank statements and oversees the accounting relating to donations.
A native of Temecula, Calif., Lanzziano previously worked as an analyst for Bank of America's corporate financial program, forecasting revenue and volume for treasury products, providing analytics for interest rate spreads on loans and deposits, as well as creating financial models. He was also an analyst for Strategy Learning Center in New York, a volunteer coordinator for the South Florida Super Bowl Host Committee and worked as an inside sales representative for the Miami Heat.
Lanzziano graduated from FIU in 2007 with a degree in finance. He enjoys traveling, reading, volunteering and sports.