University of Miami Athletics
Andrea Foley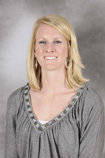 Andrea Foley is in her second year with the University of Miami, serving as an Academic Advisor for the Hurricanes.
She works closely with the Hurricanes' men's basketball, baseball and soccer teams, in addition to managing academic awards for the student-athletes.
Prior to arriving at UM, Foley worked as a graduate assistant for the University of South Florida Athletics Academic Enrichment Center, advising the women's soccer and baseball teams.
A native of Punta Gorda, Fla., she earned both her undergraduate and graduate degrees from USF, completing her master's degree in education in 2010. She was a four-year letterwinner in track & field (2004-08) for the Bulls.