University of Miami Athletics
Amuru Patterson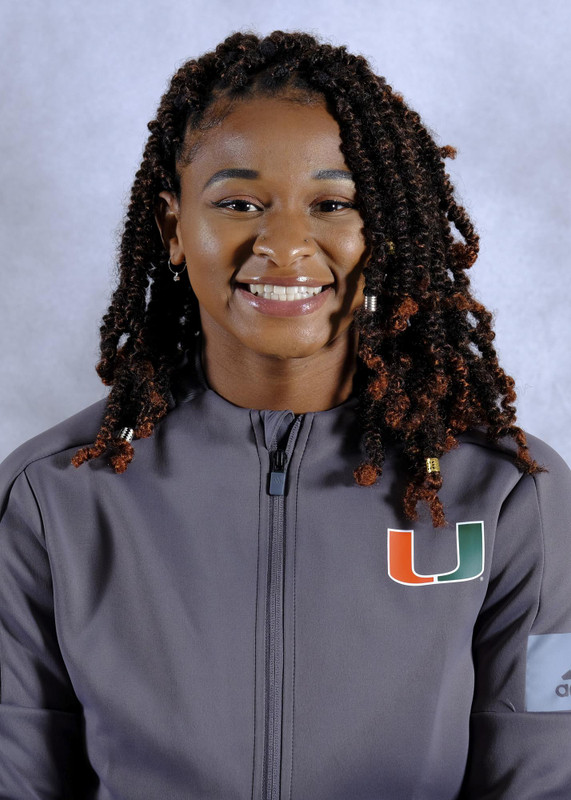 Outdoor 2019: Began the outdoor season at the Hurricane Invitational, running the 200m dash in 23.79 seconds and helped the Canes finish first in the 4x100m relay with a time of 43.86 seconds and second in the 4×400 relay with a time of 3:45.31… Ran a 11.71 100m dash at the Power 5 Trailblazer Challenge and a 23.73 in the 200m dash… Ran the 100m dash in 11.74 seconds at the Florida Relays and helped the Canes to a third-place finish in the 4×200 relay with a time of 1:33.34… Posted two personal-best times in both the 100m and 200m dash with times of 11.46 seconds and 23.63, respectively, at the Hurricane Alumni Invitational and helped the 4x100m relay team finish third with a time of 44.38..
Indoor 2019: Finished third in the women's 60m dash with a time of 7.47, besting her preliminaries time of 7.45 seconds at the UAB Blazer Invitational…Finished fifth in the 60m final and was a member of the women's 4x400m relay, running a time of 3:40.51 at the Virginia Tech "Doc Hale" Elite Meet… Competed in the women's 60m and combined to a run a time of 3:42.65 in the women's 4x400m at the Tiger Paw Invite… Ran a 7.52 seconds in the 60 at the ACC Indoor Championships.
Patterson is one the top short sprinters in the country in 2016, ranking 10th in the 100m with a time of 11.57 seconds and 10th in the 200m with a time of 23.65 seconds. The Haines City, Fla., native was the 2016 Adidas Boost Boston Games 100m champion and the 2016 AAU Club Nationals champion in the 200m. One of the best sprinters in her home state, Patterson was the 2016 FHSAA Class 4A Champion in both the 100m and 200m. She also won the 2016 district and regional titles in both the 100m and 200m. Patterson also earned the 2016 Flo Golden South titles in both the 100m and 200m.