University of Miami Athletics
Amaya Turner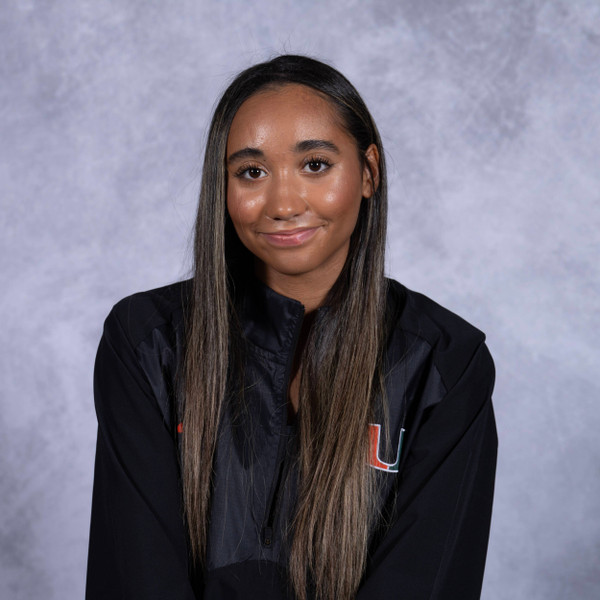 NIL Opportunities
Powered By

Engage with Amaya today!
2023 Cross Country: Placed 34th at the FAU Invitational (9/1) in the 5K with 19:40.3
2023 Outdoor: Made her outdoor season debut at the Hurricane Invitational (3/18), placing fourth in the 800m with 2:22.37…part of the 4×400 relay B team at the Hurricane Collegiate Invitational (3/25), placing fourth with 3:52.20..finished eighth at the Hurricane Alumni Invitational in the 800m with 2:15.69
2023 Indoor: Appeared in one indoor season meet, the Texas Tech Red Raider Open (1/20), where she placed ninth in the 800m with 2:20.20
2022 Cross Country: Earned a new personal best at the FSU Invitational (10/7) in the 5K with 18:47.7…also earned a new personal best in the 6K at the NCAA Division I South Region Cross Country Championships (11/11) with 22:32.1.
2022 Outdoor: Finished sixth in her outdoor track and field debut, earning 4:49.17 in the 1500m…finished third in the 800m with 2:16.10 and fourth with the 4x400m B team with 3:45.33 at the Hurricane Collegiate Invitational (3/26)…
2022 Indoor: Finished third at the Carolina Challenge (1/22) in the 800m with 2:11.33…finished 11th in the mile at the Tiger Paw Invite (2/12) with 5:06.14, make it her personal best in the event.
2021 Cross Country: Did not compete.
High School: Finished fifth in the 400m at state as a senior… qualified for state as a senior in the 4x400m relay… broke the Indiana indoor state record for the 400m and 800m… was part of a 4x800m relay team that attempted to break the world record… placed third in the 400m in her sophomore season… claimed second at the IU Indoor State in the 4×200… took third in state in the 400m her sophomore year with a time of 55.09.
Prior to Miami (Club): Finished second in the 800m in the AAU Outdoor Nationals… took second at Indoor Nationals in the 400m.
Personal: Daughter of Damian and Rachael Turner… has two siblings, Desmond and Helana… she was a member of the Academic English Club and Key Club in high school… has a superstition that she has to wear certain running socks… enjoys going antiquing…pursuing a bachelor's degree in public administration