University of Miami Athletics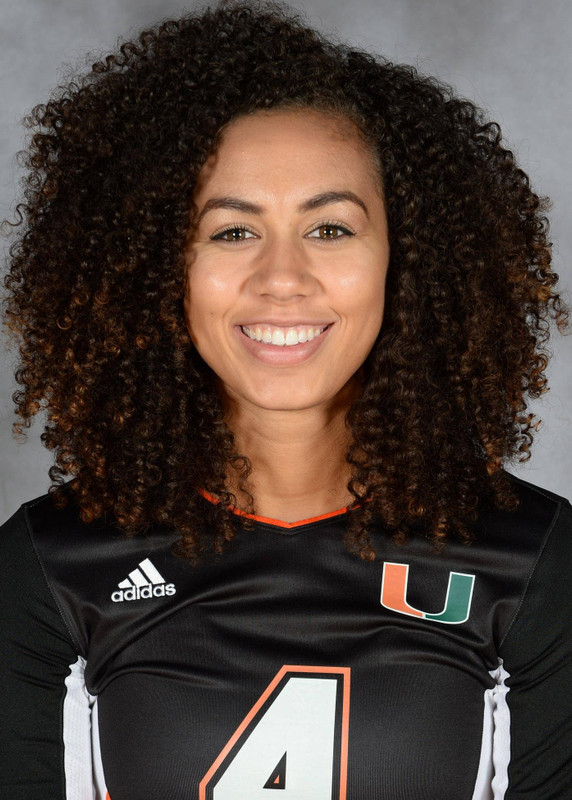 2015 All-ACC Second Team
2015 Dr. Mary Jo Wynn Invitational All-Tournament Team
2015 LSU Tournament All Tournament Team
2015 (Redshirt Senior): Made season-debut in three-set victory over Illinois State, hitting .500 with five kills and four blocks (Aug. 28) … Tallied seven kills and hit .636, while adding four blocks in three-set win over Florida A&M (Aug. 29) … Recorded nine kills and hit .643, while adding two aces and five blocks in a five-set win over Kansas State (Aug. 29) … Had 11 kills, four total blocks and a service ace against Missouri State (Sept. 4) … Recorded seven kills and three blocks against Marquette (Sept. 5) … Tallied seven kills, three blocks and an ace while hitting a team-high .667 against Oral Roberts (Sept. 5) … Named to Dr. Mary Jo Wynn Invitational All-Tournament team … Picked up nine kills and a team-high six blocks in win over No. 20 Purdue (Sept. 12) … Tallied 14 kills and added six blocks while hitting a team-high .542 in win over LSU (Sept. 13) … Named to LSU Tournament All-Tournament team … Recorded five kills and four blocks while hitting .556 in victory over Seattle (Sept. 17) … Tallied nine kills and a team-high four blocks in win over UCF (Sept. 18) … Registered 11 kills, four blocks and an ace while hitting .368 at Florida State (Sept. 23) … Led the Canes with a .368 attack percentage, adding nine kills, three blocks, three digs and an ace at Louisville (Sept. 27) … Had seven kills and four blocks in win over Georgia Tech (Oct. 2) … Led Miami with a .538 hitting percentage, recording eight kills and a service ace in victory over Clemson (Oct. 4) … Had five kills and a team-high seven blocks, while adding a team-best five service aces in victory at Wake Forest (Oct. 9) … Tallied 15 kills, while hitting a team-best .500 and recording a team-leading seven blocks in win at Duke (Oct. 11) … Had three kills, three digs and two blocks in win at NC State (Oct. 16) … Recorded five kills, and three blocks at North Carolina (Oct. 18) … Had four kills, an ace and a team-high seven blocks in win over Boston College (Oct. 23) … Finished with seven kills, a block and an ace in win over Syracuse (Oct. 25) … Recorded nine kills, two block and three digs in win at Virginia Tech (Oct. 30) … Led the Hurricanes with seven kills and a .500 hitting percentage, as well as a team-high five blocks at Pitt (Nov. 1) … Had seven kills and a service ace to go with a team-best six blocks in win over NO. 17 Florida State (Nov. 4) … Tied for the team lead with 11 kills and led the Hurricanes with five blocks, hitting an impressive .500 for the match, while adding a service ace in win over Virginia (Nov. 6) … Posted seven kills and a team-high seven blocks, adding Miami's lone service ace in match againist No. 22 Louisville (Nov. 13) … Finished with 13 kills and a team-best four blocks to go with her .476 hitting percentage in win over Notre Dame (Nov. 15) … Tallied three kills, two blocks and two assists against Duke (Nov. 20) … Had eight kills and team-high five blocks, while hitting .333 in win over Wake Forest (Nov. 22) … Compiled eight kills and a team-high four blocks in a win at Clemson (Nov. 25) … Finished with 10 kills while hitting .429 and adding a team-high three blocks in a win at Georgia Tech (Nov. 27) … Had six kills and two blocks in NCAA Tournament match against Iowa State (Dec. 3)

2014 (Senior): Redshirted … Did not appear in any matches.
2013 All-ACC Second Team
2013 Preseason All-ACC
2012 AVCA All-Region (East)
2012 All-ACC
2012 AVCA All-America Honorable Mention
2013 (Junior): Started all 31 matches … Finished season ranked sixth all-time in attack percentage (.314) … Ranks eighth in school history with 271 total blocks … Fourth in UM history with 1.17 blocks/set (248 sets) … Was fourth on the team with 250 kills … Ranked second with a .344 attack percentage, placing sixth in the ACC and 78th nationally … Ranked second in solo blocks (8), black assists (114), total blocks (122) and blocks/set (1.05) … Tied for fourth with 23 service aces … Had a double-double with 14 kills and career-high 17 blocks in win over Boston College (Sept. 28) … Set a Miami record with 17 block assists in win over Boston College (Sept. 28) … Recorded at least 10 kills in 10 matches, including a season-high 15 twice (Sept. 21, Dec. 6) … Matched her career-high with two services aces four times in 2013 … Had a career-high with three solo blocks vs. LSU (Sept. 13) …  Registered team-high 15 kills and four block assists in NCAA first round match vs. Oregon (Dec. 6)
2012 (Sophomore): Co-ACC Player of the Week (Oct. 8) … Collegiate Volleyball Update National Top Performer (Oct. 9) … Hurricane Invitational All-Tournament Team (Aug. 25) … Louisville All-Tournament Team (Sept. 15) … Second on team with 305 kills (2.70/set) and a .283 hitting percentage … Registered 139 total blocks – second on team, third in ACC … Started 30 matches at middle blocker … Recorded 22 kills and 16 blocks in weekend versus NC State (Oct. 5) and North Carolina (Oct. 7) … Set career and season high with 10 block assists against North Carolina, one shy of the program record at the time (Oct. 7) … Notched 11 kills and seven total blocks at Clemson (Oct. 19) … Recorded first two service aces of career at North Carolina (Nov. 2).
2011 (Freshman): Appeared in 11 matches … Made her collegiate debut against Jacksonville State at the Tiger Classic (Aug. 26), where she recorded one kill and one block solo in the victory … averaged 1.26 kills per set … Shined in loss at North Carolina (Oct. 9) amassing a season-high 12 kills, four blocks (three assisted) and two digs … Had two kills and two block assists in win against Louisiana-Lafayette (Aug. 27) … Landed four kills, one assist and one dig at home to beat Florida A&M (Spt. 8) … Had three kills and three block assists at NC State (Oct. 9).
High School: Prepped at Martin High School while playing one year of club ball for Dallas Premier 18 Mizuno … Played for head coach Tracy Perez at MHS … Named Team MVP as a senior in helping her team finish a perfect 14-0 in District4-5A play … Named Martin High School Outstanding Offensive Player and Outstanding Attacker for District 4-5A … First team all-district … helped the Warriors to a 2010 record of 35-11 overall … Selected as the 2009 District Blocker of the Year en route to all-district first team accolades … Named to the Arlington Volleyball Tournament All-Tournament Team and District 4-5A All-Academic Team as a junior … Assisted Dallas Premier 18 Mizuno to a first-place finish at the Tour of Texas in the 2011 club season … Team finished first at the Minneapolis Northern Lights Qualifier and the Lone Star Classic in the 18 Open division, qualifying them for the 2011 Junior Olympics … Spent her freshman year at Eleanor Roosevelt High School in California (2007-08) … Played basketball and was on the swimming team in 2007-08.
Personal: Full name is Alexis Cherelle Mourning … Daughter of Colette Manier and Wendell Mourning … Has a brother, Marcus … Majoring in health science.