University of Miami Athletics
Alex Paley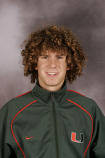 AS A FRESHMAN (2005): Competed in the 800-meters and 1500-meters during the outdoor track season…finished 20th in the 1500-meters at the Hurricane Invitational with a season-best time of 4:16.89…registered a season-best 17th-place finish in the 1500-meters (4:19.87) at the Miami Gatorade Invitational…finished 19th in the 800-meters (2:08.79) at the Miami Gatorade Invitational…did not compete during the indoor season.
HIGH SCHOOL: Albany…cross country MVP as a senior and a three-time first-team Big Ten All-Star in track…2004 Big 10 Indoor Champion at 1000-meters…placed fourth in the 1000-meters at the 2004 Section 2 Class A Indoor Championships…placed sixth in the 800-meters at the Section 2 state outdoor qualifier…member of the National Honor Society…coached by Stan Gaserowski, Karen Bellamy, John Chaney and Robert Dorn.
PERSONAL: Major is engineering…enjoys listening to jazz music…lists the New York Mets as his favorite team…from same high school as former Xavier guard and 2004 NBA second round pick Lionel Chalmers.