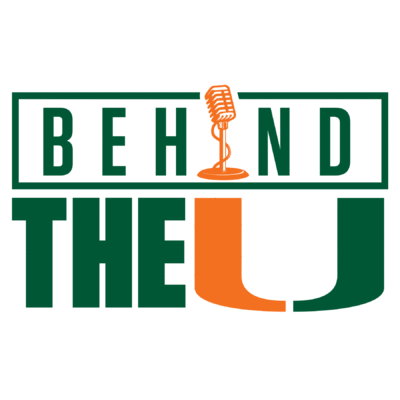 Behind the U, the official podcast of Miami Athletics, features entertaining and engaging interviews with Hurricanes past and present, giving listeners exclusive insight into what makes The U one of the most storied and fascinating programs in college athletics.
Episode 8: Travaris Robinson | January 26, 2021
New defensive backs coach Travaris Robinson talks with Josh Darrow about his Miami roots, his climb up the college coaching ladder, his decision to join Manny Diaz's staff and what excites him about UM's program going forward.
Episode 7: Mark Richt | January 19, 2021
Former UM quarterback and head coach Mark Richt chats with Josh Darrow about his playing days under Howard Schnellenberger, his rise up the college coaching ranks, his return to The U in 2016 and his new career as an ACC Network college football analyst.
.
Episode 6: Dan Morgan | January 12, 2021
Legendary Canes linebacker and current Bills Director of Player Personnel Dan Morgan catches up with Josh Darrow on his historic career at UM, Buffalo's current playoff run and getting the call this week for the College Football Hall of Fame's Class of 2021.
Episode 5: Brock Berlin | January 5, 2021
Josh Darrow talks with Brock Berlin about his record-setting high school career in Louisiana, transferring to The U and earning the starting quarterback job, the historic 2003 comeback against Florida and his undefeated record against the Canes' Sunshine State rivals.
Episode 4: Chris Fallica | December 29, 2020
Josh Darrow talks with ESPN's Chris Fallica about his days as a UM undergraduate working in the athletic department, his expanding role on College GameDay and how Lee Corso coined his nickname "The Bear."
Episode 3: Manny Diaz | December 22, 2020
Fresh off National Signing Day, Josh Darrow breaks down Miami's 2021 signing class with Manny Diaz as the head coach discusses how this class evolved and how the newest Hurricanes will impact the roster going forward.
Episode 2: Rhett Lashlee | December 15, 2020
Miami offensive coordinator Rhett Lashlee chats with Josh Darrow about the roots of his up-tempo offensive philosophy, how his coaching journey eventually landed him in Coral Gables and how he and his wife draw up the playbook to raise two sets of twins.
Episode 1: Jimmy Johnson | December 9, 2020
In the first episode host Josh Darrow chats with former Canes head coach and College and Pro Football Hall of Famer Jimmy Johnson on his time in Coral Gables, his road to Canton and his love of South Florida.