Miami Wins Hurricane Invitational, Byrne Takes Home Individual Title
CORAL GABLES, Fla. – The University of Miami golf team walked away with its second team title of the season Tuesday afternoon, shooting 27-under-par to win the Hurricane Invitational.
The Hurricanes', who hosted the annual invitational at the Biltmore Golf Course, posted a 54-hole team score of 837 (-27) on the par-72, 6,170-yard course. The 837 places second all-time in the program record book for 54-hole performance, trailing only the 833 put up by the 2018-19 Hurricane team at the Schooner Fall Classic.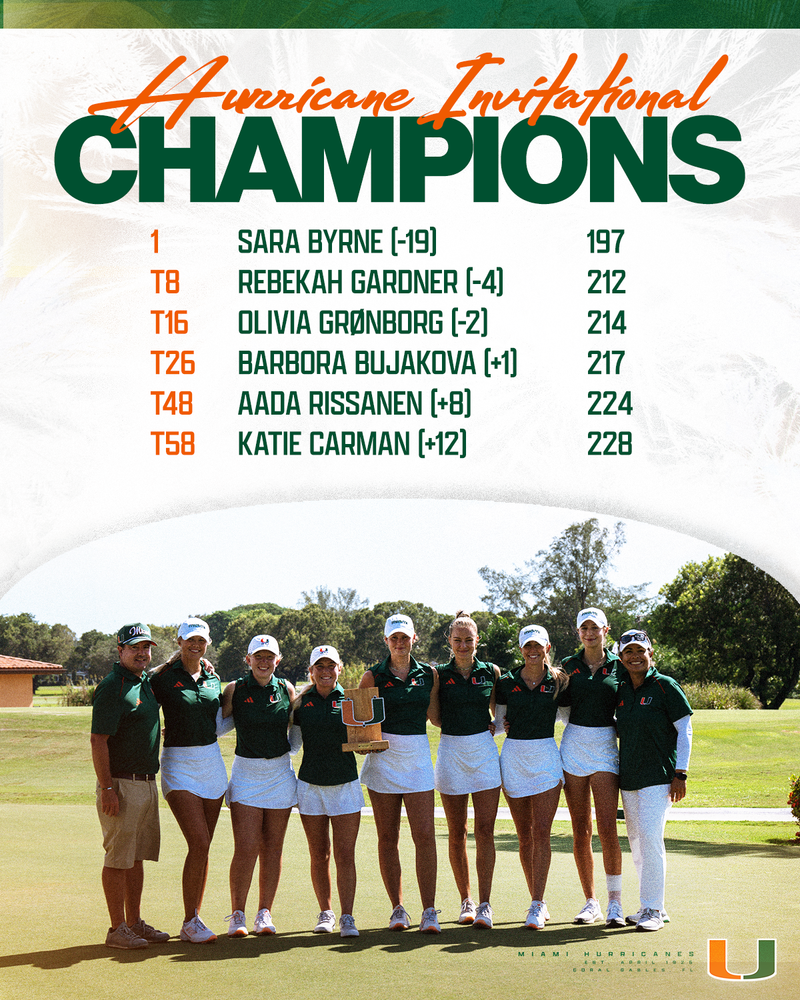 As a team, Miami totaled a field-best 66 birdies, 18 of which came from fourth-year junior Sara Byrne.
Just days after returning from the World Amateur Team Championship in Abu Dhabi, UAE, Byrne took home the individual title, shooting a program-record 197 (-19) over the course of 54 holes. She surpassed LPGA golfer Dewi Weber (201; 2016) to claim top honors.
The is the second individual win for Byrne on the season as she won a share of the individual title at the Pat Bradley Invitational earlier this month.
Freshman Rebekah Gardner tallied the first top-10 showing of her career, finishing the tournament with a 54-hole score of 212 (-4), good for tied for eighth in the field of 69. Gardner shot par-or-better all three rounds, including a season-low 70 in rounds one and two.
Sophomore Olivia Grønborg also tallied three rounds of par-or-better to finish the invitational tied for 16th at 214 (-2). Freshman Barbora Bujáková rounded out Miami's team score with a 217 (+1), while fellow freshman Aada Rissanen carded a 224 (+8) in the tournament.
Playing as an individual, sophomore Katie Carman finished tied for 58th after totaling a 228 (+12) across 54 holes.
The Hurricanes will take the next few months off from competition and return for the spring season on Feb. 4 at the UCF Challenge.