Byrne and Grønborg to Compete at 2023 World Amateur Team Championship
CORAL GABLES, Fla. – The University of Miami golf team will be well-represented at the 2023 World Amateur Team Championship presented by Rolex later this month as fourth-year junior Sara Byrne and sophomore Olivia Grønborg were selected to compete for their native countries of Ireland and Denmark, respectively.
Byrne, a native of Douglas, Cork, Ireland, and Grønborg, who hails from Snekkersten, Denmark, will compete for the Espirito Santo Trophy from Wednesday, October 25 through Saturday, October 28. The tournament will take place in Abu Dhabi, UAE, at the Abu Dhabi Golf Club.
Byrne and Grønborg become the 10th and 11th Hurricanes to represent The U, in addition to their respective countries, at the World Amateur Team Championships, joining Anna Backman (2022, 2018), Claudia De Antonio (2018), Renate Grimstad (2016, 2018), Dewi Weber (2016, 2018), Delfina Acosta (2014), Camilla Hilland (2002), Luisa Cuartas (1996), Joye McAvoy (1988) and Patti Rizzo (1980).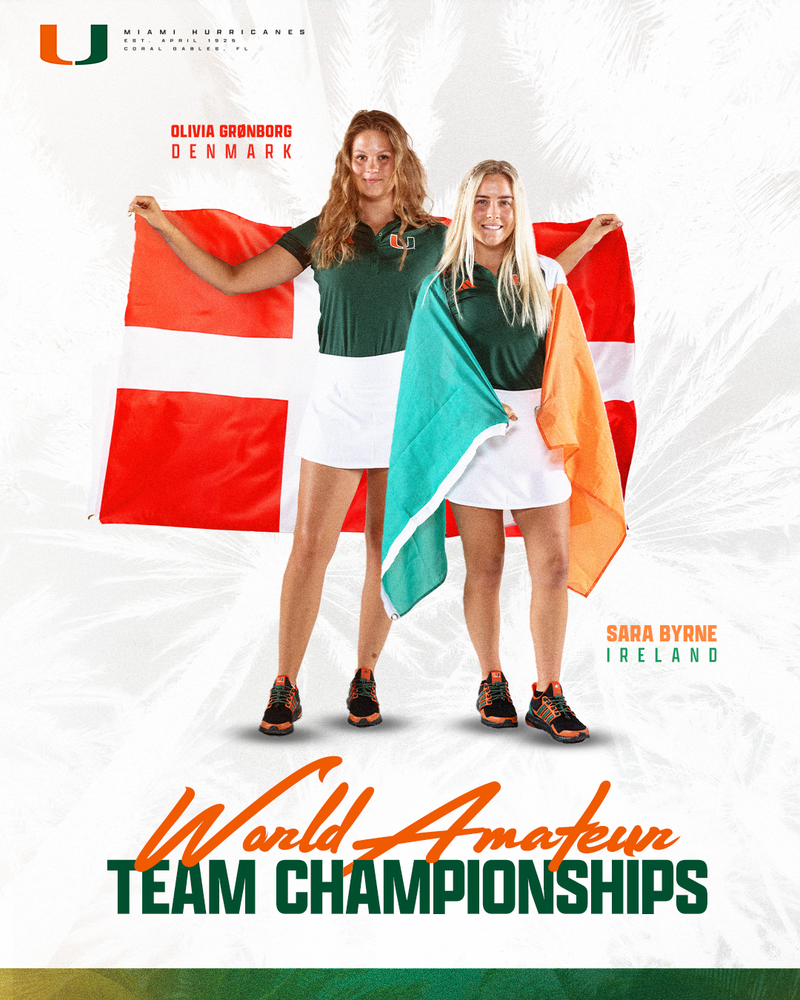 Current head coach Janice Olivencia also represented her home country of Puerto Rico at the 2004 World Amateur Team Championship.
The World Amateur Team Championships includes 72 holes of stroke play competition with the two lowest scores from each country counting per round.
Byrne will represent Ireland alongside Beth Coulter, Aine Donegan and captain Naoimh Quigg.
Grønborg will play with fellow Danish golfers Natacha Høst Hysted, Cecilie Leth-Nissen and captain Anders Danielsen.
One hundred and forty competitors from 36 different countries are competing to take home the Espirito Santo Trophy. Each team consists of the top two or three amateur golfers in their respective countries and a captain, who may be on the of players.
Tee times and streaming information will be provided at a later time.