University of Miami Sports Hall of Fame & Museum Announces Class of 2024
CORAL GABLES, Fla. – The University of Miami Sports Hall of Fame & Museum announced Wednesday its Class of 2024 inductees for the 54th UM Sports Hall of Fame & Museum Induction Banquet, which will be held next spring.
The 10-member Class of 2024 is comprised of Kimberli Barrett (women's track & field), Johan Donar (men's tennis), Jose "Chemi" Gil (men's diving), Meghan Saake-Knokey (women's basketball), Shane Larkin (men's basketball), Brandon Meriweather (football), George Oliver (polo coach), Chris Perez (baseball), and Eric Winston (football).  Rounding out the class of inductees is longtime athletics administrator Rick Remmert.
"On behalf of the UM Sports Hall of Fame & Museum, it gives us great pleasure to announce the 2024 Class, which is comprised of UM athletes from seven sports, a coach and an athletics administrator," said UMSHoF&M President Mike Ward. "We will celebrate this diverse class and showcase their outstanding accomplishments from their Miami careers at our induction banquet in the Spring of 2024."
This year's class will be formally introduced during an on-field ceremony at the Miami-Virginia Homecoming game on Saturday, October 28 at Hard Rock Stadium.
The date and site of the 54th UMSHoF&M Induction Banquet will be announced later. For information on the banquet or the Hall of Fame's other events, visit UMSportsHallofFame.com or contact the UMSHoF&M at 305-284-2775.
The University of Miami Sports Hall of Fame & Museum is a non-profit organization founded in 1966 by eight Miami-Dade County Circuit Court judges, all University of Miami alumni. The founders wanted to establish an organization that would recognize those student-athletes, coaches and administrators who excelled at their sport and brought acclaim to the University through their achievements and championships. With the addition of the Class of 2024, only 364 honorees have been inducted into the UM Sports Hall of Fame & Museum in the University's nearly 100-year history.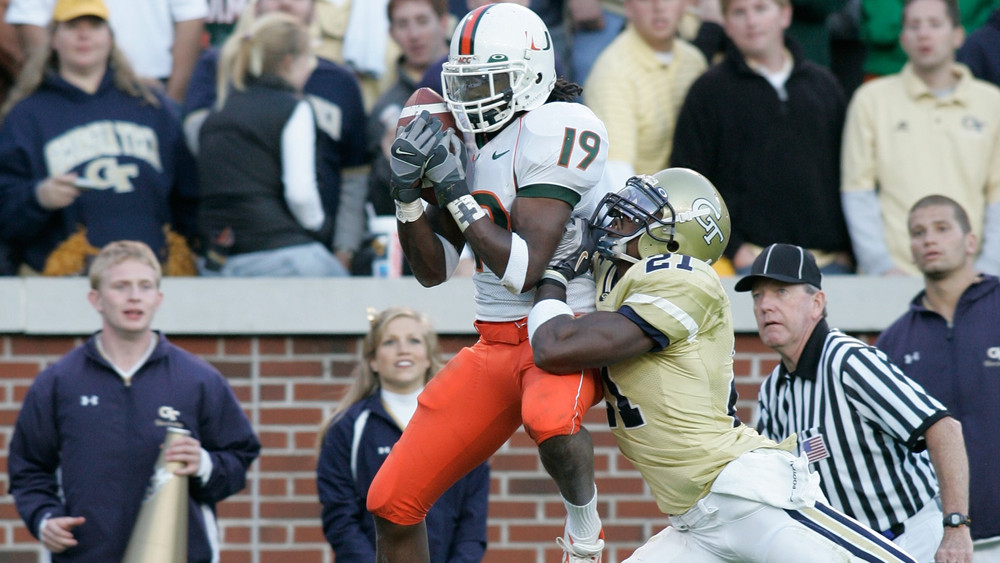 Class of 2024 Biographies:
Kimberli Barrett (Women's Track & Field, 2005)
Though she attended Miami for just one year, Barrett made an instant impact on the track & field program. She won the 2005 NCAA titles in both the indoor and outdoor shot put competitions, as well as winning both the 2005 ACC indoor and outdoor Shot Put titles.
Johan Donar (Men's Tennis, 1986-1990)
A two-time All-American in singles and a two-time All-American in doubles, Donar is one of the finest tennis players to ever to play for the Canes. He is the program's all-time leader in singles victories with 108, and he teamed with fellow Swede and UMSHoF&M member Conny Falk to form one of the best doubles teams in the country, ranked No. 4 in their final season.
Jose "Chemi" Gil (Men's Diving, 1992-1995)
A six-time All-American (three times each in the 1-meter and 3-meter springboard), Gil won the 1995 NCAA Championship in the 1-meter event.  A three-time Big East Conference champion in the 3-meter and once each in the 1-meter and platform diving, "Chemi" is one of the most decorated divers in Miami history.
Meghan Saake-Knokey (Women's Basketball, 1999-2003)
Saake-Knokey was named the 2002 Big East Conference Defensive Player of the Year, the first Cane so honored. That season set the school's single-season steals record (121), which led the conference and ranked seventh in the NCAA. A member of the 1,000-Point Club at Miami (1,030), she is second all-time in career steals with 358. A two-year team captain (2001-02, 2002-03) who started every game in her four-year career, Saake-Knokey was honored as the Miami Hurricanes' 2010 ACC Legend.
Shane Larkin (Men's Basketball, 2011-2013)
The 2013 Lute Olson National Player of the Year, Larkin led the Canes that season to their first ACC regular season and conference tournament titles, was named the ACC Player of the Year and the ACC Tournament's Most Valuable Player. He was selected a second team All-American by the Associated Press (AP), National Association of Basketball Coaches, and ESPN. Larkin was a first-round pick in the 2013 NBA Draft by the Atlanta Hawks and currently plays professionally in Turkey.
Brandon Meriweather (Football, 2003-2006)
A 2005 All-American by the Football Writers Association of America and ABC Sports/Cingular, Meriweather was a semifinalist for the Thorpe Award, given to the nation's best defensive back. He led the team that season in tackles with 115, including 13 TFLs, plus seven passes defensed and three interceptions. A first-round selection in the 2007 NFL Draft by the New England Patriots, he spent nine seasons in the league.
George Oliver (Polo Coach, 1948-1951)
An outstanding professional polo player in his own right, Oliver was tasked to start a program at Miami that had never existed, and in meteoric fashion he saw amazing success before watching it all go away.  The Hurricanes won four consecutive national championships, beating then-traditional powerhouses of Yale, Cornell and Princeton. The Miami team played its matches in the Orange Bowl, but due to budgetary concerns, the program was discontinued after the 1951 campaign — undefeated and winners of four national championships in four seasons.
Chris Perez (Baseball, 2004-2006)
The outstanding closer out of Coach Jim Morris' bullpen, Perez led the team in saves in 2005 and 2006, racking up 20 for his career to place seventh in school history. His 2006 season was a gem — 12 saves, a 4-1 record and a 1.79 earned run average in 37 appearances, helping the Canes get back to the College World Series in Omaha. Perez also played for the USA National Baseball Team and was a first-round pick in the 2006 MLB Draft by the St. Louis Cardinals.
Rick Remmert (Athletics Administrator, 1978-1987, 2012-present)
A 1977 UM graduate, Remmert was hired in 1980 by legendary baseball coach Ron Fraser to lead the program's marketing and promotions, becoming college baseball's first, full-time person in that role. He helped The U lead the nation in attendance and revenue seven consecutive seasons. Remmert returned to The U in 2012 and currently serves as the Associate Athletic Director of Alumni Programs, directing national championship reunions and alumni weekends, and serves as Athletics' lead liaison with its former student-athletes.
Eric Winston (Football, 2002-2005)
Winston was selected a 2005 All-American by the Walter Camp Football Foundation, the American Football Coaches Association, Sports Illustrated, and Rivals.com, and was a second-team selection by the AP.  The offensive lineman was the winner of the ACC's Jacobs Blocking Trophy, named the league's best blocker by vote of ACC coaches, and was a semifinalist for the Lombardi Award that is given to the nation's outstanding college football lineman. Winston played 12 seasons in the NFL and served as president of the NFL Players Association from 2014-20.