MBB Set for August Foreign Tour to France
CORAL GABLES, Fla. – The University of Miami announced Thursday a foreign tour for the men's basketball program set for the summer of 2023.
The Hurricanes will visit four cities in France across a 10-night, 11-day trip. The team will depart Aug. 1 to begin its trip.
"We are incredibly excited to take our team to France this summer. This will be a wonderful experience for our players," Miami head coach Jim Larrañaga said. "Each time we have gone on a foreign tour, our players have not only had an excellent time, but also learned a great deal about other cultures."
Miami will land Aug. 2 in Paris to begin the week-and-a-half tour. The Hurricanes will be in the French capital for three days.
Next, Larrañaga and the Hurricanes will head to Deauville and Normandy, where they will spend two days.
To conclude its stay, Miami will visit Nice for three days, Aug. 8-10. The trip will wrap up the following day when the Hurricanes fly back to South Florida.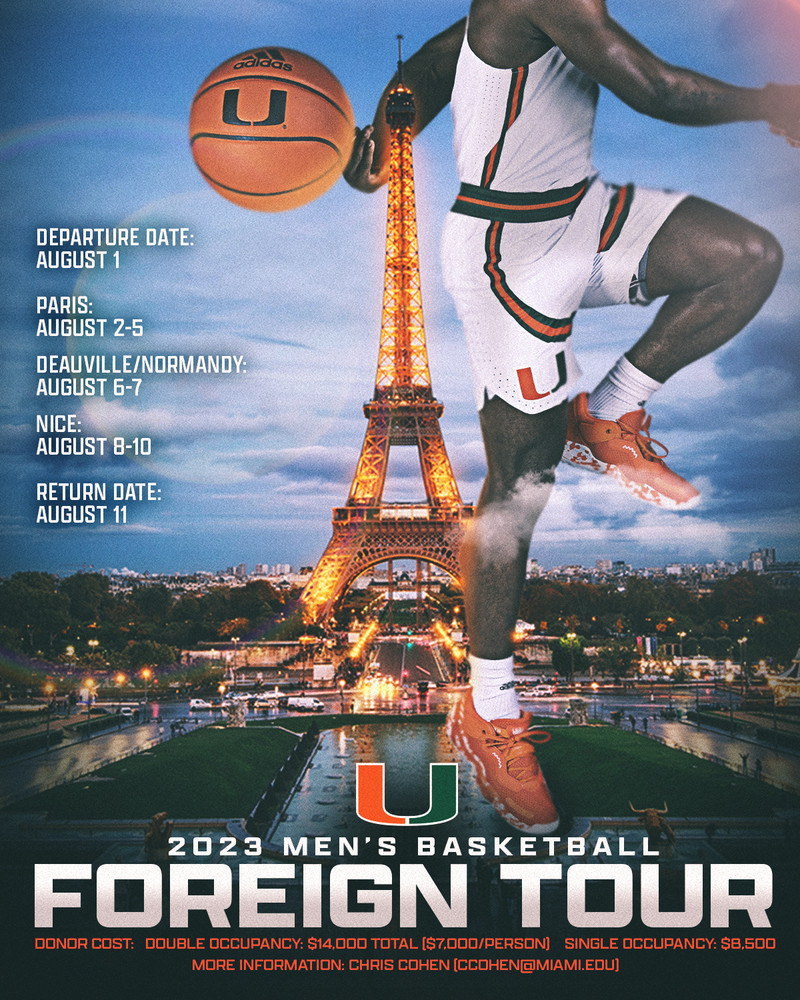 The team will play three games while abroad, two in Paris to begin the trip and one in Nice to finish it.
Global Sports & Events will lead the program's foreign tour and fans and welcome to join Miami on the trip. Double occupancy rooms are $14,000 total for the entire trip ($7,000 per person), while single occupancy rooms are $8,500.
Those interested in learning more or registering can contact Senior Associate AD of Development Chris Cohen at ccohen@miami.edu.
The NCAA permits foreign tours once every four years. The Hurricanes previously went to Italy in 2019 and Spain in 2014.
To keep up with the University of Miami men's basketball team on social media, follow @CanesHoops on Twitter, Instagram and Facebook.