Canes Fall in Opening Round of 2022 NCAA Division I Volleyball Championship
LINCOLN, Neb. – The University of Miami volleyball team came up short in the first round of the 2022 NCAA Division I Volleyball Championship, falling in straight sets to the Kansas Jayhawks Thursday evening at the Bob Delaney Sports Center.
All-ACC freshman outside hitter Flormarie Heredia Colon recorded a co-match-high 12 kills for Miami (19-11, 12-6 ACC). Senior setter Savannah Vach, who recently became the fourth player in program history to reach 4,000 career assists, added 23 more to bring her career total to 4,061.
"I can't say enough positive things about this group," Miami head coach Jose "Keno" Gandara said. "It's been an unbelievable ride from the beginning. I'm super proud of their commitment to this program. We have a number of them that have been around for a while, and their impact has been incredible."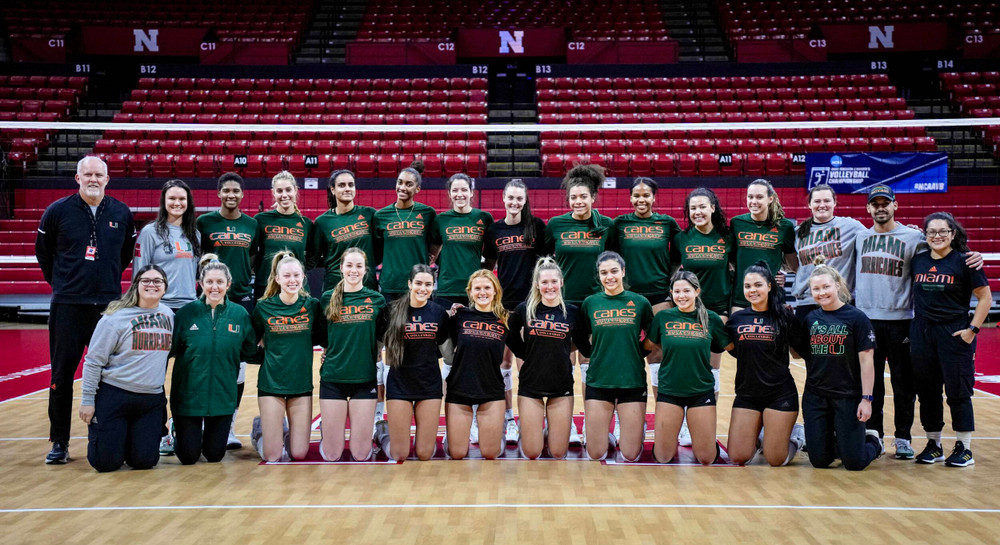 The two sides traded points in the first set as senior middle blocker Janice Leao registered a kill to even the score at 13-13. From there, however, Kansas (19-10, 8-8 Big 12) went on a 12-4 run to take the opening set 25-17.
The Jayhawks' momentum continued into set two as they began the frame with back-to-back aces and jumped out to a 10-3 advantage.
Miami managed to cut the deficit to four at 11-7, and again at 20-16, but would not get any closer as Kansas doubled its lead with a 25-18 second-set victory.
Two early kills from Heredia Colon helped the Hurricanes grab a 5-2 lead to start set three. But Kansas once again took back the momentum and eventually the match, winning the set 25-20.
Redshirt junior outside hitter Angela Grieve joined Heredia Colon in double figures with 11 kills while freshman libero Naylani Feliciano's 10 digs marked her ninth double-digit dig outing of the season.
Sophomore outside hitter Caroline Bien hit .360 and paced the Jayhawks with 12 kills. Super-senior middle blocker Rachel Langs totaled eight kills and 10 blocks and sophomore setter Camryn Turner posted a match-high 30 assists for Kansas.
"I am just really excited for the group moving forward," Gandara added. "I know this experience right now stings quite a bit and it's hard to put into words, but I know them. I know where they have been and what they want. I just can't wait to get back at it and go back into this."
To keep up with the University of Miami volleyball team on social media, follow @CanesVB on Twitter and Facebook, as well as @Canes_VB on Instagram.