Miami Downs Duke in Five Sets
DURHAM, N.C. – The University of Miami volleyball team faced seven match points in set four and completed its comeback in the fifth set to secure a thrilling 3-2 victory over Duke Sunday afternoon at Cameron Indoor Stadium.
Redshirt junior outside hitter Angela Grieve totaled 20 kills and 18 digs while freshman libero Naylani Feliciano tallied a career-high 24 digs in the Hurricanes' sixth straight win.
After dropping the opening set, 26-24, Miami (19-9, 12-5 ACC) dominated set two, 25-17, to tie the match.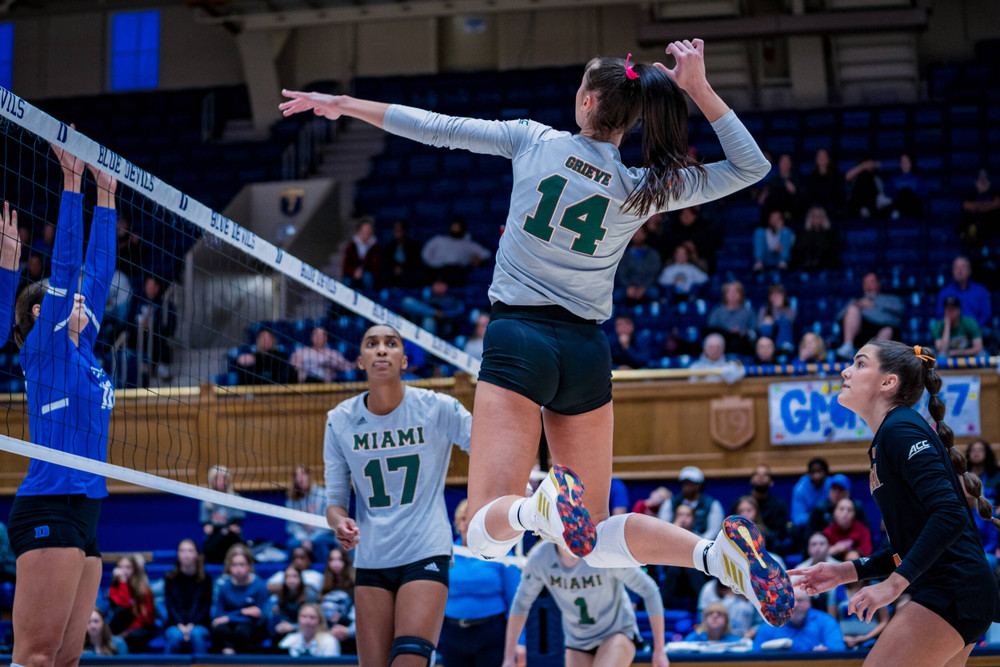 Duke (16-12, 7-10 ACC) responded with a narrow 25-23 victory in the third set to set up a crucial fourth for the Hurricanes.
Miami battled through seven match points before Freshman outside hitter Flormarie Heredia Colon finally ended the marathon frame with a kill to win the set 33-31, and force the deciding fifth session.
Duke jumped out to an early 4-1 advantage and held a 13-12 lead later in the set. But Miami closed out the match on a 3-0 run to win the set 15-13, and leave Durham with a 3-2 win.
Senior setter Savannah Vach recorded 43 assists and 17 digs for her 10th double-double of the season and senior middle blocker Janice Leao added 13 kills and a season-high-tying 10 blocks for the Hurricanes.
Senior outside hitter Gracie Johnson paced the Blue Devils with a match-high 24 kills, 10 of which came in the opening set, while graduate student setter Devon Chang finished with 54 assists and 16 digs.
Miami returns home to host Florida State Wednesday, Nov. 23 in its final regular season match.  First serve at the Knight Sports Complex is set for 3 p.m. and will be broadcast live on ACC Network Extra. Admission is free.
To keep up with the University of Miami volleyball team on social media, follow @CanesVB on Twitter and Facebook, as well as @Canes_VB on Instagram.