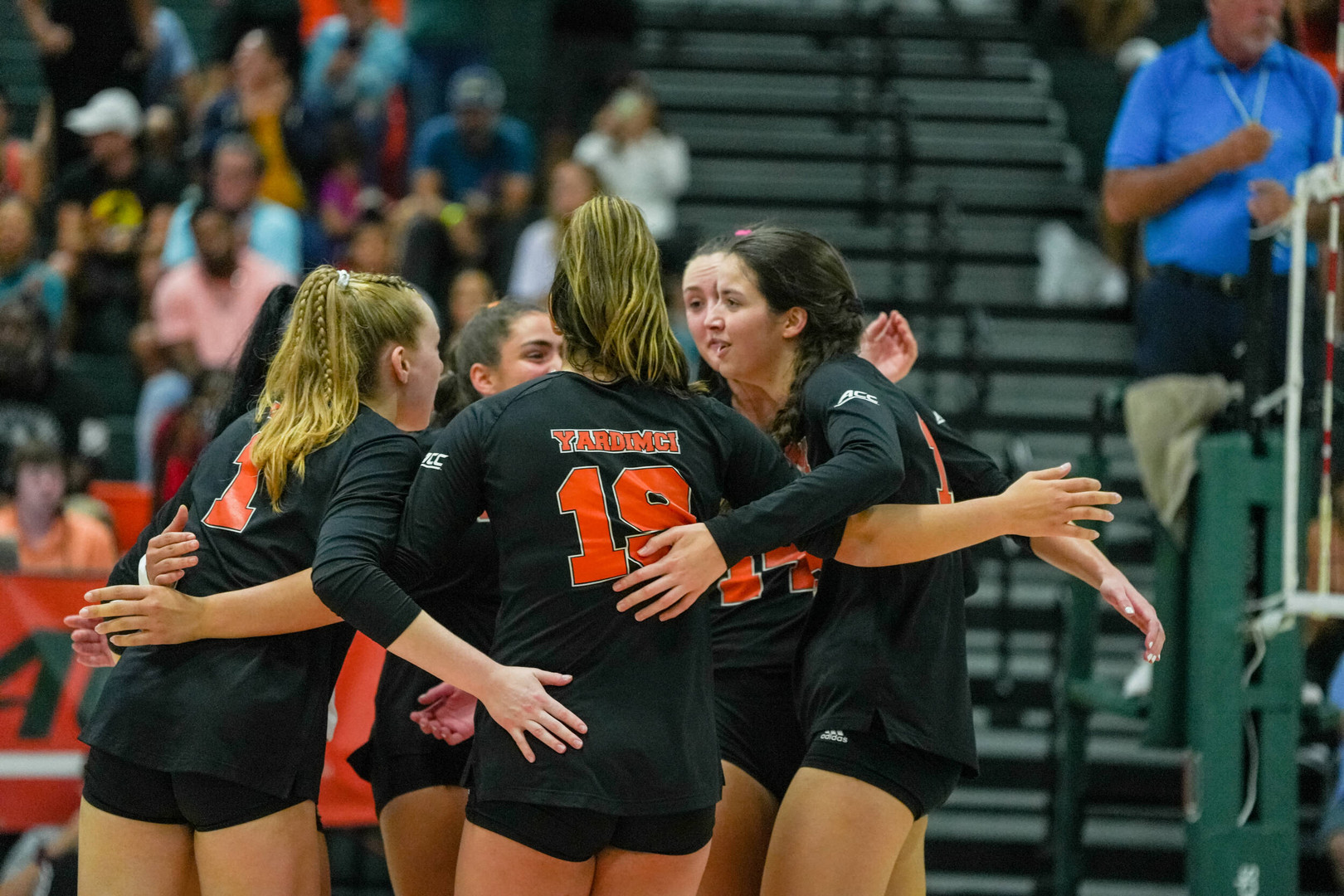 Clemson, S.C. – After a thrilling five-set home win over Clemson last Sunday, the University of Miami volleyball team recorded yet another win against the Tigers, tallying 16 total team blocks en route to a 3-1 victory Friday night at Jervey Gym.
Senior middle blocker Abby Casiano put forth a stellar performance for the visiting Hurricanes with eight kills on an efficient .533 hitting percentage.
Redshirt junior outside hitter Angela Grieve tallied a match-high 17 kills, 13 digs, eight blocks, two assists, and two aces.
Despite holding a 24-21 lead, Miami (17-9, 10-5 ACC) dropped the opening set, 27-25.
In set two, it was the Hurricanes that found themselves in a hole, down 20-14. But they battled back and closed out the frame with a dominant 11-1 run to win the set 25-21 and tie the match.
From there, Miami took care of business, winning each of the final two sets, 25-19, to come away with a 3-1 road victory over Clemson (12-15, 3-12 ACC).
Senior setter Savannah Vach, who entered the match first in the ACC in total assists and assists per set, registered a team-high 43 assists, 11 digs, and five blocks.
Camryn Hannah once again paced the Tigers with 16 kills while Mckenna Slavik finished with a match-high 44 assists.
Miami amassed 35 total team blocks over its two regular season matches against Clemson.
Senior middle blocker Janice Leao logged eight blocks to go along with her 13 kills while Casiano added five blocks to help anchor the Miami defense in the program's fifth consecutive win over the Tigers
Miami returns home to the Knight Sports Complex Friday, Nov. 18 to host Syracuse. First serve is set for 7 p.m. and will be broadcast live on ACC Network Extra.
To keep up with the University of Miami volleyball team on social media, follow @CanesVB on Twitter and Facebook, as well as @Canes_VB on Instagram.