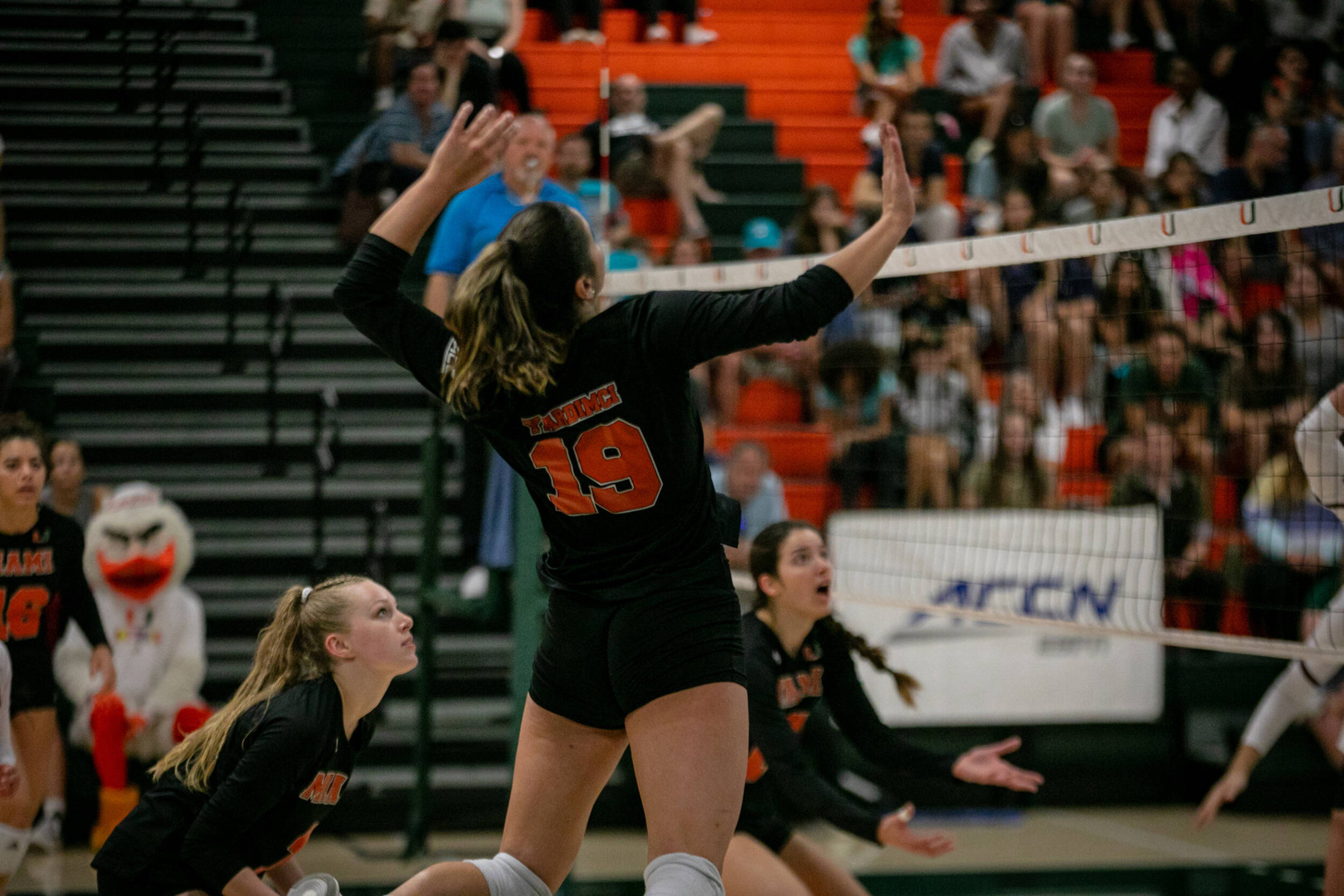 CORAL GABLES, Fla. – The University of Miami volleyball team hit a season-best .425 to grab its third straight ACC win with a 3-0 sweep of Virginia Tech Sunday afternoon at the Knight Sports Complex.
Sophomore outside hitter Peyman Yardimci recorded nine kills and hit .600. while senior middle blocker Abby Casiano logged eight kills and hit .583, her second consecutive match hitting at least .500.
Miami (13-8, 6-4 ACC) grabbed the momentum early, taking an 11-5 lead in set one. The Hurricanes' advantage grew to as many as 11 after back-to-back kills from redshirt junior outside hitter Angela Grieve.
Six of Grieve's match-high 10 kills came in the opening frame as she guided Miami to a 25-14 victory.
The second set brought on more of the same for Miami. Sophomore libero Yaidaliz Rosado opened the set with an ace and the Hurricanes jumped out to a quick 8-2 lead.
Virginia Tech (9-12, 2-8 ACC) never cut the margin closer than four and Miami continued its dominance with a 25-16 second-set win.
In the following frame, it seemed as if Miami would coast to a sweep. Yet again, the Hurricanes found themselves with an early cushion, leading 9-4 after a Casiano kill.
But the Hokies battled back. A 9-2 Virginia Tech run flipped the scoreboard and gave the visitors a 13-11 lead.
Later in the set, down 17-15, Miami responded with a run of its own, scoring eight straight points to take a 23-17 lead.
The Hurricanes eventually closed out set three, 25-20, to go 2-0 on the weekend.
Senior middle blocker Janice Leao logged six kills and six blocks and senior setter Savannah Vach recorded a match-high 31 assists. Rosado led Miami with 14 digs.
Defensively, the Hurricanes limited Virginia Tech to just 31 kills.
Redshirt freshman outside hitter Ava Francis and sophomore outside hitter Elayna Duprey tallied nine and eight kills respectively as no Hokie reached double figures.
Freshman setter Hanna Borer added 28 assists.
Miami continues conference play on Oct. 28 when it travels to Chestnut Hill, Mass. to take on Boston College. First serve is set for 7 p.m.
To keep up with the University of Miami volleyball team on social media, follow @CanesVB on Twitter and Facebook, as well as @Canes_VB on Instagram.