Miami Records Fourth Straight Shutout Victory
LAS VEGAS – The University of Miami volleyball team made history on Friday when it defeated the St. John's Red Storm, 3-0, in its first game of the Rebel Challenge. The Hurricanes have yet to concede a set, marking the first time in program history that Miami has started the season with four straight shutout victories.
"Today's match was a great start to the weekend. St. John's is a very physical and experienced team, so we had a good plan going into the match," head coach Jose "Keno" Gandara said. "We served well and put pressure on them from the serving line, which simplified things for our defense."
The Hurricanes totaled a season-high eight service aces in the match and sophomore Peyman Yardimci set a new career high in aces with a team-leading four. The outside hitter also tallied nine kills in the match for her fourth game this season with eight-plus kills.
Redshirt junior Angela Grieve paced the Hurricanes on offense, totaling 13 kills in the match for her second double-digit outing of the season. At the net, senior Abby Casiano posted a team-best five blocks, in addition to hitting .800 on the afternoon.
"Our offense worked very well today because we were spreading the other team's defense, which was opening up the block and court for our other hitters," Grieve said.
Grieve echoed Gandara's thoughts on the Hurricanes' performance at the service line, elaborating that they were "able to keep the pressure on by not missing many serves and staying aggressive at the line."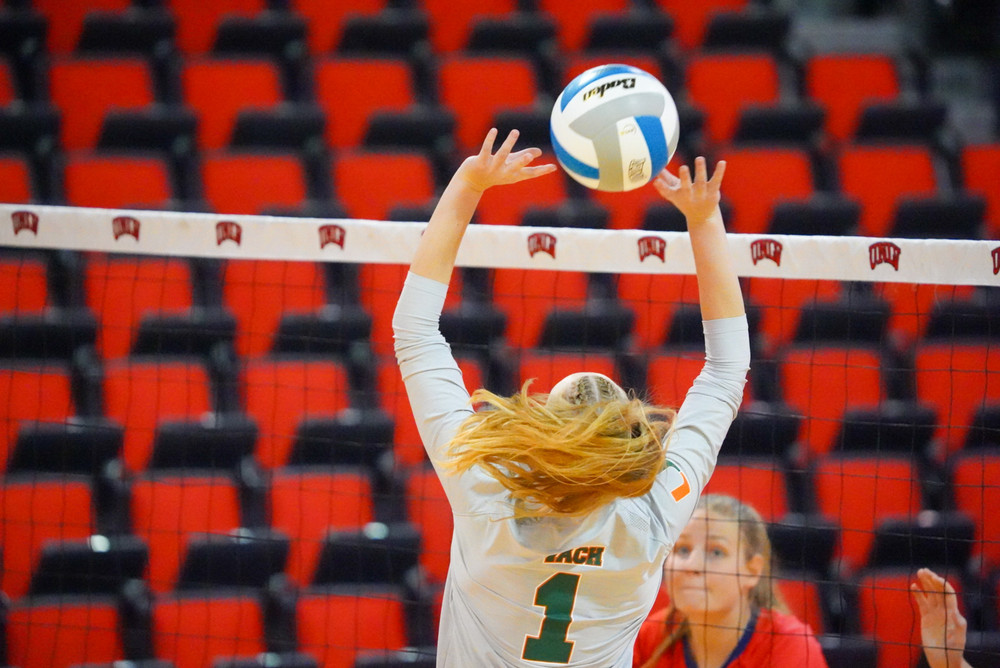 While the Hurricanes came away with the 3-0 win, it was very much a hard-fought victory as Miami and St. John's traded the lead in both the first and third sets. The Hurricanes never led by more than four in the first set and ultimately took set one, 26-24, on a kill by Grieve.
Miami carried momentum from the first-set win into the second, embarking on an 8-0 run to start the frame. Serving was the x-factor in the second set as five of Miami's eight service aces came in set two, helping the Hurricanes to a 25-14 win.
St. John's rallied in the third frame, jumping out to an early 7-2 lead. However, the Hurricanes locked in and decisively worked their way back into the set, regaining the lead at 17-16. Grieve tallied three kills down the stretch to solidify Miami's 25-17 victory in the third set.
"Offensively, we passed well and Savannah [Vach] ran a great offense that got our hitters in rhythm," Gandara said. "It was a really good day overall day on both sides do the ball."
Miami is back in action at 6 p.m. ET on Saturday when it takes on Weber State in game two of the Rebel Challenge in Las Vegas, Nev.