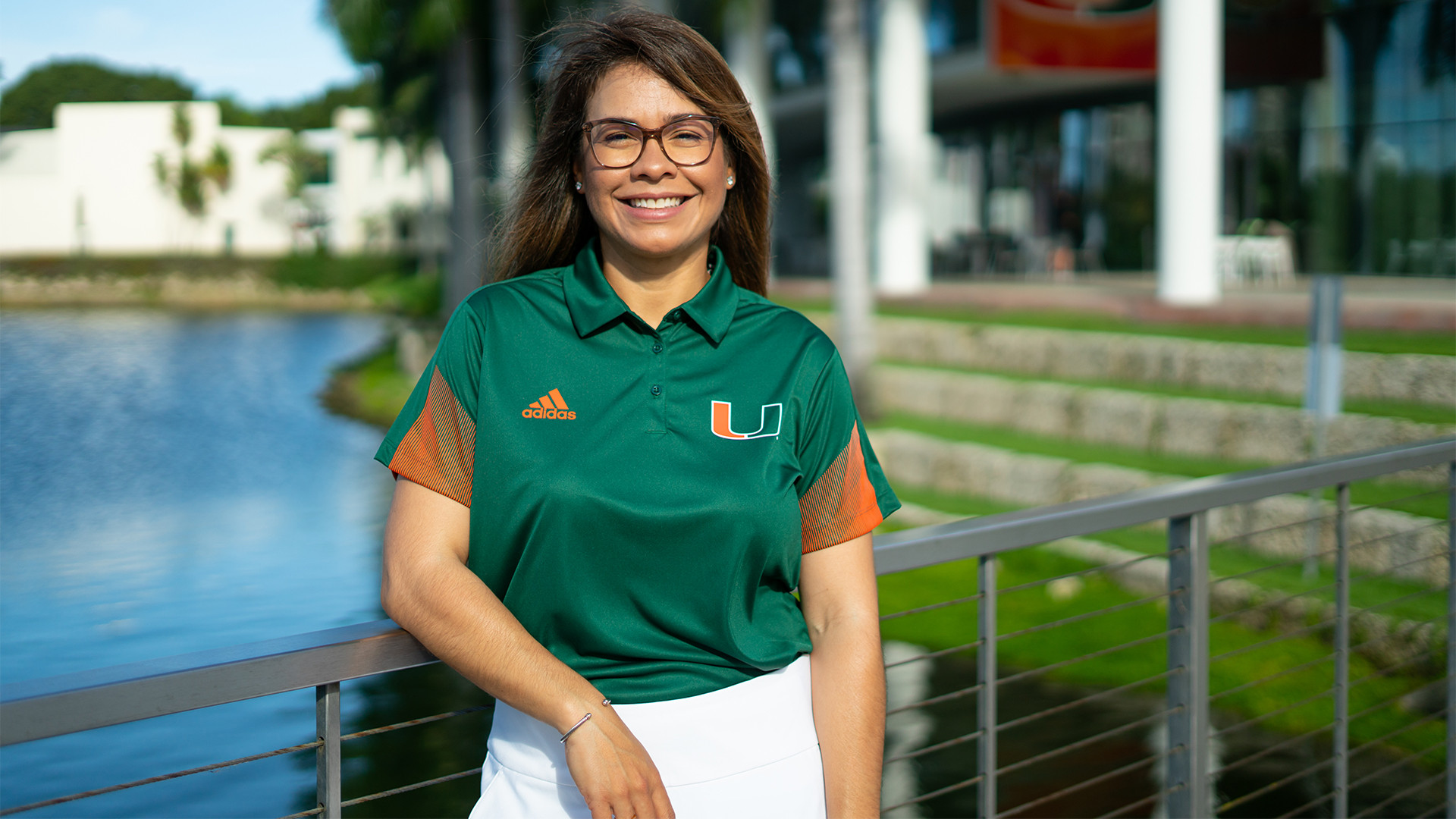 Editor's Note: This story is part of our Together 4 Her series. Launched in conjunction with the 50th anniversary of Title IX legislation, Together 4 Her is a year-round initiative by UM Athletics that showcases accomplishments of women from around the university while supporting gender equality on and off the field of play. For more information, click here.
 CORAL GABLES, Fla. – Janice Olivencia grew up surrounded by athletic excellence.
Her mother is a former professional volleyball player in their native Puerto Rico. Her father, a former professional basketball player on the island, is enshrined in their hometown's hall of fame. So is her grandfather, a former professional softball player. Her aunt, who was also a former professional volleyball player, is in the Caguas Hall of Fame, too.
Given all of that, is it any wonder Olivencia became a top-notch athlete in her own right?
The difference for her, though, was the sport that changed her life.
"Growing up, golf was not in the picture. I played tennis. I played volleyball. I played basketball. I played softball. I played a lot of sports," Olivencia said with a smile. "We love sports. We love everything that comes about with sports – what it teaches you, the humility, the reaching for the highest goal you can possibly put up there and then achieving it. All of that is just special…
"But it's actually kind of an interesting sort of development because my mom was the one that started playing golf before I did and she was just doing it for fun."
Her mother's hobby eventually became a passion for Olivencia – a passion that opened the doors for her to compete internationally, to earn a scholarship at the University of Texas, to represent her country on the global stage and now, has brought her to Miami where she will mentor a new generation of golfers as the Hurricanes' new head coach.
It's an opportunity Olivencia describes as both "an honor" and a "privilege," especially given the program's rich history.
In 1970, the Hurricanes' golf team won its first national championship and the first for Miami in any sport since the Hurricanes won a polo title 20 years earlier.
And three years later, in 1973, it was the Hurricanes golf program that became the first in the nation to award an athletic scholarship to a woman, Terry Williams Munz.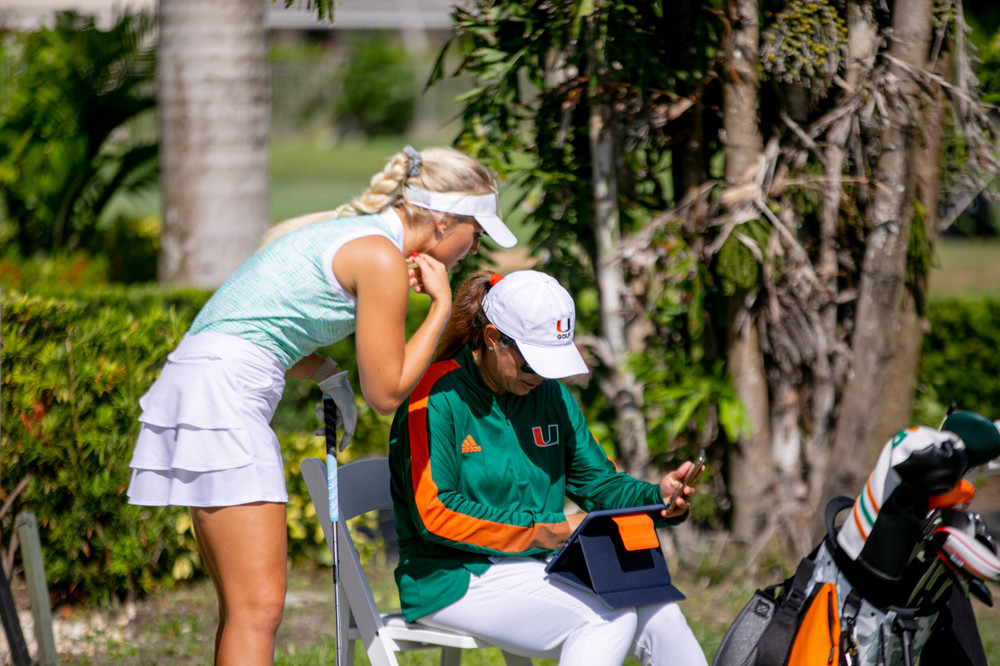 In all, the Hurricanes have won five national titles and produced seven individual national champions.
Olivencia is now charged with helping grow those numbers.
She says she is ready to do exactly that.
"I'm a competitor, so my objectives are high. I want to contend for championships. I want to win a conference championship. I want to be able to put my team in the best place to succeed, as individuals and as a team," Olivencia said. "I want them to be able to achieve, to be All-Americans, to be able to play in different amateur events throughout the year…I want us to be one of those teams that is always relevant at the end of the day. My vision is to get Miami to the top. At the end of the day, there's no other reason why you'd want to do this."
To help the Hurricanes meet the high standards she has for them, Olivencia will rely not only on the lessons she learned as a two-time All-American at the University of Texas during her own college career, but on her time on the Ladies European Tour and on her decade's worth of experience as an assistant coach at both the University of Florida and the University of South Florida.
During Olivencia's time at Florida – which also included four years as associate head coach – the Gators won 25 tournaments, qualified for nine NCAA Regionals and advanced to the NCAA Championships six times. Florida also won the 2017 SEC conference title and 26 Gators earned All-SEC honors. Nine earned All-American honors.
A coach who prides herself on helping her golfers perform, manage their emotions and rise to the moment, Olivencia helped guide former Florida golfer Sierra Brooks to a school-record 70.33 season stroke average in 2020. She provided similar guidance for Maria Torres, who earned first-team All-American honors in 2017 and was the SEC Golfer of the Year in 2016 after winning the conference title that same year.
Though she is still learning the Hurricanes' strengths, Olivencia knows Miami's golfers have skill and plenty of potential, both of which she's caught glimpses of during various tournaments in recent seasons.
And after spending part of her summer connecting with her new team through phone calls and video chats, Olivencia has learned even more about the Hurricanes.
Needless to say, she's eager to get an up-close look at what her team can do now that they're on the course together.
"I've seen their swings. I've seen their game. I've seen them perform and they're very good. They're a very talented group," Olivencia said. "It's exciting to have a talented group and I'm excited to see how they evolve within the new culture that we're going to establish. All of them are very excited…They're a great group of girls, very welcoming and responsive…I believe they can see the positive side and what this can become."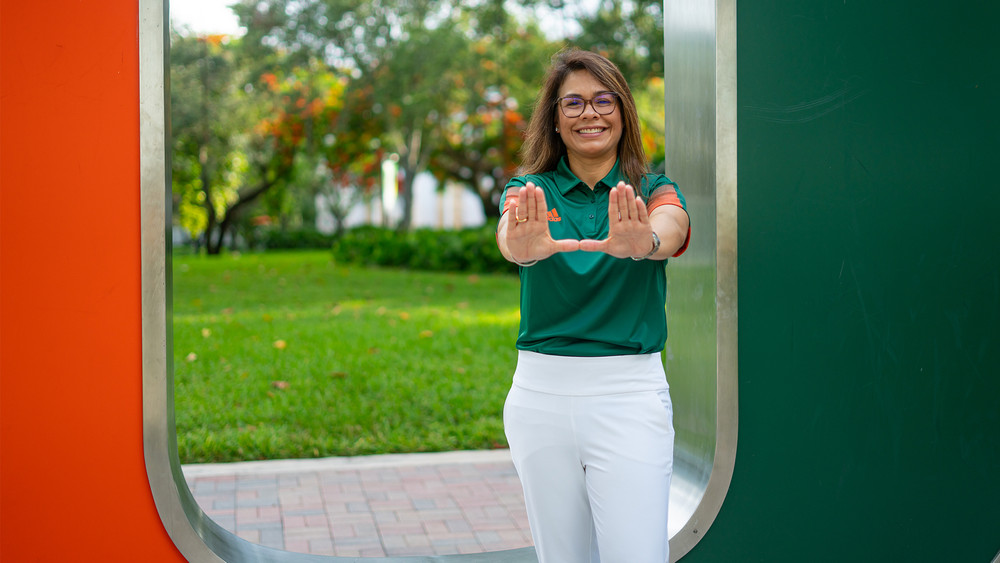 Along with spending time getting to know her new team, Olivencia has spent the weeks since her arrival in Miami simply getting reacquainted with her new home.
She is no stranger to South Florida. As a junior, she played the course at the Biltmore, the same course the Hurricanes call home.
Her mother, Gladys, lives here. So do some of her aunts and an uncle. Getting to spend quality time with them again has been especially memorable.
Olivencia has also enjoyed her share of café con leches, pastelitos and croissants since moving to Miami. She's reveled in being near the ocean again.
And in her office – the home she's already made herself on Miami's campus – Olivencia has surrounded herself with reminders of the people and places who've helped bring her to her first head coaching opportunity.
There are photos of her mother and father competing. The Tiger Woods poster that hung in her college dorm now hangs above her desk. Mementos on the shelves mark her time at both Texas and Florida. And on one wall, there is a poster for the Caguas Hall of Fame – the Hall of Fame in which she herself was enshrined in 2020, joining her father, her grandfather and her aunt.
"Grabbing that club would have never shown me 30 years ago that I'd be in the chair that I'm in today, but I'm so grateful for it. You don't always know where those moments in life are going to take you. It's amazing," Olivencia said. "Not everyone has the chance to do this. That's why this means so much and why I'm just so excited. People don't always see the work behind it. People don't see the challenges.
"This is just an incredible opportunity. It's been an incredible journey to get to this point and I'm so grateful for the people I've run into and the people that have supported me throughout my entire life…You don't know where life is going to take you. That's why it's so important to embrace it and enjoy those moments."