Miami Goes 2-0 on Opening Day
HEMPSTEAD, N.Y. – For the sixth time in program history, the University of Miami volleyball team tallied a pair of wins on opening day, defeating the Bryant Bulldogs, 3-0, in the first match of the day before downing the Hofstra Pride, 3-0, in the nightcap of the Hofstra Invitational.
"It was a great day for us. Both opponents presented different challenges and we were able to make some corrections from the earlier match and see different people on the court," head coach Jose "Keno" Gandara said. "It's a good sign for any team when they can recognize areas to improve, address the task and make the necessary corrections. Like in any first match of the season, there were some nerves, but we battled through them and our older players helped us do that."
Redshirt junior Angela Grieve dominated the court against Bryant, recording a team-best 16 kills to go along with three service aces and two blocks. Three Hurricanes notched 10-plus kills in the contest – Grieve, sophomore Nyah Anderson (13) and sophomore Peyman Yardimci (11).
The Hurricanes and the Bulldogs went point-for-point in the first set, until a 5-0 run put Miami up 24-21. Grieve recorded the set point for the Hurricanes, posting her sixth kill of the match to give Miami the 1-0 lead.
Set two also favored the Hurricanes as Miami emerged with a 25-19 victory. However, Bryant came to work in the third set, taking an early 7-2 lead. Miami chipped away at the deficit and ultimately regained the lead, 12-11, on a kill by senior Janice Leao. Miami conceded just seven points the rest of the match to seal its first victory of the season.
"Going into the second match, we had a little more comfort in our plan," Gandara said. "We've been focusing a lot on ourselves and that is our game plan heading into each match."
The Hurricanes carried their momentum into the evening match against Hofstra, taking sets one and two, 25-15, while set three was slightly closer at 25-18.
Leao was brilliant on both offense and defense, recording a .800 hitting percentage, eight kills and six blocks. Yardimci led Miami in kills with 11, while senior Savannah Vach paced the Hurricanes in digs (11) and assists (30).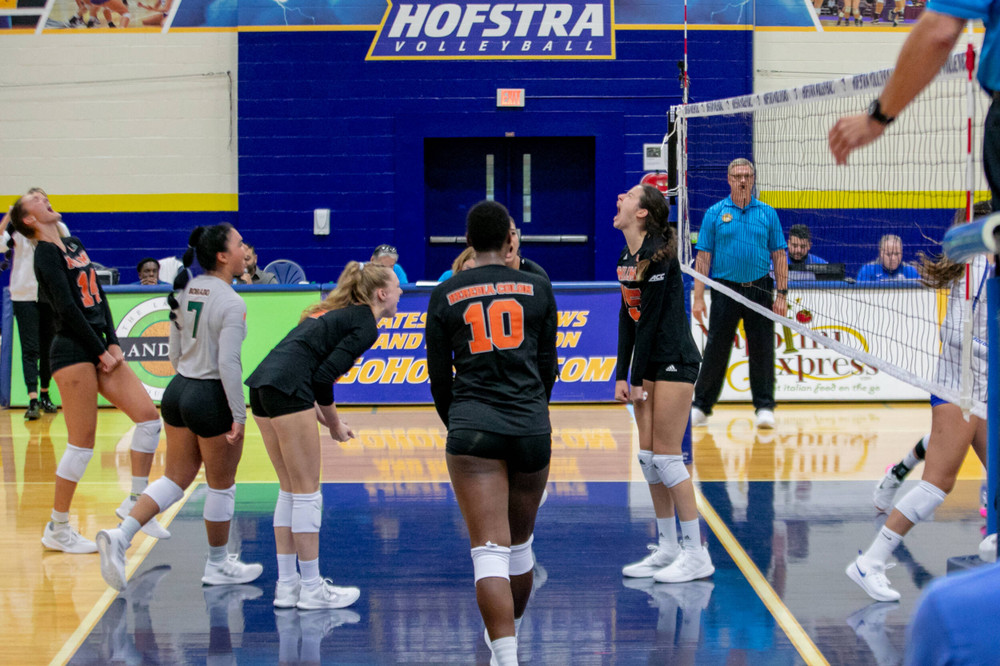 The highlight of the second match came at the start of the third set when the Hurricanes embarked on an 8-0 run at the jump. Grieve and senior Abby Casiano each tallied three kills to fuel the streak.
Friday's wins marked Miami's first victories over both Bryant and Hofstra in program history.