Miami Sends Three Boats to ACC Championship Grand Finals
CLEMSON, S.C. – The University of Miami rowing team will have three boats compete in the grand finals of the 2022 ACC Rowing Championships on Saturday as the 1V8, 2V8 and 2V4 each finished in third place or better in their respective heat races.
"I am really excited for our 1V8, 2V8 and 2V4 boats who punched their ticket to the grand finals tomorrow," head coach Dave Sanderson said. "They raced smart and poised and are excited for the opportunities they have created for themselves. Our 3V8 and 1V4 raced hard and will look to score as many team points as possible in the petite finals."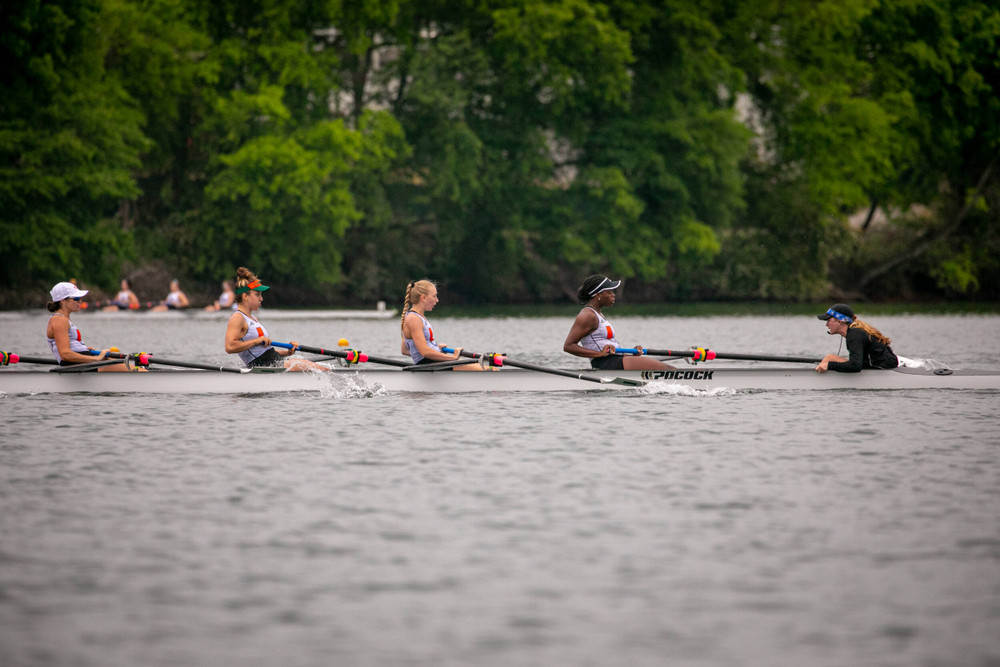 The first varsity eight boat was the first Miami crew to qualify for the grand final, crossing the finish line third in a time of 6:53.694.
Like the 1v8, the second varsity eight also came in third, but the Miami 2v8 crew posted the fourth fastest overall 2v8 time on the day, finishing the 2000-meter race in a time of 6:53.238.
Miami's second varsity four was the final boat to qualify for the grand final, placing third in its heat race with a time of 8:13.277.
Both the third varsity eight (7:49.340) and the first varsity four (7:56.883) boats finished in fifth in their heat races to move on to the ACC Championship petite finals.
Racing on Saturday kicks off at 8:05 a.m. beginning with the third varsity eight petite final. The 2v4 and 1v4 will head to the starting line at 8:40 a.m. and 8:55 a.m., respectively, followed by the 2v8 at 9:30 a.m. and the 1v8 at 9:55 a.m.
A full schedule may be found on the Miami website.
ACC Network Extra coverage is available for the finals on Saturday. A two-hour championship recap show will air on ACC Network on Tuesday, May 24 at 8 p.m.